photos at top and bottom by Johnny Guatto)
Inspired by Kennedy – Honorary degree recipient was in the crowd for 1961 inaugural speech
Fifty-five years ago, Professor Robert Putnam was so inspired by U.S. President John F. Kennedy's inaugural speech that he's spent his life responding to the question of what he can do for his country – and he's still doing it today.
"When I was a college sophomore I was a dating a young woman – we met in PoliSci 1 class – and on the night of [January 19, 1961] we got on a train in Philadelphia and travelled to Washington, D.C.," recalls the influential political scientist, who will be honoured today by the University of Toronto with a Doctor of Laws, honoris causa.
The next day, standing "at the back of the crowd attending the inauguration . . . I personally heard him [Kennedy] say, 'My fellow Americans: ask not what your country can do for you – ask what you can do for your country.'
"I felt like he was speaking to me personally."
That moment, Putnam says, still makes the hairs stand up on the back of his neck whenever he thinks about it. At that time, American was grappling with serious issues like the escalating conflict in Vietnam and the civil rights movement.
But he says there was a sense that "we could fix them if we worked together. We could make the country better. We don't have that sense anymore." Nowadays, young people "feel there's no way that they can make a difference to the broader community."
In his five-decade-long career, Putnam has written some of the most cited publications in the social sciences, from studying the breakdown of American civic life in the bestselling Bowling Alone to raising a red flag over the ever-widening chasm between rich kids and poor kids in Our Kids: The American Dream in Crisis. In 2013, President Barack Obama presented Putnam with a 2012 National Humanities Medal. (Photo by Pete Marovich/Getty Images)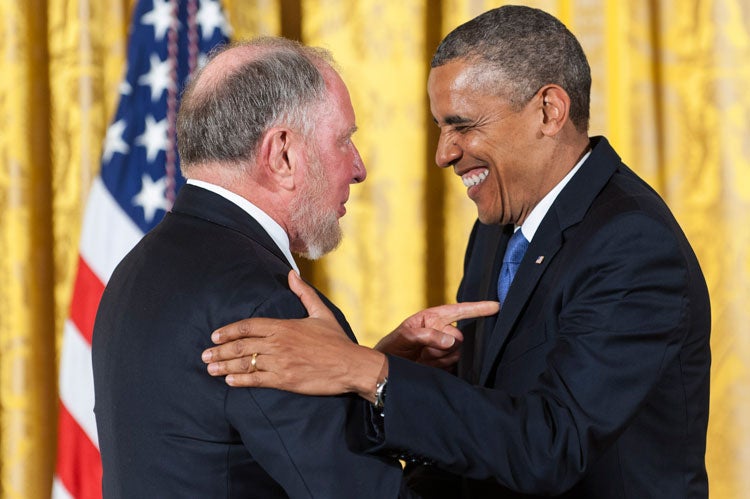 At today's convocation ceremony, Putnam will address his fellow graduands. "I want to challenge them to narrow that gap between our own good fortune . . . and the rest of our society … to urge them all to move towards a 'we' society not an 'I' society.
Rich kids have always had an edge in life but their advantages are only increasing, he argues in Our Kids. Well-educated, well-off families are generally more stable and invest time and money in the development of their children. They share family meals and have access to better schools and extracurricular activities. In comparison, Putnam found poorer children are often alone and feel disconnected from the world around them. A shot at equal opportunity is slipping out of their grasp, with talent and hard work no longer enough to climb the ladder. Class divisions are becoming increasingly entrenched.
Although quick to point out that he's not an expert on the situation in Canada, Putnam says it's important to think about how all societies can help poorer kids get ahead. Things like making early childhood education a priority and raising the minimum wage.
In addition to writing on important social issues, Putnam has also been actively involved outside academia as a consultant to the last three American presidents. But whether that role will continue is unclear after President Barack Obama steps down at the end of his second term in January.
"The [Hillary] Clinton campaign has reached out to me for advice on urgent social problems in America," Putnam says. But when asked if presumptive Republican presidential nominee Donald Trump has also called, you can almost hear a mischievous smile break out on his face as he jokingly says, "I'm checking my email as we speak. I'm sure he just hasn't gotten around to it yet."
Professor Robert Putnam will speak today at the 10 a.m. ceremony for graduands from the School of Graduate Studies (PhD, MA and MSc). A video of his speech will be available on U of T's YouTube channel following the event.