Memories of Convocation: Clara Benson (second from right) at Convocation in 1917 (photo courtesy University of Toronto Archives)
Convocation 2016 celebrates the graduation of more than 18,000 University of Toronto students – 13,500 of them this spring alone. It's the end of one journey and the start of another. Like past graduates, they all have unique stories and experiences. U of T News reached back into distant and recent history to find some moving moments and memorable people.    
In the early 1850s, Alexander T. Augusta was the first black medical student in Canada West. He completed his medical degree at Trinity Medical College after being denied entrance to American medical schools on the basis of colour. 

Dr. Alexander T. Augusta (photo courtesy National Library of Medicine) 
In 1899, Clara Benson became the first woman at U of T to graduate with a chemistry degree (see photo above). She was also one of the first two women to earn a PhD and one of the first two female professors.
And the classes graduating during war endured difficult times throughout their educational journey. In 1945, president and chancellor of the University of Toronto, Henry John Cody, offered words of wisdom to the members of the graduating class:
"Into what kind of world will you enter when you leave the University? Will it be a hard world or an easy world? After every great global struggle, the period of reconstruction or of improving conditions is inevitably hard. You will need courage, venturesomeness, hopefulness and faith to face this future. May you do this with full confidence and success. Security will never drive out the need of adventure and determination if we wish to retain or to achieve strength of soul and mind."

Henry John Cody (1932-1945)
---
Now, as U of T marks #UofTGrad16, here are some more recent reflections of convocation:
A flashy memory 
After shaking hands with 100,000 students at convocation ceremonies, the Honourable David R. Peterson's term as chancellor came to an end in June 2012. Students from the Faculty of Music surprised him at his final convocation ceremony with a harmonious flash mob tribute sung to the tune of "Swing Low, Sweet Chariot." The display left the chancellor teary-eyed and he quipped "I've changed my mind, I'm not leaving."
Setting the stage for selfies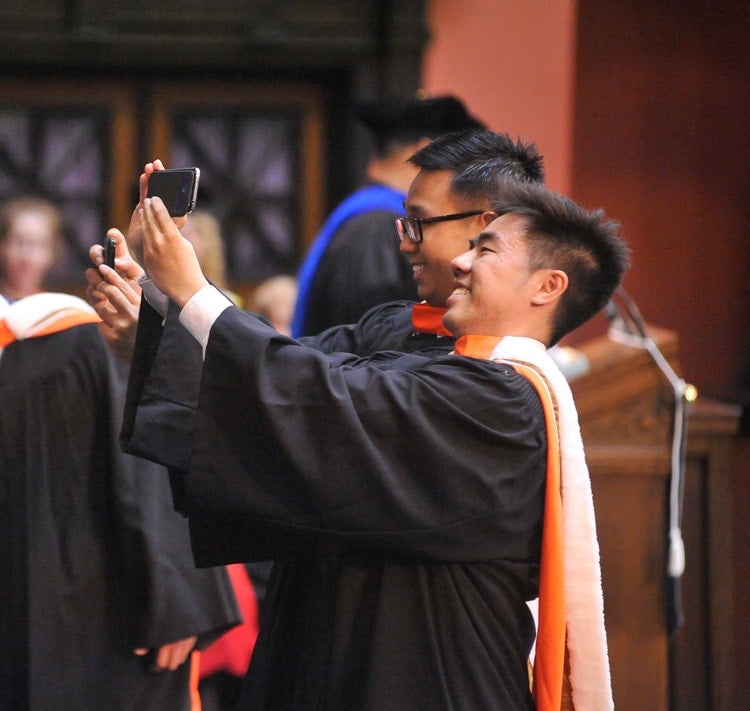 November 2003 marked the first time the Honourable Dr. Vivienne Poy presided over convocation as chancellor. But it also marked another milestone – her first selfie. 
In a time when built-in cameras were a new addition to cell phones, students with the latest technology capitalized on the opportunity to snap a picture with Poy on the big stage.
Sadly, we have no visual record of that moment but 13 years later, selfies are still going strong, especially during convocation.
Posthumous degree tribute
When U of T PhD candidate Sara Al-Bader and her husband Michael Smoughton died in a car accident, Sara's friends and colleagues collaborated to complete her thesis on health innovation in sub-Saharan Africa. At the fall 2011 convocation ceremony, the university honoured Sara with a posthumous degree, received by her parents who travelled from England for the presentation of their daughter's degree. The Sara Al-Bader Memorial Award was created in her honour to acknowledge senior international PhD students who display outstanding promise in academics and research.
Graduate of a great grandfather

Bruce Cates, grandson of Harold Innis, Innis College Principal Janet Paterson, Ellan Cates Smith, granddaughter of Harold Innis, Chancellor Michael Wilson, Mary Innis Cates, daughter of Harold Innis, graduand Ken Cates, President David Naylor, Kazuko Cates, Kip Cates
In June 2013, Innis College enjoyed a visit from the family of its namesake. Ken Cates, great grandson of Harold Innis, was joined by other members of the Innis clan as he received his Bachelor of Arts degree. The family travelled from far and wide to attend the college's convocation. Harold Innis' legacy is deeply rooted in the University of Toronto, where he burnished his reputation as an influential professor of political economy and an internationally-renowned communications scholar.  
An extra spring in his step
U of T Scarborough student David Szeto literally flipped out about graduating last spring. When he approached the stage at convocation, he shook hands and casually proceeded to execute a flawless back flip. In the full video uploaded to YouTube, Szeto includes additional post-ceremony acrobatics. He writes "I've spent years working towards this very moment. What better way to celebrate than by throwing a back flip?"
A long voyage from Vietnam

Anh Cao (photo by Ken Jones)
Anh Cao journeyed a great distance, both physically and personally, in order to obtain his degree from U of T. As an international student from Vietnam at U of T's Scarborough campus, Cao obtained a scholarship sponsored by the government of Vietnam. He quickly discovered that, although it was very generous, it did not come close to covering all of his tuition and living expenses. After completing his first year, Cao made the difficult decision to sleep in a youth homeless shelter in Scarborough for four months so he could afford to take summer courses. Cao plugged in to U of T support through an entrance scholarship and student employment opportunities. He also benefitted from the help of new friends in Canada. One of them, Karen Siddique, an employee in UTSC's facilities department, brought him dinner every day. When Cao graduated in 2015, he did so with a bounty of honours including the John Black Aird award for the top student at U of T, as well as a Governor General's Silver Medal for being one of the university's most academically outstanding graduates. 
Keeping it in the family

Marden Paul, Jeremy Bubbers, his father, Geoffrey Bubbers (at rear), William Paul, and Lissa Paul
When Jeremy Bubbers stepped up to receive his Bachelor of Arts degree in 2013, it was truly a family affair. His grandfather William Paul, mother Lissa Paul, and uncle Marden Paul each had a front row seat thanks to their roles in the academic procession. All the Pauls are U of T alumni. Jeremy, along with William's other daughter, Sarah Israela Paul – a fellow U of T alumnus, represent three generations of U of T graduates. Uncle Marden is a U of T staff member – his office literally steps away from the location of the ceremony in Convocation Hall. The Paul family, based in Toronto's The Annex, has always been close to the University – literally and philosophically. "Everything about our lives has been connected to U of T," said Lissa.
A remarkable journey

Yak Deng (photo by Ken Jones)
When Yak Deng arrived at the University of Toronto Scarborough in 2009, he did so on a World University Service of Canada (WUSC) scholarship, which helps refugee students achieve their dreams of higher education. Deng's journey to U of T started in southern Sudan where he and his family lived as nomads, trying to escape the Sudan army and the Lord's Resistance Army (LRA) of Uganda, which abducted young boys like Deng to serve as child soldiers. But Deng had other plans, and set out for a refugee camp in Kenya on foot, where he continued his schooling and was awarded the WUSC scholarship. In 2013, graduating with a Bachelor of Science in Applied Microbiology, Deng said "I am so happy and thankful to the UTSC community, especially to the students who paid the levy to get me here. Everybody I've met has made me feel like this is my community, my family. I will always remember that others believed in me and helped me do what I always wanted. Now it is my duty to do my part and not let them down."
A standing ovation
#UofTGrad16 marked the final convocation ceremony for Deep Saini, vice president of the University of Toronto and principal of U of T Mississauga. When Chancellor Michael H. Wilson expressed his appreciation to Saini, the entire graduating class joined him in giving their principal a warm send-off with a standing ovation. Saini starts as new role as the next vice chancellor (president) of the University of Canberra in Australia in the fall.
An overdue celebration
A unique convocation took place on May 31, 2007. Not only did it mark the 100th anniversary of the opening of Convocation Hall, it celebrated veterans of the Second World War, who missed their convocation ceremonies while on active service. While they were serving their country, their friends and classmates were graduating from the university. And so sixty years after the end of the Second World War, the veterans came on stage one by one, to be honoured. President David Naylor (2005-2013), recalls the extraordinary scene, saying "I can't recall a convocation more moving than that one."
Collective Compassion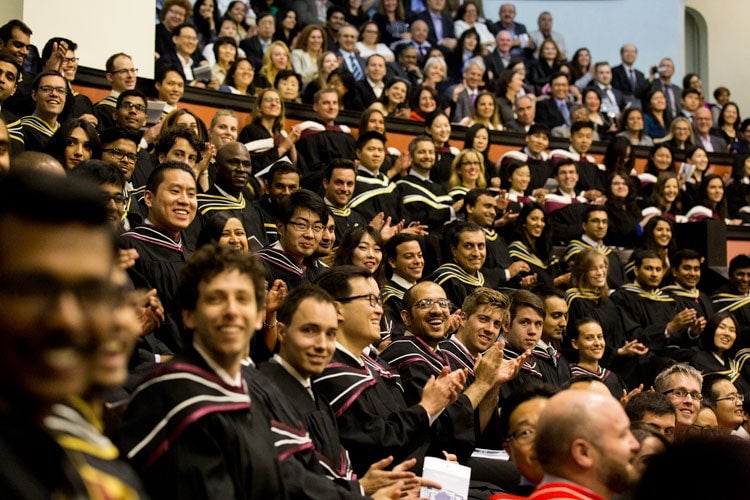 Some convocation ceremonies don't go quite as planned. The Honourable Frank Iacobucci, former U of T interim president and professor at the Faculty of Law, recalls a convocation he attended with a minor mishap. The convocation reader, with a stack of phonetically correct name cards, accidentally dropped the bundle, mixing up their order.
The crowd of over 1,500 people let out a collective sigh of sympathy. But the problem-solving U of T staff, faculty and students quickly devised a plan and wrote each name on a piece of paper as they approached the stage. Slipups – even at the most important occasions – can often be resolved with the help of a supportive community. 
A family shout out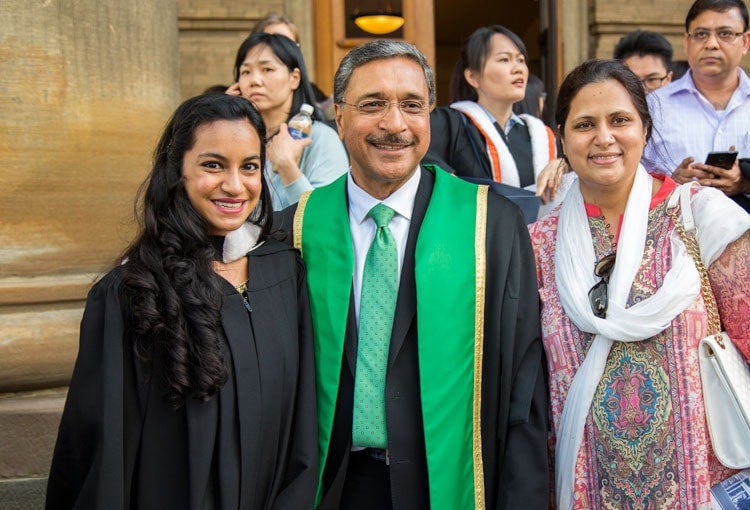 The support of family members is part of what makes convocation so extraordinary. Deep Saini, (seen here posing with a graduand and her family at the 2016 spring convocation ceremony) is the vice-president of the University of Toronto and principal of U of T Mississauga. One of his fondest convocation memories involves attending convocation after his appointment, expecting a very formal affair.
While the normal pomp and ceremony occurred, so did a very special moment. One graduate came on stage and shook hands – then turned to the crowd, locked eyes with a member of the crowd and shouted "That's my dad!" In an immediate response, his father stood and proudly replied "That's my son!" quickly followed by the two of them running to meet in the aisle for a warm embrace. Saini says those are the features of U of T Convocation he holds so dear – beyond the formalities, there are beautiful and real moments, with a ceremony that allows people to express their emotions and truly celebrate.
Do you have a favourite memory of convocation from years ago you'd like to share? Is there a student graduating this year whose story we should tell? There are at least 18,000 stories of hard work and triumph in the Class of 2016 – help us find and share these stories. Contact the editors at uoftnews@utoronto.ca and bulletin@utoronto.ca.