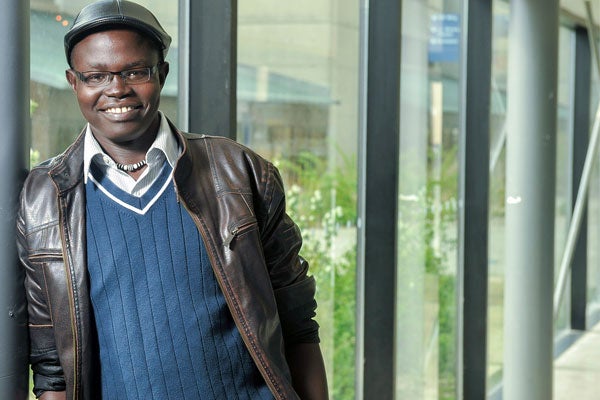 Convocation 2013: from refugee to U of T grad
Having fought incredible odds to achieve an education, two remarkable young men will be graduating from the University of Toronto this spring.
Yak Deng (University of Toronto Scarborough) and Abdi Hassan Ahmed (University of Toronto Mississauga) both came to U of T on World University Service of Canada (WUSC) scholarships, which help refugee students achieve their dreams of higher education.
Deng, who will receive his Bachelor of Science in Applied Microbiology, was born in southern Sudan in 1989, six years after civil war broke out between government forces and the Sudan People's Liberation Army (SPLA). For the first thirteen years of his life he and his family lived as nomads, staying in makeshift villages and trying to stay one step ahead of the Sudan army and the Lord's Resistance Army (LRA) of Uganda, led by Joseph Kony. The LRA rebels, with support from the Sudanese government, would regularly plunder civilian settlements, killing with abandon and abducting young boys like Deng to serve as child soldiers.
"I was just waiting to grow up and be a soldier," says Deng. "There were no opportunities. War was all around. Little kids like me just wanted to grow up fast and join the army."
Deng had another plan. He set out for a refugee camp in Kenya and arrived after an extraordinary journey by foot. At the camp, he was able to continue his schooling and become the second-best student among almost 100,000 refugees. Eventually, Deng came to UTSC on the WUSC scholarship.
When he wasn't in class or lab, Deng volunteered his time with a number of campus initiatives. He mentored high school students through the IMANI program and incoming students through the first year mentorship program. He was also a programming assistant with the International Student Centre and took pride in his work as a Student Refugee Program Coordinator for WUSC.
"I am so happy and thankful to the UTSC community, especially to the students who paid the levy to get me here," says Deng. "Everybody I've met has made me feel like this is my community, my family. I will always remember that others believed in me and helped me do what I always wanted. Now it is my duty to do my part and not let them down."
UTM student Abdi Ahmed, who was born in Somalia and raised in Kenya, also came prepared to work hard.
"A university degree is important because it changes your life," says Ahmed, who will be graduating this June with a Bachelors of Commerce degree (specializing in accounting). "To succeed, you have to be on top of your work."
Ahmed admits that while the scholarship provided him with an opportunity, it was also challenging.
"I came from an extremely poor family who couldn't provide me with the support I needed to get an education, and I was the first in my family to go to university," Ahmed says. "It was difficult, but my family now supports me because they see the value in having an education."
It helped Ahmed to become involved in UTM's thriving student life. As well as establishing the Somali Student Association, Ahmed was a member of groups including the student union board of directors. He worked as a library assistant, a peer academic leader and a WUSC coordinator.
Ahmed plans to give back to his people and to Canada through the skills he's learned, seeing it as a moral obligation.
"Money can be lost or stolen, but not your education," says Ahmed. "The knowledge I gained from my years at university can never be taken from me."
As for Deng, he's looking forward to taking the last few steps of his astonishing journey, when he steps onstage at Convocation Hall in June. He can't wait to call his parents so he can deliver the latest installment of unbelievable news about their son. 
Andrew Westoll is a writer with the University of Toronto Scarborough.