#UofTBackToSchool: 7 tips for surviving the school year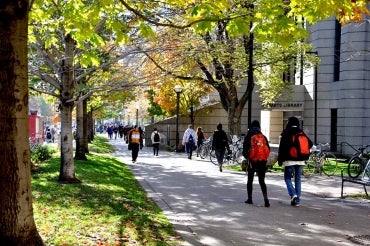 Between the first-day jitters, the weight of all of those textbooks and the seemingly impossible sprint from one lecture to the next, the start of classes can be daunting for new and returning students alike.
Thankfully, there are many ways to make the transition back to university life easier – and more enjoyable.
Here are our tips for getting through the year stress-free.
1. Get lost, and find your way again
If you've ever tried to find your way around Robarts Library or University College, you know how easy it is to lose your bearings, which makes for a great time exploring campus but a challenge when you're trying to get to class on time. Try out these handy interactive maps of the downtown Toronto campus, U of T Scarborough and U of T Mississauga for everything from fastest routes across campus and where to lock your bike to the most convenient place to grab a coffee before class.
If you're living off-campus, there are a number of ways to get to school. Here's how to get your hands on TTC monthly passes, hop on the U of T Mississauga shuttle or a local bus and map out your route to U of T Scarborough. 
New to Toronto? Learn about the cool things U of T students and faculty get up to in the city on the U of T Cities hub.
2. Find your favourite food spot
It's 4 p.m. and back-to-back classes meant you were only able to fit in a granola bar for breakfast. Where should you grab a quick bite to eat? Take a look at our food guide or check out the on-campus offerings at the downtown Toronto campus, U of T Mississauga and U of T Scarborough.
3. Get to know U of T – and have fun doing it 
Wondering what all those purple-painted people are doing running around campus? They're U of T's newest engineering students taking part in this year's orientation activities.
If you're new to U of T, orientation is a great way to get to know your faculty, campus clubs and organizations and meet new people. No body paint required.
Here's what's happening on your campus: downtown Toronto, Scarborough and Mississauga.
If you're an international student or want to meet some amazing students from around the world, the Centre for International Experience is the first place you should go.
And you never know, the people you meet on your first day could be your best buds for life – just look at these guys.
4. Book a trip to the library
 Check out the neat services the library offers you may not know existed.
For some deep dives into U of T's amazing archives, follow U of T Libraries and Thomas Fisher Rare Book Library on Instagram.
And for textbooks and U of T swag, stop by the bookstore on your campus.
5. Don't forget to breathe
It doesn't matter if you're in first year or wrapping up your PhD, life can get stressful. If you're feeling overwhelmed or just a little under the weather, all three campuses offer mental and physical health services.
Visit the health and wellness centres at the downtown Toronto campus, U of T Mississauga and U of T Scarborough.
The School of Graduate Studies also has a Graduate Student Wellness Portal that provides information and resources to access.
If breaking a sweat is your stress-relief style, check out U of T's many athletic centres where you can do everything from joining an intramural team and taking a yoga class to learning how to parkour. Here's where to find them: downtown Toronto, Mississauga and Scarborough.
Students with disabilities can also access U of T's accessibility services for a variety of resources from note-taking to adaptive technology to help make their academic year as worry-free as possible. Find info on your campus: downtown Toronto, Scarborough and Mississauga. 
6. Ask as many questions as you want
Deep breath. We know that was a lot to take in – but thankfully, U of T is full of students ready and willing to answer even the silliest of questions.
During orientation, track down the friendly faces wearing orange t-shirts that say "ASKme Anything" – and take them up on it!
Want an answer with a dose of humour and a helpful GIF? Submit a question to the anonymous student helpers on the askastudent blog.
7. Follow the pros to stay in the know
We hate goodbyes. Keep in touch with the U of T News team on Twitter, tag us in your photos on Instagram and "like" us on Facebook.
Keep up to date with campus news here, at U of T Mississauga and U of T Scarborough.
UTC