U of T Vice-President and Provost Cheryl Regehr to receive honorary degree from Wilfrid Laurier University
"We all have a responsibility to each other to make a change"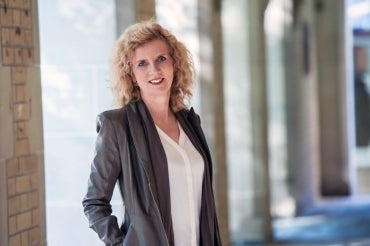 Cheryl Regehr, University of Toronto's vice-president and provost, will be awarded an honorary degree at Wilfrid Laurier University on Friday for her work as a community builder, social worker, educator and researcher.

Professor Faye Mishna, dean of the Factor-Inwentash Faculty of Social Work, and U of T President Meric Gertler, nominated Regehr for the honour, calling her a "mental health champion" and praising her impressive career as a social worker and academic.
"Her committed record of promoting wellbeing is an inspirational example of an alumna who has led a life of leadership and purpose," they say in their nomination letter.
"She's a wonderful social worker, a great role model and I think a great problem-solver," adds Mishna in an interview. "She's also very generous and open to listening and not polarizing."

Regehr says she is "just thrilled" to be receiving an honorary degree from Laurier, where she earned an undergraduate degree in psychology. "I am so deeply honoured that my colleagues would nominate me and that Laurier would give me this particular award."

Regehr, who grew up in Toronto with parents who fostered children for the Children's Aid Society, says she learned early on to see the strengths in everybody regardless of the kinds of challenges people face.
"We all have a responsibility to each other to make a change," she says. "Social workers have a great deal of optimism that the world can change and be better and that given the opportunities individuals can live up to their potential, so I think that kind of optimism is really helpful."
She brings that optimism to her work at U of T, where she is creating a "pipeline of diversity" to increase the numbers of underrepresented students, faculty and staff, and ensure that there are supports in place to encourage and bolster success.
Regehr says her goal is to work more closely with public schools, university outreach and access programs and consolidate efforts to increase opportunities for students from underrepresented groups.
 "It's exciting to think about how we can create change in the entire system so we can achieve the goals we want to achieve," she says.

She also has been a champion of mental health, creating innovative programs to reduce anxiety and depression in students and spearheading initiatives to address sexual violence, diversity and equity.
Regehr plays an instrumental role in U of T's efforts to work towards reconciliation with Indigenous peoples. At an entrustment ceremony at U of T in January, Regehr and Gertler were given a Truth and Reconciliation steering committee final report, which included 34 calls to action for the university. Since then, Regehr has been involved in efforts to increase Indigenous representation at the university by recruiting more Indigenous students and hiring more Indigenous faculty and staff.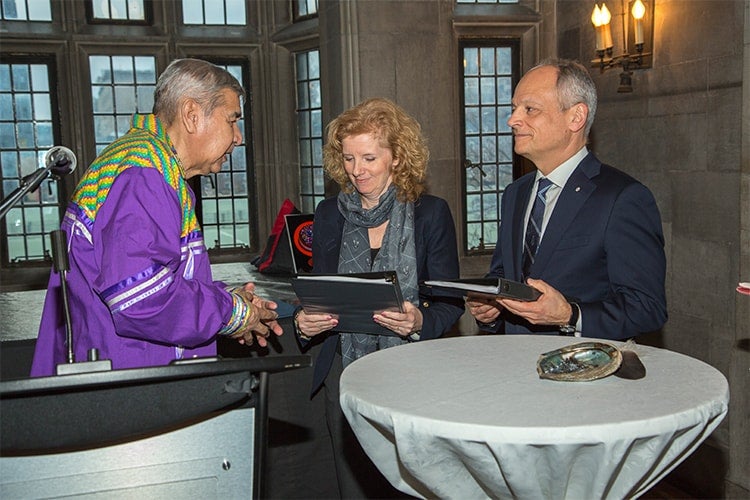 Elder Andrew Wesley (left) presents the U of T's Truth and Reconciliation steering committee's final report to Provost Cheryl Regehr (centre) and President Meric Gertler (right) at Hart House in January (photo by Johnny Guatto)
Regehr graduated from Laurier in 1978, and then completed a master's degree in social work at U of T. She spent 20 years in clinical social work, where she developed initiatives to provide emergency mental health services for victims of sexual violence, survivors of disasters, and emergency-service professionals affected by exposure to trauma in the workplace.
"Be courageous and collaborative"
Regehr went on to pursue a PhD and has served as dean of the Factor-Inwentash Faculty of Social Work. She is a social work professor and has cross-appointments to the Faculty of Law and the Institute for Medical Sciences at U of T.
She has served as director of the crisis response team at Pearson International Airport, as well as on the mental health advisory board for the Department of National Defence and Veterans Affairs Canada. She is currently a member of the board of trustees for the University Health Network.
In 2004, Regehr was awarded the Amicus Award by the American Academy of Psychiatry and the Law for her contributions to forensic mental health.
 As she prepares to receive her honorary degree at Laurier on Friday, Regehr offers advice to students and anyone pursuing an academic or professional goal:  "Have great ideas and be courageous and collaborative," she says.
 "Find others who will support you and excite them in your vision."
 



UTC