Task force on student mental health draws 'huge interest' from U of T community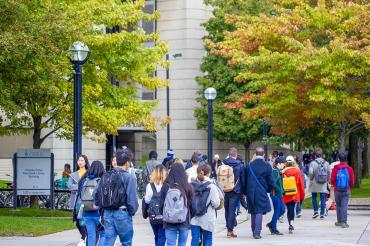 Last week's death of a University of Toronto student has underscored the need to address student mental health on campus – an issue the university is tackling with a four-point action plan announced earlier this year.
The four-point plan, announced by U of T President Meric Gertler in March, included the creation of a Presidential and Provostial Task Force on Student Mental Health to review the university's mental health supports and services.
Over the past several months, the 13-member task force has been meeting with experts, U of T Health & Wellness and Accessibility Services leads, and collecting feedback through an online consultation form that remains open until Oct. 15. At the same time, focus groups and open consultation sessions are being held with students, faculty and staff on U of T's three campuses.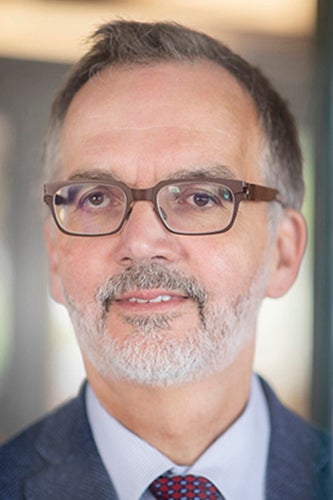 The task force has also set up booths at U of T events and partnered with the Innovation Hub at U of T to run a series of student-led feedback sessions in September.
 
"There's huge interest across the entire U of T community – and there is concern," said Trevor Young (pictured left), the task force's chair and dean of the Faculty of Medicine. 
"We share that concern and want to do everything we can to support all the different parts of the university that are working on addressing this issue."
Young said the task force, which counts four students among its members, is looking at everything from how and where U of T delivers mental health services – including variations from campus to campus – to the partnerships it has forged with community agencies and hospitals. It plans to make recommendations to U of T's president and provost in December.
The task force is only one pillar of President Gertler's four-point plan. The other three pillars are:
work with health-care partners outside the university to improve U of T's ability to refer students suffering serious mental health challenges for specialized care
have the Expert Panel on Undergraduate Student Educational Experience look at issues surrounding learning cultures, competitiveness, student well-being and student supports
work with the Ontario government to secure more resources to support students
The university, which has hired additional mental health and accessibility counsellors in recent years, has taken other steps to improve its mental health supports over the past six months. They include a new program this fall that offers same-day counselling on the St. George campus. Similar services are already available at U of T Mississauga and U of T Scarborough.
U of T also launched a new drop-in counselling service at Robarts Library during the spring exam season that offered 45-minute appointments with counsellors who spoke English, Mandarin, Hindi and Punjabi. As well, international students now have free access to the third-party My Student Support Program (My SSP) app, which provides international students with 24-hour support in different languages. 
Like other universities, U of T is experiencing a growing number of students seeking help for mental health issues, reflecting a broader trend in society. Students are among the most vulnerable age group since they are often living away from home for the first time and may be coping with addictions and anxieties, as well as academic demands.
Research by Ontario colleges and universities suggests the number of students with identified mental health disorders has more than doubled over the past five years. The research suggests 75 per cent of mental health disorders first appear before the age of 25.
While the task force is still in the information-gathering stage, Young said many of the questions being raised focus on the issue of access to mental health services.
"There's a lot of respect for the excellent services that are available on campus," he said, "but what concerns people is access to those services, including after-hours access and whether supports are easy to find and navigate."
Young said the task force plans to review all the information it has collected by late October and then draft recommendations. He stressed there was still plenty of time to contribute to the process.
"We're still open for feedback and input," he said.
---
Round-the-clock support:

Free 24/7 support is available outside the university. Students, staff and faculty can speak to a trained crisis worker at any hour of the day.
The following are some of the services available to students on all three campuses:
UTC