U of T study looks at Syrian moms adjusting to life in Canada as refugees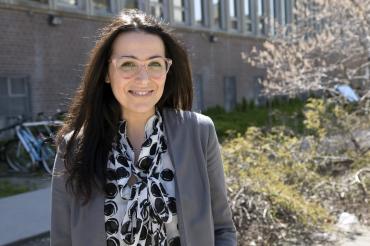 When the first Syrian refugees began arriving in Canada in 2015, University of Toronto sociologists Neda Maghbouleh, Ito Peng and Melissa Milkie were determined to use their expertise to help the newcomers settle into their new country.   
"As sociologists, we have a professional commitment to helping serve this community," says Maghbouleh, an assistant professor at U of T Mississauga.
Thanks to a joint program between Immigration, Refugees and Citizenship Canada (IRCC) and the Social Sciences and Humanities Research Council of Canada (SSHRC) the trio were given funding to study the impact of migration on the mental health of Syrian mothers. They've interviewed 43 Syrian mothers in Toronto and the Peel region who began arriving in Canada in November 2015. 
Their research shows that many of the mothers have been dealing with the loss of those they left behind, and that there has been a disparity between the government-sponsored and privately sponsored refugees.
"Government-assisted refugees are reporting far fewer interactions with everyday Canadian people," Maghbouleh says. "Their social networks are clearly much less expansive. Their worlds are more narrow. Their window into the city of Toronto appears to be very limited."
Researchers hope their findings will assist practitioners like settlement workers and English teachers in better understanding how to assist Syrian newcomers adjust to life in the a new city.
"That's a deep honour for us to provide this forum for agencies and the broader Canadian public to hear these women's stories in their own words," says Maghbouleh, who studies immigrant populations from the Middle East in North America.
"What's cool is I don't think this was anything any of us could have done individually, but together, we are capable of doing something positive." 
Peng is a professor of sociology and public policy at U of T's downtown Toronto campus and is the Canada Research Chair in Global Social Policy. Milkie is a sociology professor at U of T Mississauga and an expert in gender, health and stress in parenting.
Some of the mothers expressed a sense of relief, having finally arrived in Canada, Maghbouleh says, recalling one of the mothers who said: "as soon as we got to Canada, my soul relaxed."
"The idea of her soul relaxing – I think that really brought the urgency of this It wasn't just that she was actually physically safe, but her whole being was able to relax in a way she hadn't for several years."
Researchers expected there to be challenges faced by the mothers when integrating their children into schools, but the findings painted a different picture.
"There were resources in place to solve those concerns, whether it was privately sponsored refugees who had sponsors step in to help mediate, or schools actually had translators or people in place to help," Maghbouleh says.
The second phase of interviews are currently underway. Many of the mothers have now been in Canada for over a year.
"For them there have been significant disruptions – they've had to move out of apartments that were secured for them either through the government or their private sponsors – there's been a sense of upheaval," says Maghbouleh.
Maghbouleh hopes this research will encourage community groups to connect these mothers with Torontonians who came as refugees from other countries in order to help them learn about how to adjust to life in the city, while maintaining cultural values.
"There can be a sense of solidarity across these different groups from different nationalities, different backgrounds. But at the same time, there are actual lessons, tips and tricks, and a lot to be learned and gained by creating that kind of dialogue and facilitating these connections."
UTC