U of T students dig into library archives, team up with Toronto Ward Museum for exhibit on Canadian migration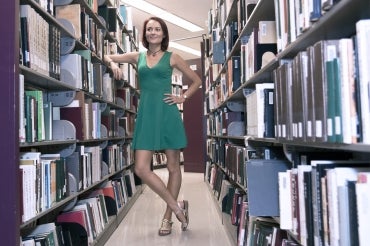 A postcard of Union Station from 1909, a menu from Banff Springs Hotel from 1946 and a photograph of Japanese-Canadian protesters from 1988 – all help chronicle the sometimes ugly history of migration in Canada.
They are just three of 54 objects in an online exhibit by the Toronto Ward Museum, called "Finding Myself in The Archives," a collaborative project between the museum, University of Toronto students from the Faculty of Information and six U of T libraries.
Irina Mihalache, an assistant professor of museum studies and the project's supervisor, asked students to pick an object from a curated selection, research its cultural context and significance, find a personal connection and put all of that into writing.
"Because I work with the U of T archives, I know what type of wonders exist there that never get to the public eye," she says. "I thought this would be a good opportunity to see what kind of objects they have that might speak to this broad topic of migration."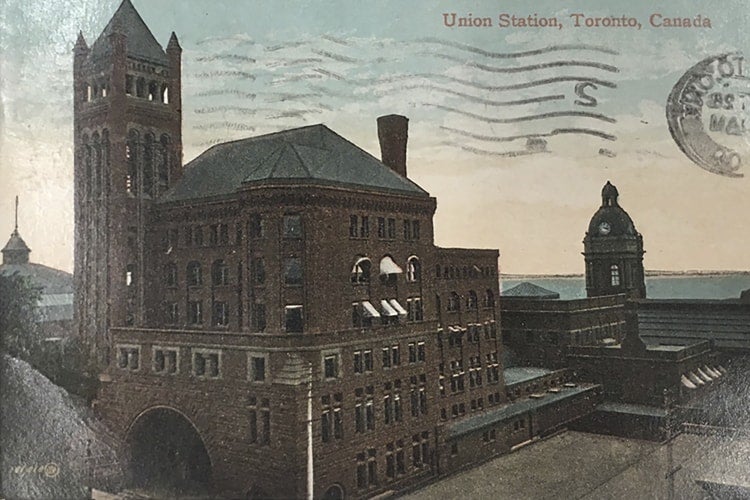 A1909 postcard depicting Toronto's Union Station (courtesy of John M. Kelly Library's Plowman family postcard collection) 
Inspired by the postcards she exchanged with her grandmother, Maeghan Jerry chose to highlight the Facebook-style correspondence taking place by mail at the beginning of the 20th century.
"What I really liked about this project is we were using things that were available to every U of T student," Jerry says. "The stories were there, but people don't look for them. People don't tell them."
The exhibition is part of a longstanding partnership between the Ward Museum and U of T. They've previously collaborated on a number of projects, including Dishing Up Toronto, which explores the culinary history of the city and taps into the expertise of faculty at U of T Scarborough's Culinaria Research Centre.
"A lot of our work in the past year and a half would not have been possible without the support of U of T faculty, staff and students," says Gracia Dyer Jalea, Ward Museum's founding executive director. "Having them there to support our work and to help us create content really has been instrumental in getting us to the place where we are currently."
Many of the exhibition's micro-stories told through archived objects are counter to the positive narrative often told of Canada's past – especially around its sesquicentennial celebrations.
Jessica Svenningson chose to focus on how the Japanese-Canadian culinary experience changed after the B.C. government confiscated Japanese fishing boats during the Second World War, and the impact of internment camps on later generations – told through a photograph of protesters demanding redress in the 1980s.
"It's about finding a way to connect [the object] to an audience so that you as a researcher can say this happened, but this is why it's important to the greater community and particularly to you as an audience member," says Svenningson.
For Julia Zungri, the discrimination faced by Japanese-Canadians during the Second World War really hit home.
"Growing up, I heard my family's stories about when they first came here and their experience of discrimination – especially my mom being German," says Zungri. "When she was younger, there was this phobia, people would call her a Nazi."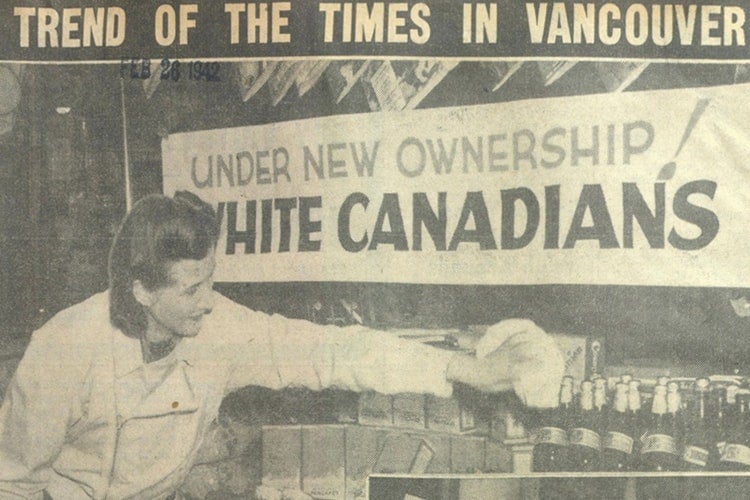 A photo accompanying a newspaper article from 1942 (courtesy of Cheng Yu Tung East Asian Library)
Zungri looked at newspaper clippings describing the expulsion of Japanese, German and Italian Canadians from the West Coast in 1942,  as well as news photographs of white Canadians taking over Japanese-owned shops.
"It wasn't just top down, you had everyday acts of discrimination by everyday people," she says.
"Paranoia and discrimination in times of conflict still takes place with the rise of Islamophobia now – it's relevant today as much as it was relevant back then so it's ever more important to tell those kinds of stories."
While the stories told in the exhibit are fascinating, the Ward Museum's Jalea says that, for students, the most valuable takeaway from the project is the act of putting it together.  
"Fifty-plus students have walked away from this process and can apply it to their future work, and think more critically about the stories they're telling and the complexity in which they're telling them," she says.
UTC