U of T student encourages others to get involved in politics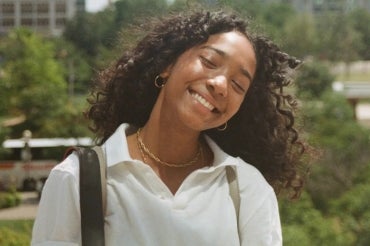 The shift to online learning left the University of Toronto's Renee Jagdeo with some spare time on her hands this year – time she used to campaign for a city council seat.
She recently ran in a byelection in Ward 22 Scarborough-Agincourt, finishing near the middle of the slate of more than two dozen candidates. The seat was won by Nick Mantas.
"Politics operates to set priorities in our society, and I was interested in what it would look like if someone like myself was involved in that process," says the second-year Victoria College student who is studying in the Faculty of Arts & Science.
Jagdeo says that her time in the Munk School of Global Affairs & Public Policy's Munk One program, with its focus on tackling local and global challenges hands-on, inspired her to run. In the program's Global Problem-Solving course, Jagdeo and a team of students came up with a proposal to introduce underground "green walls" into the city's transit system with the goal of improving air quality and making green space in the city more accessible.
The team has continued to pursue their project outside of the course and is hoping to bring it to life through public or private partnerships in the future.
Green and recreational space are important to Jagdeo. So is housing, improving public transit, COVID-19 response, community safety and economic development.
Running a campaign as a young person during a pandemic has definitely been a unique experience, Jagdeo says.
"I don't think this would be considered a traditional campaign even in 'normal times.'"
Jagdeo focused her efforts on creating a presence on social media, doing interviews with media outlets such as BlogTo and Narcity, holding Zoom town hall meetings and doing mailbox literature drops. It's a lot to handle – but help from her fellow students, as well as her family and friends' support, have been invaluable, she says.
Of course, mounting a campaign for public office at age 19 brings unique challenges. 
"I've had a lot of people tell me 'you should own a house first, or have a family, before you run for office'," she says. "But I don't know if I'll ever be able to own a house, or if supporting a family is going to be feasible for me. That's a reality for a lot of people in this city – because of their age or economic situation, or other factors – but it's overlooked because the people who represent us don't necessarily experience those same difficulties."
A city council that is more diverse in terms of age, race, gender and economic status would be better able to consider the diverse social, cultural, and economic realities of Torontonians when making policy decisions, according to Jagdeo.
The idea that student communities are underutilized in politics is another major driving force of Jagdeo's campaign. She says campaigns and politicians reaching out to involve students is key.
"My peers are some of the smartest people I have ever met," she says. "They're doing incredible things and it's a shame that their ideas haven't been implemented or given a voice yet."
She also thinks that more young people, especially students, should run for public office, even if they aren't studying a subject such as political science or law. "Having a background or training in a unique discipline allows you to think about and evaluate policy from new perspectives," she says.
Jagdeo hopes her campaign will encourage other young people to get involved in politics. She was planning on holding a virtual event after the election to speak with other students and young adults about the realities and possibilities of running for office. As for advice for other young people thinking about participating in politics, she says that the most important pieces of the puzzle are integrity and passion.
"The best advice I've gotten so far is that you have to constantly evaluate yourself and stay honest," she says. "If you go into politics because you're genuinely passionate about solving something, it really shows."
Munk