U of T startup wins grand prize at Telus pitch competition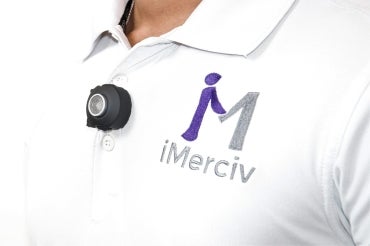 A University of Toronto startup that makes wearable sensors to assist blind and partially sighted people emerged as a big winner at a Telus pitch competition this week.
The company, iMerciv, beat out two other semi-finalists to nab the competition's $100,000 grand prize with its BuzzClip product. The wearable mobility device uses ultrasound to detect obstacles in the user's path, warning the wearer through intuitive vibrations that makes use of different frequencies. 
Bin Liu, the CEO and co-founder of iMerciv, said the money would be used to boost sales and marketing efforts, and expand iMerciv's presence in 11 countries where it already has customers.
"Building technical solutions to complex problems can be extremely difficult with a limited budget, and this $100,000 is going to allow us to grow and help so many more people," Liu said in a statement.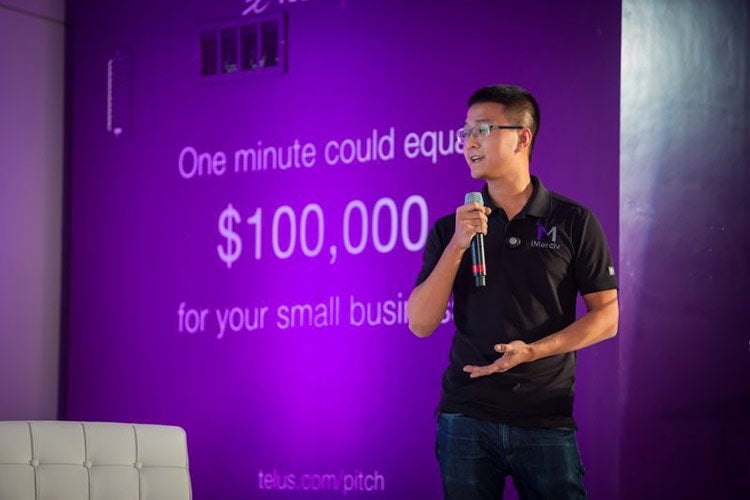 Bin Liu on stage at the Telus pitch competition on behalf of iMerciv (photo courtesy of Telus)
An engineer, Liu was inspired to launch the company after his father was diagnosed with inoperable glaucoma. Co-founder Arjun Mali, meanwhile, took inspiration from working at an orphanage and blind school in India.
The pair worked with U of T's Impact Centre accelerator to develop their idea – one of several entrepreneurship hubs at the university.
The Telus competition drew more than 3,000 entries. The semi-finalists, which included a company that makes a guitar amp that attaches to a smartphone and a company that allows grocery stores to sell surplus food at a discount, delivered their pitches before a panel of judges, including Dragon's Den star Arlene Dickinson. 
"iMerciv took home the grand prize because the team is working to create life-changing technologies, and they have a defined plan for how they'll use the $100,000 to expand their business and offerings," Dickinson, who is also the CEO of District Ventures Capital, said in a statement. 
"I can't wait to watch their progress and growth."
UTC