U of T startup helps local restaurants cope with COVID-19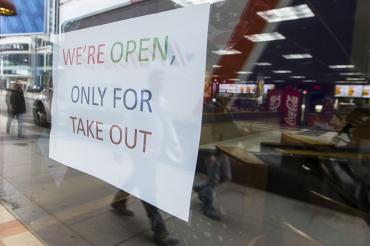 A new app developed by University of Toronto students and alumni is helping match potential customers with local, independently owned restaurants.
PickEasy, a restaurant matching app developed by Max Woo and Daniel Zhao, technical co-founder Cho Yin Yong, and mentor Mahmoud Halat, offers digital services to independently owned restaurants in Scarborough.
The startup's goal is to help smaller restaurants navigate pandemic safety regulations as effectively as larger chain restaurants.
"Many of my family members own small restaurants in Hong Kong and they had to work very hard to achieve success and to support their families," Woo says. "That's given me an emotional attachment to small businesses not only in Hong Kong, but in Scarborough as well."
Woo, a fourth-year management student at U of T Scarborough specializing in strategic management, and Zhao, a graduate of the management program, originally launched PickEasy to solve a simple yet relatable problem: "Where should we go to eat tonight?" Their answer was a swipe-based restaurant matching service that would pair users with restaurants based on their preferences and location.
When the pandemic hit, Woo and Zhao decided to leverage their startup to make a difference. They began offering free digital services to small restaurants in Scarborough, helping them create online menus to ensure customers could order safely online. More recently, they've also been working with restaurants to enable contact tracing, which not only helps the community stay safe, but also helps reduce costs when compared to physical contact tracing methods.
"We also went door to door to talk to restaurant owners, and they told us that this was something they needed because they didn't have the capacity to do it on their own, and they were struggling to get an adequate return on investment with current practices," Zhao says.
"That was the moment this project went from just an idea we had to a reality that could make a difference."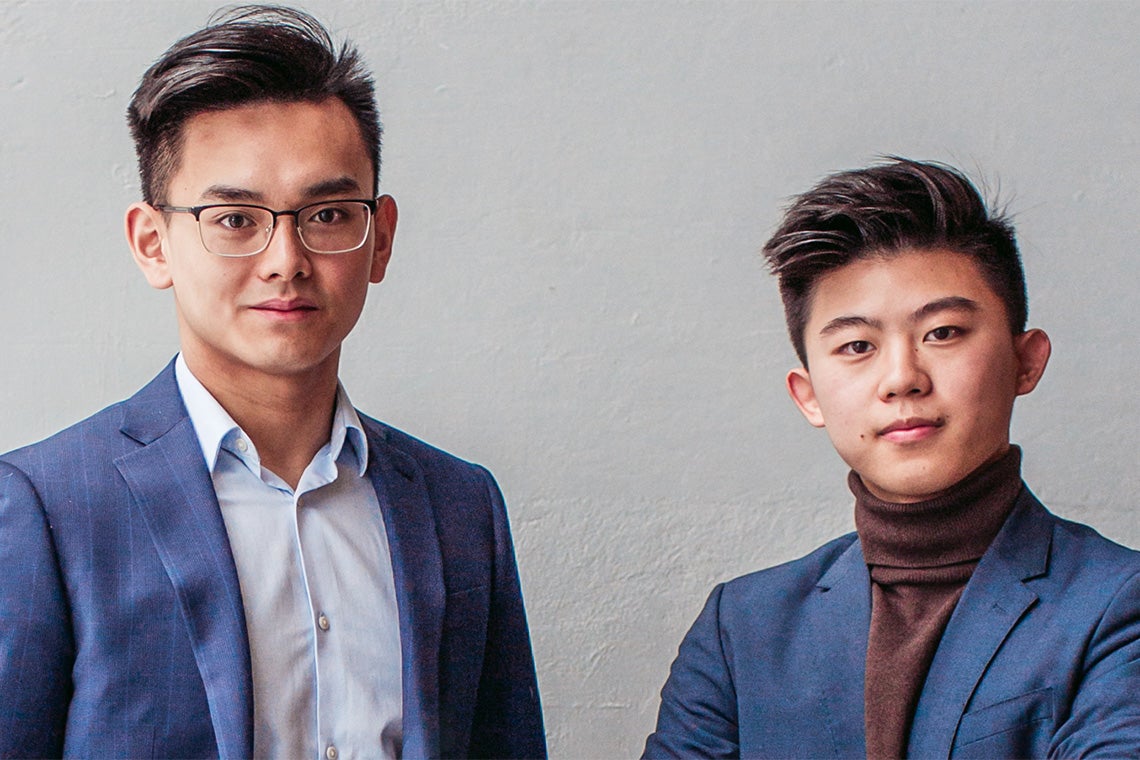 Max Woo and Daniel Zhao originally launched PickEasy as a swipe-based restaurant matching app that would pair users with restaurants based on their preferences and location (photo by Andy King)
Woo and Zhao brought their idea to the team at The Bridge, an academic space at U of T Scarborough that spans teaching, study, research, and experiential learning for business, finance, and entrepreneurship. There, the pair took part in the New Venture Program, which helps students in the early stages of building a start-up by helping them develop research skills to find data and information to support their business. It includes classes on research from U of T Scarborough's entrepreneurship librarian, Sarah Shujah, with access to several online learning modules and direct faculty mentorship from Bill McConkey, assistant professor, teaching stream, and academic director of The Bridge.
"The Bridge was crucial to laying down the groundwork for success, whether in the workplace or in entrepreneurship. There are so many uncertainties in real entrepreneurship that guidance, practical knowledge, and mentorship are essential for success. That's where The Bridge comes in."
With the help of the New Venture Program, Woo and Zhao were able to do valuable secondary research and deliver an innovative product. With that data in hand, the duo partnered with Dave Fenton, entrepreneurship and work-integrated learning co-ordinator in the department of management, to offer a product solution that directly expands efforts to support Scarborough community restaurants.
"The Bridge has had a lot of involvement with the Scarborough Restaurant Recovery Project," says Zhao. "That project ties into our goals of putting Scarborough restaurants on the map, and our partnership with the department gave us a number of new connections that allowed us to quickly scale our potential customer base. While it was a coincidence that our goals aligned, I feel like it was an amazing opportunity that benefits everyone."
The team was recently awarded a $30,000 grant from U of T Entrepreneurship and the Lo Family Social Venture Fund to help take their app to the next level. They plan to use the support to grow their network of restaurants and patrons across the Scarborough food scene. 
"Scarborough is very diverse. You have people from many cultural backgrounds and you get to actually experience people's cultures, and that's amazing," Woo says. "It shows you how small our world is, and how Scarborough is like a miniature version of our world."
UTSC