'It's our turn to be there for them': U of T Scarborough joins effort to support local restaurants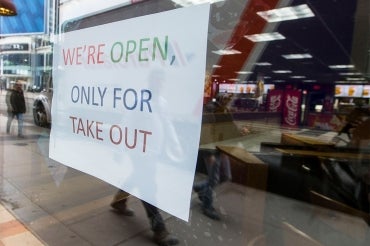 The University of Toronto Scarborough is working with Centennial College and local councillor Jennifer McKelvie to support small businesses in the community during the pandemic – and help put them on Toronto's culinary map.
"Many of our community members want to support their local restaurants and that's because they've supported us in the past," McKelvie says. "It's our turn to be there for them."
The BRIDGE, a research and innovation centre at U of T Scarborough, will work with Centennial's School of Hospitality, Tourism and Culinary Arts on The Scarborough Restaurant Recovery Project. Students will play an important part in the multi-media initiative that will bring community leaders together to share the stories (and the food) of establishments in Scarborough. The project will initially support businesses that register on To Go Toronto, an online delivery resource created by Tourism Toronto.
It will also help restaurants register to Ritual ONE, a commission-free online ordering website, and work to develop websites with ShopHERE, a city initiative assisting independent businesses and artists to open a free online store. 
"We were evaluating how COVID-19 has changed things, and how our students can jump in to help local businesses," says Bill McConkey, academic director at The BRIDGE, who along with Dave Fenton, will lead the project at U of T Scarborough. 
"We're still here, operational and available to explore solutions that we can help develop and meet the needs of the community," says Fenton, who is the entrepreneurship and work-integrated learning program co-ordinator at The BRIDGE. 
Scarborough has a rich and vibrant food scene that highlights the diversity of the area. While east-enders know these local gems, they sometimes get lost in Toronto's larger culinary scene. 
McConkey notes that registering local businesses on the website will not only give people outside the Scarborough community a chance to discover new restaurants, it will also make the restaurants more accessible to people on campus.
"Something you hear about often is that the Scarborough campus is great in so many ways, but it's hard to walk to entertainment and dining," McConkey says. "We also know that some of the best world food is here, and that it's also not that expensive."
"The online ordering world is something that is part of the solution here."
The BRIDGE, a partnership between U of T Scarborough's department of management and the UTSC Library, fuses research and experiential learning opportunities in entrepreneurship, finance and business. The Scarborough Restaurant Recovery Project will involve three summer courses, as well as co-op and work-study students.
"The project really speaks to what we've been working to build at The BRIDGE, which is a very multi-dimensional approach to work-integrated learning," Fenton says. 
With a list of approximately 100 restaurants, the city is currently contacting local businesses to inquire about their interest in To Go Toronto's website. 
Students in McConkey's consumer behaviour course will highlight trends such as rush hours and popular dishes, and conduct field research to identify east-end businesses' marketing needs and help them with branding. The student club, The Marketing Group, will identify digital marketing assets to help businesses register on To Go Toronto; a collaboration between The BRIDGE and computer science students will create websites for businesses to display their menu and support online ordering. 
"What you get is a cultural ecosystem where we can tell the stories of these restaurants, their chefs and how they learned to cook," says McConkey. "It's a broad celebration of Scarborough food and dining."
UTSC