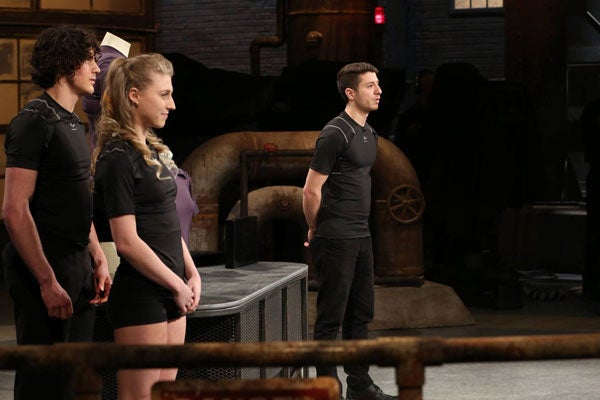 Dragons' Den investors back U of T startup Adrenalease Inc.
Recent grad Noureddin Chahrour offered backing by four of five panelists for his athletic wear company
This week, Noureddin Chahrour tamed three dragons on CBC's Dragons' Den − securing a $90,000 investment in exchange for 30 percent of his startup, Adrenalease Inc. 
The recent University of Toronto grad entered the Den asking for $60,000 in exchange for a 20 percent stake in his company and its flagship product: the posture performance shirt. Ideal for athletes, the shirt also provides a passive and adjustable solution for anyone who slouches during everyday activities, he told the Dragons in the episode which aired on Nov. 18. 
"It's scientifically engineered to have elastic straps to elicit certain muscle groups in the upper shoulder region," explained Chahrour, who was still a student in the Faculty of Kinesiology & Physical Education when the episode was shot. Users pull two straps on each side to increase tension and gently pull the shoulders back to improve posture. 
Unlike clothing made by competitors, the Adrenalease shirt is sleek and comfortable, Chahrour said. The straps can also be released after a recommended 30 minutes so the users don't become dependent on the shirt or over-extend their muscles.  
Team Canada's senior ice dancers, Paul Poirier and Piper Gilles, joined Chahrour in the Den, demonstrating the shirts in action.
"I have to do a lot of lifts with Piper so I need to make sure that my shoulders are in the correct position so that I don't injure myself," Poirier said lifting Gilles up above his torso to illustrate his point.  
Adrenalease was offered three deals from four Dragons, including an offer from Michael Wekerle (pictured below, trying on one of the shirts) for 200 times the original valuation in exchange for a 50/50 partnership.
Instead, Chahrour convinced three of the Dragons – Jim Treliving, Michele Romanow and Manjit Minhas − to join together, giving him access to diverse expertise. For their  combined investment of $90,000, the Dragons will split a 30 percent stake in the company. 
"I remember being a student," said Romanow, co-founder of Snap by Groupon and Buytopia.ca. "I remember feeling what it was like to do my first set of sales and I want you to feel totally empowered to go build this business." 
Chahrour developed his startup with the help of the Impact Centre's Innovation and Entrepreneurship course (IMC200), followed by their intensive Techno training program. Directors of Adrenalease include the Impact Centre's Richard McAloney and Professor Cynthia Goh.
To keep up with demand, Chahrour also took on four interns this past summer as part of the Internships in New Ventures program (IMC390).
"Adrenalease is an example of student entrepreneurship at its best," said Karen Sievewright, managing director of U of T's Banting & Best Centre for Innovation & Entrepreneurship.
"They're in full production, they're a consumer product people are interested in and I'm proud to say that because of Buy Blue, our Varsity basketball team is now sporting their posture performance shirts."
Adrenalease will also be exhibiting its dragon-approved posture performance shirts during Accessibil-UT, U of T's accessibility innovation showcase taking place on Nov. 30 from 1-5 pm.