U of T's Science Rendezvous 2016: walk on water and watch drones fly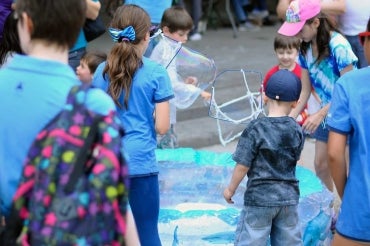 This Saturday marks the ninth year of Science Rendezvous, a free science street festival for scientists of all ages, at the University of Toronto's St. George campus.
Organizers promise "five city blocks of hands-on learning and discovery that moves state-of the-art laboratories and research facilities into city streets" and "brings kids face-to-face with the scientists, engineers, clubs, hobbyists, and researchers at the frontiers of innovation".
If you know a student interested in a behind-the-scenes look into science as a career, Science Rendezvous is a great opportunity, said Maisha Zaman, a spokesperson for Science Rendezvous, University of Toronto Chapter.
"Occurring simultaneously in over 30 sites across Canada, Science Rendezvous offers visitors of all ages a chance to meet with world-class researchers, take part in experiments and, above all, have fun while discovering science in a whole new way," Zaman said.
Last year's Science Rendezvous included robots, exploding fruit, giant bubbles – and a chance to see U of T's solar race car. 
The solar car is back this year, by popular demand.
"We hope that the attendees of Science Rendezvous will gain a greater appreciation and understanding of green energy and engineering innovations in general, and be inspired to become involved in similar projects in the future," said Zhexiang Wang, member of the University of Toronto Blue Sky Solar Racing advancement team.
"I think seeing a car that raced across Australia, that was designed and built by students who were once in their shoes is a pretty good way to spend a Saturday!"
Other must-see events on May 7 include an inaugural interdisciplinary science show which features a self-flying drone demonstration by the Institute for Aerospace Studies and something called the 100-ft Non-Newtonian Dash (where the World's Largest Non-Newtonian Running Track will apparently allow participants to simulate the sensation of walking on water).
Professor Dwayne Miller of chemical and biological physics is responsible for bringing the event to Toronto after inspiration struck while he was at similar festival in Germany. Miller's goals of boosting student interest and public involvement in STEM fields remain at the core of the annual event.
"Everyone is born a scientist: you're naturally curious," Miller says. "Somewhere in our education system we beat it out of them. So the idea is to bring back the curiosity that people have and give them a venue to ask their questions and talk to real scientists. 
"I thought it was really important to see what kind of science is going on in their backyards."  
This year's theme is superpowers. Organizers put out a call for young scientists and superheroes to help defeat an evil mastermind who's attempting to take over the world by unleashing a series of disasters as part of "The Amazing Science Chase."
The Science & Tech Street Fair will take place along St. George Street between Harbord and College, and will feature 50 pavilions. Past years' events have welcomed 15,000 attendees of all ages.
This year marks the first time that Science Rendezvous will be the Kick-Start Event to the Natural Science and Engineering Council of Canada's National Science and Technology Week (Science Odyssey).
Science Rendezvous is one of many events the university hosts annually to promote scientific literacy.
For live tweets from Science Rendezvous on Saturday, follow @uoftmedicine and the hashtag #SR2016
For more information visit http://sciencerendezvousuoft.ca/