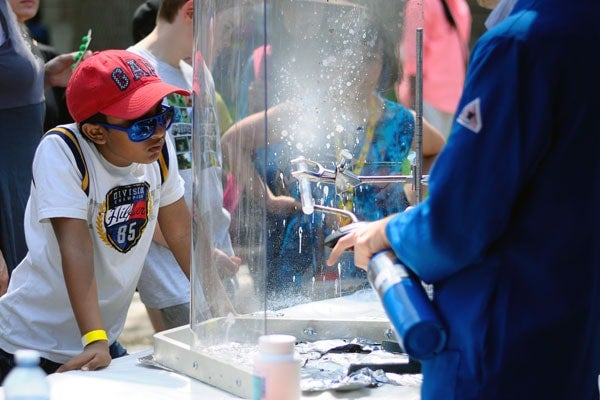 Science Rendezvous 2015: solar cars, giant bubbles, melting metal and much more
Each year, thousands of children and adults with an appetite for fun attend Science Rendezvous at the University of Toronto. 
This festival of all things science is the brainchild of U of T chemistry and biological physics professor Dwayne Miller and began as a joint program between U of T, Ryerson University, York University and the University of Ontario Institute of Technology (UOIT) in 2008.
Since then, the annual event has grown to include 40 of Canada's top research institutions and more than 75 community partnerships across 30 cities in 10 provinces.
At U of T, the annual event is one of myriad ways the university promotes science in the community, from free talks in public libraries to Science Literacy Week events on campus (to learn more, visit Science & Engineering Engagement, headed by University Professor Molly Shoichet).
This year, U of T's Science Rendezvous welcomed an estimated 15,000 people to the University of Toronto Scarborough campus and to St. George street downtown, which was closed to traffic. If you missed this year's event, here are some highlights: