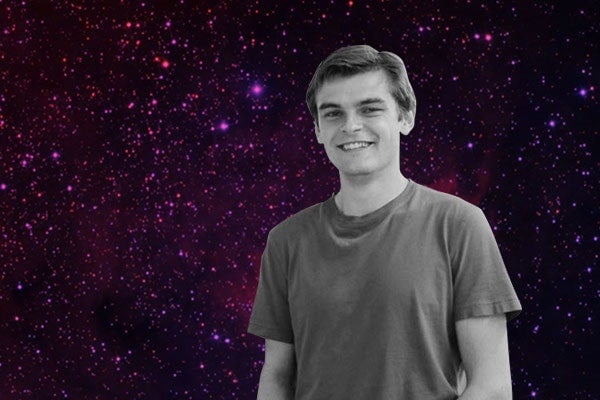 Science Literacy Week: 280 events across the country
How recent grad Jesse Hildebrand launched the science festival taking over Toronto – and Canada
Fresh from his undergraduate studies in ecology and evolutionary biology, U of T alumnus Jesse Hildebrand  has turned his enthusiasm for science into a festival for the city.
"You look in a telescope and see back in time to stars that were there a million years ago," said Hildebrand, founder of Science Literacy Week. "It gives me chills."
"Who wouldn't want to convey that wonder to everyone? It's natural." (Read more about Science Literacy Week)
After childhood days of taping up posters of Australian television personality and conservationist Steve Irwin and undergraduate years of liberating science texts from library stacks to front-lobby displays, Hildebrand's entrepreneurial path to science leadership in 2014 led to the creation of Science Literacy Week. (Read about Science Literacy Week 2014)
This public event invited Toronto audiences to delight in topics often confined to textbooks and lectures: the science of space, dinosaurs and more came to life through expert-guided film screenings, lively discussion panels and stargazing. With major partners U of T, Toronto Public Libraries and York University on board, his effort was a GTA-wide success.
But Hildebrand was determined to give his project a bigger bang this year.
Science Literacy Week returns on Sept. 21 as an expanded Canada-wide festival with 280 events stretching from Victoria to St. John's. Forty cities and 120 partner institutions have joined.
"I'm flabbergasted how many people said yes to this event," said Hildebrand of his campaign of more than 4,500 emails. "I got 10 yes responses for every no."
While working part-time as an educator for Ripley's Aquarium of Canada and earning a master's degree in science communication from England's Open University, Hildebrand reached out to museums, libraries and researchers across the country to build the diverse program of events.
Toronto will be studded with more than 40 activities, ranging from nature walks to 3D-printing demonstrations to lunar-eclipse-watching parties and expert-guided screenings of Jurassic World. Many are hosted by the U of T.
"Science and Engineering Engagement at the University of Toronto is thrilled to bring this series of events to the Toronto community," said Molly Shoichet, senior advisor to U of T President Meric Gertler on science and engineering engagement (SEE). 
"With panel discussions on such hot topics as health, aging, sustainability and energy, as well as 'science at the movies' screenings taking audiences from dinosaurs to outer space, there is definitely something for everyone."
Shoichet said U of T is proud to work with an alumnus like Hildebrand to bring science to the community.
"Part of what makes the University of Toronto awesome is access to world-renowned scientists, right here on our doorstep. These events are accessible to the novice and appealing to the expert. It's a way to learn more about our options individually and as a society, or just to have fun at the movies or staring up into the sky. We invite all of U of T to participate. Bring your friends and family."
Hildebrand credited his undergraduate astronomy professor Mike Reid for help and encouragement. Reid's team at the Dunlap Institute for Astronomy & Astrophysics will host a Total Lunar Eclipse Viewing Party on Sept. 27 alongside the Science Literacy Week activities. (Read more about the free Lunar Eclipse Viewing Party)
"In high school, there's so much buildup about how scary university's going to be but I never really experienced that," said Hildebrand. "I had lovely teachers throughout."
Hildebrand offered a few pieces of advice to undergrads at U of T.
"There's a diversity of people there to help you," he said. "Librarians are keen to make your life easier – they are so wonderful.
"Talk with professors as much as possible. My favourite experiences in university were chatting with them one-on-one." (Read more advice for undergrads at U of T)
Hildebrand echoes Shoichet's message that everyone will find something of interest in Science Literacy Week programming, insisting that "no science background is needed."
For next year, he talks about adding cities and events, getting bigger.
"I've been so lucky to meet all these wonderful science communicators and passionate people at museums and libraries. It would be nice if more could be done to link them and bring more science activities, more science understanding to the public. That would be my dream."