U of T Scarborough explores how urban agriculture intersects with social justice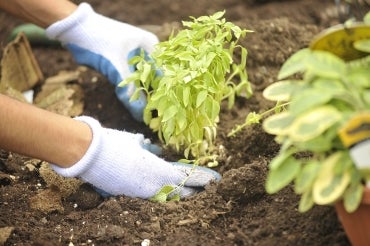 As Toronto continues to grow, urban agriculture may play a more significant role for people seeking alternative sources of nutritious and affordable food, U of T researcher Colleen Hammelman says.  
Hammelman has examined urban agriculture in such cities as Medellín, Colombia, and Washington, D.C. She explored the role of urban agriculture in the GTA and social justice at a one-day conference organized at U of T Scarborough this month. 
"Urban agriculture brings a lot of value to a city, especially in terms of sustainability, but a key element is how social justice also fits into the conversation," says Hammelman.
While urban agriculture is widely practiced in many respects, it's also misunderstood, particularly the important role it plays in migrant communities both culturally and nutritionally, notes Hammelman, who is a post-doc researcher at U of T Scarborough's Culinaria Research Centre.
From her experience, urban agriculture not only supplements food budgets by giving access to fresh food many can't afford, but it also provides "spaces of community resilience" where residents can come together for a common purpose.
"Community gardens also provide important avenues of support for new Canadians," she adds.
The conference featured a variety of speakers including Kristin Reynolds, author of Beyond the Kale, and Toronto Councillor Mary Fragedakis, along with members of various community organizations like Black Creek Community Farm, Toronto Urban Growers and AccessPoint Alliance. Undergraduate and graduate geography students also had a chance to meet with participants to talk about how social justice fits into the conversation around the urban agriculture movement.
There are about 200 spaces ranging in size that are designated for community gardens across Toronto where people can grow food.
"It's an active and growing movement in the city, but there are challenges in trying to expand," says Hammelman, pointing to resources needed for starting up a garden and finding adequate spaces and clean soil, which is no easy feat given Toronto's industrial past.
She pointed to work being done by Malvern Action for Neighbourhood Change in supporting three community gardens and collaborating with other organizations for a project that will establish market farms in Hydro corridors as microenterprises. The work being done there in creating community gardens focuses a lot on addressing some of the food security issues in Malvern.
Hammelman sees the university playing a role in working together with community partners to help navigate some of the challenges involved in establishing opportunities for urban agriculture. 
"There's work to be done on making sure people growing food in community gardens can be adequately compensated for their labour, but also ensuring that the food being grown is still affordable for those who need it," she says.  
UTSC