A Canadian flag flies at half-mast Tuesday at the University of Toronto's downtown Toronto campus (photo by Geoffrey Vendeville)
The University of Toronto is offering its condolences to the victims of the devastating van attack near Yonge Street and Finch Avenue that's being dubbed the country's worst mass killing in nearly 30 years.
U of T President Meric Gertler tweeted Monday evening he was saddened by the "horrific" attack that occurred just hours earlier when a rental van jumped a curb and drove into pedestrians on a busy stretch of Yonge Street, leaving a trail of carnage in its wake and an entire city in shock.
So far, 10 people have been declared dead while another 15 were taken to hospital.
"The thoughts of the U of T community are with those who have been affected," President Gertler said. "Our city is resilient & our citizens are compassionate."
He signed off his tweet with the hashtag #TorontoStrong.
Police yesterday arrested Alek Minassian, 25, after a brief but tense standoff that was captured on video and shared on social media. Minassian made a first appearance in court Tuesday morning, charged with 10 counts of first-degree murder and 13 counts of attempted murder.
Bloomberg News called the attack the worst mass killing since the 1989 massacre at Montreal's École Polytechnique that left 14 women dead.
In an act of solidarity, U of T joined Toronto City Hall and other local institutions by lowering flags on its three Toronto-area campuses to half-mast on Wednesday. 
— University of Toronto Scarborough (@UTSC) April 24, 2018
U of T students on all three campuses who were either impacted by the event or are finding it difficult to cope with its aftermath are encouraged to get help. The university's Health & Wellness Centre provides a list of resources for students. For faculty and staff, the HR & Equity department provides a list of resources.
Some U of T students took it upon themselves to reach out to a rattled local community.
Leila Atri, a history and diaspora and transnational studies student, and her fellow don at U of T's Victoria University, Alex Bowie, made posters for a makeshift memorial near Yonge Street and Finch Avenue.
Late Monday night, the pair brought the posters to Burwash Dining Hall, where students were studying for exams. About 70 people added messages of support, Atri said, the likes of "We are standing with you," and "U of T is with you all the way and sending love."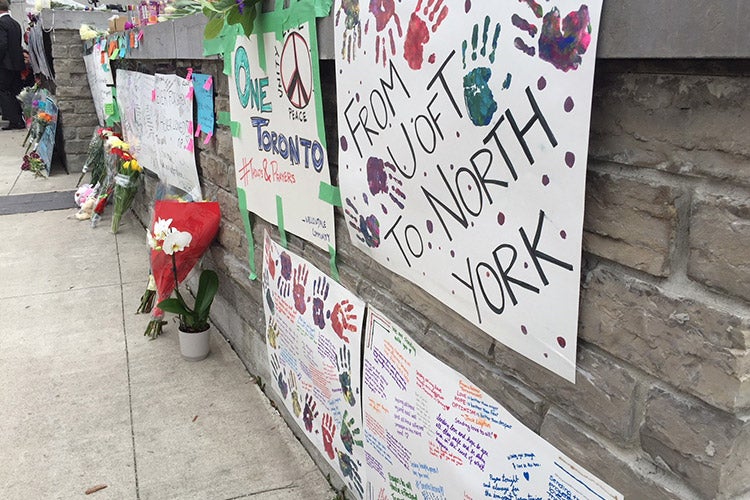 U of T students made a poster for a makeshift memorial at Yonge and Finch (photo courtesy of Leila Atri)
"I know the stress around finals season," she told U of T News. "Sometimes you feel like you don't have time for anything else. I was really grateful that people all got up and wrote something."
She was interviewed by City TV when she went to leave the signs at the memorial.
"People shouldn't feel alone or isolated, even though the city can sometimes make us feel this way," Atri said, adding she grew up in North York.
"We're all in this together."
— Tammie Sutherland (@citytammie) April 24, 2018