U of T's Winter Stations warm up Toronto's beaches
The event runs until March 27
Torontonians have been flocking to the sandy shores of Lake Ontario to check out the whimsical structures lining the beach.
Winter Stations is the annual design competition where creative teams from all over the world build art installations around the lifeguard posts scattered across Toronto's east-end beaches. This year, University of Toronto architecture and landscape architecture master's students from the John H. Daniels Faculty of Architecture, Landscape, and Design made their debut.
The event is a chance for students and budding designers to show off their talent, alongside more experienced architects. Three schools, including U of T, were chosen to participate.  
"To me, this is a great opportunity for young designers to design, build and deliver pieces where normally in the studio, they don't necessarily see things out and work through problems," says Aaron Hendershott of RAW Design, one of the event organizers. "I think it's a great learning experience for the students and they do really compelling work."
Students at U of T participated in an internal competition to decide which installation would be included and it was Midwinter Fire that got the vote.  
U of T architecture and landscape architecture students assembled Midwinter Fire on a snowy beach, days before the Winter Stations event opened to the public (photo by Romi Levine)
The structure utilizes local vegetation to brighten up the wintry beach and reflective walls to make the installation appear larger, almost infinite.
"What we're trying to do is get into a space and alter your perception of what the outside is to the inside," says architecture graduate student Michael DeGirolamo.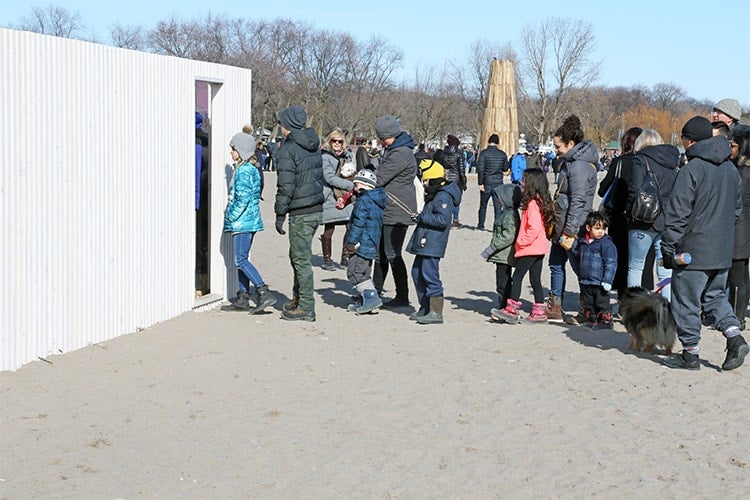 Midwinter Fire was one of a few structures with a lineup to get inside on opening day (photo by Romi Levine)
The construction process wasn't without a "few hiccups," says DeGirolamo.
The truck carrying building materials, for example, got stuck in the sand, delaying construction and a supply run. Despite setbacks, Midwinter Fire was ready to go for opening day – and it was a hit. 
Kids enjoyed climbing up onto the lifeguard station to get a good view. One parent remarked, "This is magic."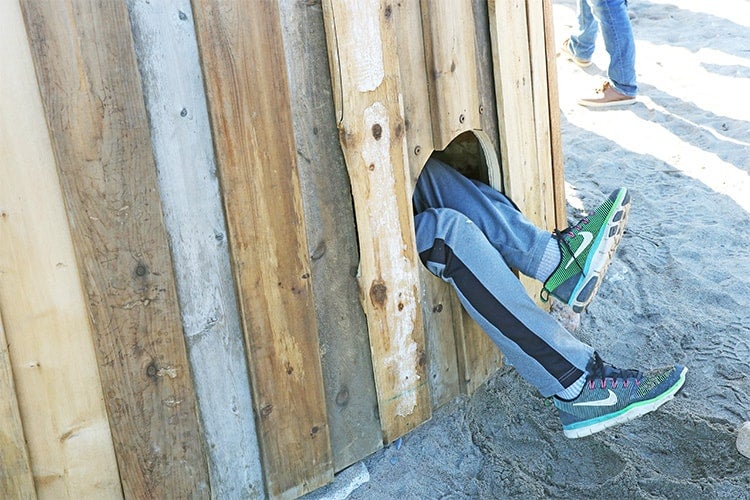 Kids had fun using Winter Stations, like this one called Beacon, as a jungle gym (photo by Romi Levine)
Midwinter Fire isn't the only U of T-made Winter Station at this year's event.
After drafting a design for their studio class, landscape architecture students Asuka Kono and Rachel Salmela decided to submit their concept to the design competition – and they won.
Their Winter Station, I See You Ashiyu, is a long wooden foot bath heated by a wood-burning stove.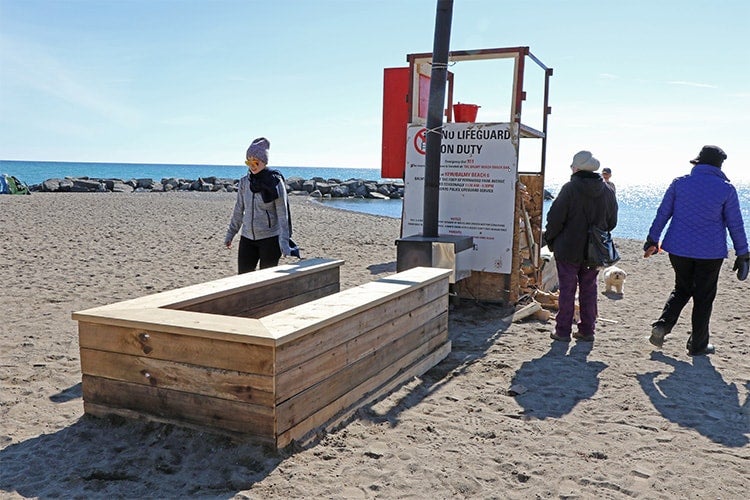 "We really wanted to do something that's more connected to the beach and the lake, that would help revitalize a winter landscape," says Rachel Salmela about, I See You Ashiyu (photo by Romi Levine)
"We both are very familiar with the public baths culture: I'm from Japan, half of [Rachel's] family is from Finland," says Kono. "When we are warm and relaxed, it's easy to communicate with other people so this hot springs public bath is a social catalyst."
Beachgoers are encouraged to keep filling the bath using buckets provided.
"It gets people to engage with one another, engage with the installation in a more active way," says Salmela.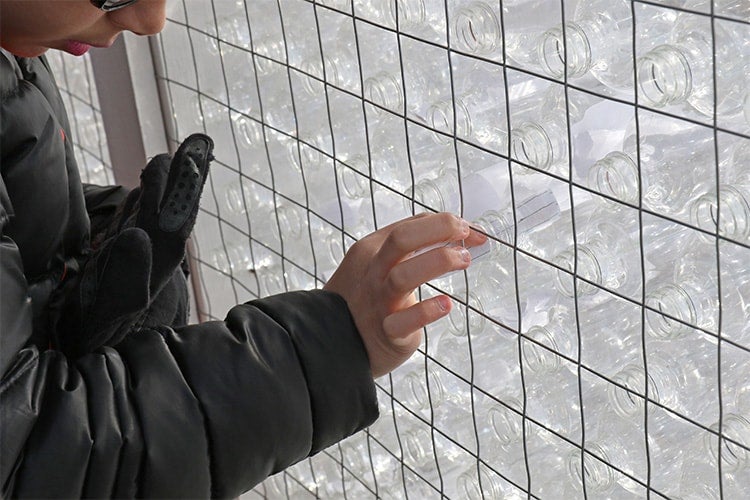 Collective Memory, an installation created by a design team from Italy and Spain, encouraged people to celebrate the diversity of Toronto by writing messages in bottles (photo by Romi Levine)
For Hendershott, U of T's Winter Stations embrace the qualities that make the event unique.
"The installations that have been most successful in my mind create new types of social spaces," he says. "They create reasons for strangers to rub elbows or get contained in the space together."
UTC