Jazzing up winter in the city: U of T students to build winter station at Toronto beach
"You can come in and get out of the wind, experience the vegetation close up and really start to celebrate what the winter can be in the city"
If you walk past the east side of the John H. Daniels Faculty of Architecture, Landscape, and Design building on College Street, you'll notice a curious structure. It's tall, wooden and looks something like a half-built fence.
It's a prototype for an art installation created by U of T students for the third-annual Winter Stations design competition.
Every year, designers from around the world build structures that surround the lifeguard stations scattered across Toronto's beaches.
This is U of T's first time participating.
"What I love about it is it's a true collaboration between landscape architecture and architecture students," says Pete North, assistant professor of landscape architecture and the Winter Station faculty advisor. "It's really taking the interest, expertise and the skills they developed as students and seeing how we can bring them together in one installation."
To decide on the U of T installation design, students participated in an internal design competition where three concepts were chosen. An external jury picked the winning design.
The design had to fit within this year's Winter Station theme – catalyst. Teams are challenged to create an installation that has components that can be reused in the future.
U of T's station is called "Midwinter Fire" – it creates the illusion of an urban forest, using vegetation donated by the Toronto and Region Conservation Authority and Connon Nurseries.
"Vegetation has amazing bark in the winter, so birches, dogwoods that are really brilliant red and other vegetation are what we're experimenting with now," says North. "The idea is once this gets dismantled, that vegetation can go to restoration projects in Toronto, can be reused by the parks department or could be placed elsewhere."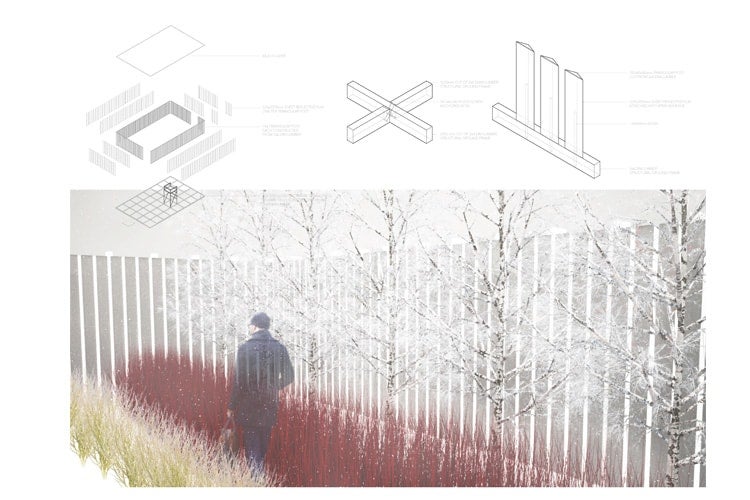 The installation encourages viewers to think about the importance of the city's urban forests (image courtesy of U of T/Winter Stations Design Competition)
The structure will be pre-fabricated on campus so that it can be easily assembled on the beach and reused after the event – but designing it in that way won't be easy, says architecture graduate student Michael DeGirolamo.
"It's been challenging trying to figure out aesthetically how it's supposed to go together and try to think of a way that it's feasible to bring it on site not knowing exactly what the temperatures will be like."
Building a Winter Station is also a valuable lesson in budgeting for burgeoning architects and landscape architects. The challenge will be keeping the costs below the $5,000 they've been given to build the station.
"It helps for putting constraints, for adding to the level of creativity and knowing what it's like to get a project done under budget," says North. "For a lot of the students, it's the first time they've ever done a cost estimate. It's the first time they've ever made something real, tangible other than a small model in school."
North and DeGirolamo say they look forward to seeing the full-scale installation when it finally makes it to the beach.
"It'll be interesting to see if it's going to come together how we are drawing it up," says DeGirolamo.
For North, he's anticipating how beachgoers will interact with the U of T station.
"You can come in and get out of the wind, experience the vegetation close up and really start to celebrate what the winter can be in the city," he says.