U of T's new dean of continuing studies brings knack for community building
"Our community is stronger when everyone is learning," says Maureen MacDonald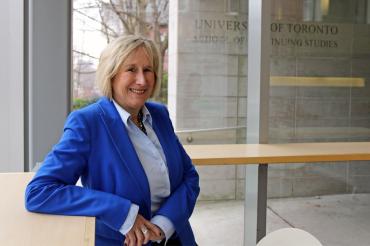 For almost 25 years, Maureen MacDonald has seen how continuing education can change people's lives and ignite their passions.
"It helps them learn a language and introduces new career opportunities. It allows them to be entrepreneurial if they want to be, and ultimately our community is stronger when everyone is learning," says MacDonald, the new dean of the School of Continuing Studies at the University of Toronto.
MacDonald brings a wealth of experience to her new role – most recently as dean of the division of continuing studies at the University of Victoria.
"Maureen brings with her vast experience from universities in other parts of Canada and an educational background that spans law, business and higher education," said U of T's Vice-President and Provost Cheryl Regehr.
"The School of Continuing Studies is a critical component of the continuum of educational offerings at the University of Toronto and contributes to our ability to meet the learning needs of people across this richly diverse city."
It was U of T's stellar reputation and Toronto's economic and community resources that drew MacDonald to the city.
"The diversity that exists here and the multicultural nature of this city are really something I don't think you see in many other cities in the world," MacDonald says.
"You can walk down the street and be behind people, and you're hearing a multitude of different languages. I just think that's so interesting and so cool."
That multiculturalism is celebrated at the School of Continuing Studies, says MacDonald.
"We have an English language program that brings students from dozens and dozens of countries around the world. They come to Toronto, they see how a city can function and its diversity, and they bring that back to their own countries. That really helps to inform how we can be a tolerant society," she says.
Apart from class offerings, the School of Continuing Studies also provides meaningful services to new Canadians, says MacDonald.
"We do the credential verification of immigrants coming to Canada so we get an insight into some of the issues they're facing as they arrive in the country and try and make this place their home," she says.
While continuing education can provide a leg up for newcomers, it also plays an important role for Torontonians looking to explore new career options.
"The fact that we're able to be nimble in terms of our program development allows us to respond to market changes very quickly, and that allows people that want to make those career changes to get the skill sets they need to be effective in whatever jobs they want to pursue," says MacDonald.
To do that, the school has to create meaningful partnerships with business and organizations, she says.
"The fact that we are located in the GTA means we are stronger when we are able to develop those partnerships – we offer courses in Mississauga and Scarborough, and I think there are opportunities for us to strengthen the relationship we have with those campuses through continuing studies," says MacDonald.
UTC