U of T's Kenneth Fung on the impact of anti-Asian racism on mental health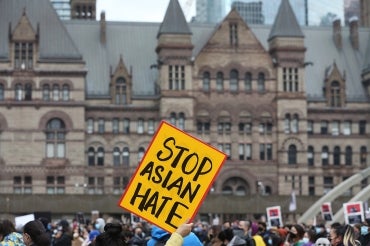 With anti-Asian racism on the rise in Canada, concerns are mounting over the impact on people's mental health.
That's why University of Toronto psychiatrist Kenneth Fung says it's important to couple the fight against Anti-Asian racism with efforts to build resilience in individuals and communities – and foster culturally competent mental health services.
On May 22, Fung, an associate professor in the department of psychiatry in U of T's Temerty Faculty of Medicine and clinical director of the Asian Initiative in Mental Health at the University Health Network (UHN), will discuss the topic during a workshop and panel discussion titled "Anti-Asian Racism: Addressing the Mental Health Impact of Racism."
The first in a three-part series on resilience, the webinar is hosted by the Asian Initiative in Mental Health.
Fung will joined by Fei-Fei Liu, chief of the radiation medicine program at Princess Margaret Cancer Centre and professor in the department of radiation oncology in the Temerty Faculty of Medicine; Janice Fukakusa, chancellor of Ryerson University and chair of the board of directors of the Princess Margaret Cancer Foundation; and Jenny Liu, a post-doctoral researcher at UHN and lecturer at Ryerson.
Ahead of the webinar, which will feature interpretation in Cantonese and Mandarin, U of T News spoke with Fung about anti-Asian racism, the impact of discrimination on mental health and how individuals and groups can tackle racism and build resilience.
---
How has the COVID-19 pandemic fueled or influenced anti-Asian racism in Canada?
There has been a long-standing history of anti-Asian racism since the founding of the nation. Since COVID-19, we are now seeing brazen physical and verbal attacks that blame Asians for bringing in the virus and people acting as if Asians the source of contagion. We also see negative portrayals of Asians and suggestions that maybe it's their bad habits that created the virus.
Insults like "go home" are pretty obviously damaging and un-Canadian, if you will, because when you ask someone to go home, you're saying that Canada isn't welcoming you here and isn't considered your home. This is something that is being said to people who have been here for generations and are just as Canadian as any other Canadian.
There's also the pre-existing myths of the "model minority" and of Asian-Canadians taking away everyone's jobs and being so well-off. In fact, there's just as much diversity and spectrum within the Asian-Canadian population as other Canadian populations. We know from pre-existing data that Chinese Canadians, for example, have more limited access to mental health care.
In addition, if you compare immigrants or visible minorities, they often – as a group – earn less and are more likely to be under-employed for their training and equivalent status. There are all kinds of studies showing that they're less likely to be promoted in corporate settings, and more likely to be precariously employed.
So, systemic racism is taking a toll on the Asian population on top of the overt verbal insults and violent assaults. There's cause for concern that all this has risen in the context of the pandemic.
How do acts of racism affect the mental health of victims and communities?
There is a very direct impact from racist attacks and comments. It can be a very traumatic experience to be accosted and assaulted. All of this can have a psychological – even physical, in some cases – impact on the individual.
It can also psychologically make Asians feel like this is not their home – so you don't feel like you have a Canadian identity. This has direct implications for mental health and psychological well-being.
One Ontario study showed that the Chinese-Canadian population has one of the lowest expressed senses of self and belonging in Canada. I think that's likely related to Chinese Canadians also having one of the poorest self-rated mental health. Racism just increases all of this by decreasing the sense of belonging and well-being.
Of course, there are also other indirect impacts that include the social determinants of health, such as finding it more difficult to get a job because of your credentials not being recognized or maybe because of language skills or an accent. Even if Asian Canadians have been here for generations, speak the language and are educated here, there's still a disparity that can be seen in terms of employment, under-employment and promotions. All of that has an impact on mental health.
That's why we're seeing impacts on the individual level, family level as well as the community level for the entire Asian-Canadian population.
How can the mental health impacts of racism be addressed in a culturally sensitive manner?
When people's mental and physical health and well-being are under attack in the context of a racist environment, a lack of culturally appropriate services means that people who are also suffering from racism are less likely to reach out for help.
Secondly, in the Asian context, a lack of acknowledgement of racism can lead to internalized racism – especially given the myth of the model minority. This means people's experiences with racist attacks may be invalidated, minimized or not understood in their appropriate cultural context. This leads to people internalizing racism or feeling shy to stand up to racism. They may feel like, "Oh, we hear about the Black Lives Matter movement and that group has it worse so we don't have a right to complain." It's often a part of Asian culture to build harmony, which can make people reluctant to come forward.
The myth of the model minority can sometimes be used to pit one group against another group rather than striving for equity for everyone. This means the impact of racism can be worse and the capacity for people to speak up, feel validated and get help is worse. We need to dispel the myth of the model minority and address the impact of people internalizing racism.
A culturally sensitive and competent approach is needed to understand both the history and the context in which these acts of racism occur, as well as to understand the impact of the racism and address it.
What does it mean to build resilience, and how can this mitigate the mental health impacts of racism?
Resilience is very important. Whether you have a diagnosis mental illness or not, everyone can benefit from attention to resilience as a way to promote well-being.
People often define resilience as coming back from adversity, which I think is important – the ability to bounce back. We need to be able to bounce back from difficulties, whether it's the pandemic or racism. Building resilience, then, is important so that when you encounter adversity you have the enhanced capacity to bounce back.
However, one potential flaw with talking about resilience in this way is that you might be tempted to mistakenly say that being resilient means not caring about racism attacks. Resilience isn't just about an individual's capacity to bounce back, but about recognizing that resilience is sourced from both internal and external resources. That means your actual resilience is partly determined by your external environment, which includes culturally competent and accessible services, and includes a feeling of security and belonging to your community.
In the case of racism, we need to internally acknowledge and recognize that racism has a direct psychological impact and we need to be equipped to heal from the trauma and not internalize racism. All of that is important to strengthen internal resilience and acknowledge that if you do feel stress, it doesn't mean that you're weak. But external collective resilience also needs to be there from friends, family, communities and getting involved to advocate for services and collectively stand up against racism.
Individually, people can feel pretty powerless against systemic racism. But as a collective, both within the Asian community and with the Canadian community at large, we can all work together to strive towards an equitable and just society.
UTC