'U of T's greatest strength is its people': International student Aamyneh Mecklai on the thrill of being on campus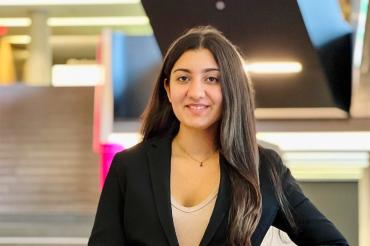 Aamyneh Mecklai's transition to student life at the University of Toronto was anything but straightforward, but she says she wouldn't have it any other way. 
Originally from Mumbai, India, Mecklai was accepted to U of T in 2020 with a Lester B. Pearson International Scholarship. But the elation of receiving the university's most competitive full-ride scholarship for international students soon gave way to the reality that she wouldn't be able to move to Toronto due to the pandemic – and would have to complete her first semester remotely from halfway around the world. 
Mecklai finally arrived in Toronto in time for the winter 2021 term – on a freezing January day, no less. She then headed straight to two weeks of quarantine and a delayed return to in-person classes, as the university responded to the Omicron variant. 
Now in her third year at Rotman Commerce – at a time when U of T's three campuses are once again brimming with activity and excitement – Mecklai says the journey has made her all the more appreciative of the joys of campus life and better equipped to tackle its challenges.
"When I finally came to U of T, I felt like I was much stronger and much more independent," she says. "I had so much to look forward to, there were so many people to meet and so many things I could now do in-person.
"It was definitely a little challenging at times, but I'm in love with U of T and Toronto. Looking back, I don't think I would have it any other way."
Mecklai was one of thousands of students around the world who couldn't begin their post-secondary experience in person due to the pandemic. Her best friend, who was accepted into a college in New York, was also affected – so the duo decided to make the most of their shared predicament by moving into a Mumbai apartment together.
"We had a pseudo-college experience and learned to live alone, cook, take care of our apartment and each other, and balance academics alongside," Mecklai says. "It was a really interesting experience and, in retrospect, a beautiful transition to college."
In addition to getting a taste of independent living, Mecklai also wasted no time getting involved in an array of extra-curricular activities at U of T. She joined an online dance organization, wrote for the Varsity and the Trinity Times, and participated in several clubs and leadership platforms that catered to her interests in activism, education access and girls' rights – including Trinity Women in Leadership and the U of T chapter of Girl Up, a leadership development initiative launched by the United Nations Foundation.
"Although I was studying remotely, I had access to incredible resources at U of T and was able to express myself, albeit online," says Mecklai, an aspiring social entrepreneur and lawyer.
Trinity College, in particular, served as a rich network for Mecklai to find likeminded people.
Through the college, Mecklai connected with student-activists and twin sisters Maryam and Nivaal Rehman, who run the non-profit MNR Foundation. Mecklai helped them launch a student-led digital advocacy tool called Feminae Carta, which provides resources to young and inspiring advocates, and is backed by organizations including the UN Girls' Education Initiative (UNGEI), Malala Fund and Disney. She has since been interviewed by UNGEI about Feminae Carta, and launched a podcast with the Rehman sisters.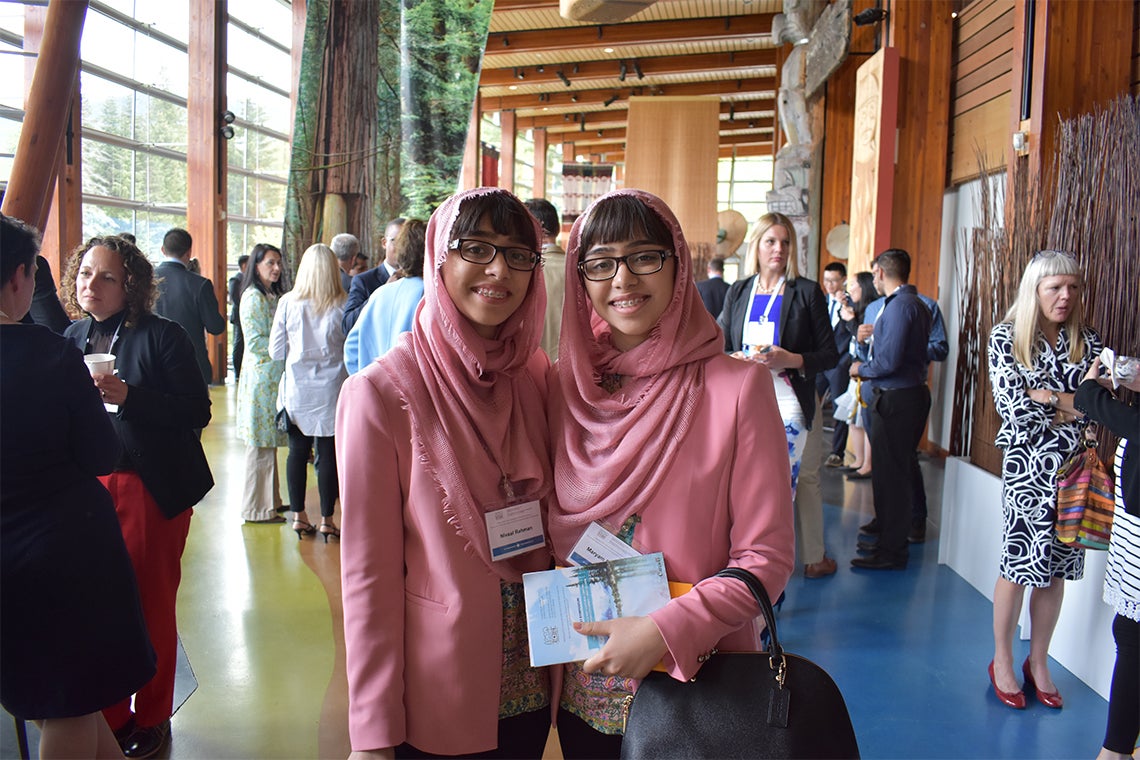 Nivaal (L) and Maryam Rehman run the non-profit MNR Foundation (photo courtesy of McKinley Tretler for Malala Fund)
"What was so incredible is that I had access to all of this before I even physically arrived in Toronto," Mecklai says. "U of T's greatest strength is its people – you just need to reach for it."
Of course, connecting with people exclusively over Zoom and phone calls wasn't always smooth sailing. "Initially, it was a bit jarring because you don't know how connected you'll feel to other people and there can be some awkward moments, but it was just about persisting through it – and knowing that when you come to U of T, there will be so many opportunities to meet and connect with people. So, there was always so much to look forward to."
Mecklai finally arrived in Toronto in January 2021 – "I certainly didn't know what -18 C felt like," she recalls – and completed two weeks of quarantine at the CampusOne residence building before moving into her current digs at Trinity College.
While the large class sizes and sheer numbers of people on campus may have seemed daunting at first, Mecklai says she's come to see it as one of U of T's best attributes.
"That's the beauty of U of T … it gives you so much choice and diversity in being able to pick and gravitate towards your people," she says. "You're always going to be spoiled for choice, whether it's extra-curricularly, academically or professors you want to engage with."
Mecklai emphasizes the extra-curricular aspect, which she says is her favourite part of the university experience.
"To be very honest, academics for me is something I do like to work on, but I think I'm really driven by things I do outside the classroom and side projects," she says.
To that end, Mecklai has worked to create links between her schoolwork and outside interests. She's currently involved in a research project with Professor Karen Mundy of the Ontario Institute for Studies in Education that explores India's Right to Education Act in the context of rural communities – specifically, how skills like communication and expression can be better incorporated into education. It's a subject that's directly inspired by Mecklai's efforts as the founder of Speak to Lead, a non-profit that teaches conversational English and public speaking skills to over 1500 students across rural and urban India, with plans to scale to Pakistan and Kenya.
For Mecklai, the Pearson Scholarship has been a crucial source of both financial support and community. "The Pearson Scholarship is one of the greatest gifts I think I'll ever receive," she said. "Of course, it has some incredible financial benefits and covers tuition, residence, etc. for all four years – but what stands out to me are the cohorts of students that hail from different parts of the world, study different disciplines and still feel fiercely united ... we are all in pursuit of a better tomorrow."
Mecklai says she hopes to contribute to that better tomorrow via a career path that involves combining a private-sector efficiency with a public sector-driven vision, specifically in the context of access to education. "As a Rotman Commerce student, I'm still equipping myself with the toolkit I need in order to create and understand private-public partnerships, to further scale an initiative like Speak to Lead – and, importantly, to not be afraid to try new things.
"I do think grad school's on the cards. However, at this point, I'm very open to new experiences and I think it's becoming clearer with every year that I want my work to be impact-driven."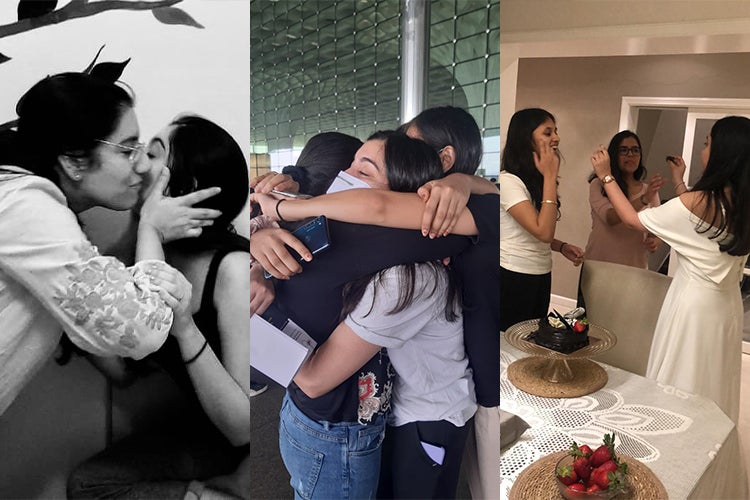 Aamyneh Mecklai says good-bye to her mother, left, and other members of her family in India (photo courtesy of Aamyneh Mecklai)
For the time being, though, she's squarely focused on savoring the second half of her undergraduate experience – and spending as much time as possible at her most beloved St. George campus locations. "My favourite spot on campus is St. Hilda's College Rigby Room [in Trinity College]. You'll find me trying to sight-read music by the piano. It's one of the most beautiful rooms I've seen and sitting by the piano makes me feel at home," she says.
"Something else I'm really looking forward to is running to The Buttery with my friends to grab a coffee in between classes. The Buttery is one spot where we'll attempt to study, hang out and eat food all at once. Sitting there with my friends makes me feel most like an undergraduate student, a feeling that I'm learning to truly relish and be grateful for."
UTC