U of T cancels in-person exams, delays in-person classes due to Omicron variant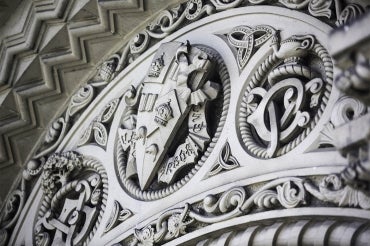 The University of Toronto will not be holding in-person exams effective Dec. 16 and will delay most in-person learning until Jan. 31 to help curb the spread of COVID-19 amid the emergence of the Omicron variant.
Online exams will proceed as scheduled and some in-person exams may move to online delivery. Individual divisions will be in contact with students and instructors to confirm arrangements, U of T said in a message to community members Wednesday.
As for the winter semester, the university said classes will resume virtually on Jan. 10 – except for some courses in health sciences and placements that will resume in person.
U of T is also requiring employees in roles that do not provide essential or front-line services to work remotely until Jan. 31.
"We are taking these steps to protect the health and safety of our community, which is always our top priority," said U of T President Meric Gertler. "We are listening to our students, staff, faculty and librarians, and acting out of an abundance of caution as we confront this latest phase of the pandemic.
"We know how important in-person teaching and learning is for community members, and we look forward to welcoming them back on campus in the new year. In the meantime, we encourage everyone to get their shot and do their part to slow the spread of this new variant."
President Gertler added that U of T will do whatever it can to support students living in residence on its three campuses.
"Throughout the pandemic, the university has shown its commitment to supporting the success and wellbeing of its students, wherever they may be living and studying," he said. "This effort continues through this latest phase of COVID-19."
U of T's decision, made in consultation with public health authorities and its own experts, comes in the wake of a series of recent announcements by the Ontario government aimed at curbing the spread of the Omicron variant. That includes making third vaccination doses available to people aged 18 and over as of Dec. 20 as long as three months has passed since their second dose. The province is also cautioning against social gatherings and encouraging employers to allow employees to work from home if possible.
Trevor Young, U of T's acting vice-president and provost, said halting in-person exams and delaying most in-person classes was necessary in the face of the highly transmissible Omicron variant.
"The decision to cancel or defer in-person exams and delay in-person learning was not made lightly, but it is a necessary step to safeguard the health of our students and all members of the U of T community in light of the emergence of the latest variant of concern," said Young, who is also dean of the Temerty Faculty of Medicine.
"We will continue to monitor developments and are committed to resuming in-person academic activities once it is safe to do so – and in keeping with the latest evidence and public health guidelines."
Young added that all members of the university community must still upload proof of vaccination to UCheck if they're going to campus for any reason in the winter term.
Kelly Hannah-Moffat, U of T's vice-president, people strategy, equity and culture, said that, with the latest provincial announcement, all U of T employees should work remotely until Jan. 31, with the exception of those who must work on campus, including employees who provide in-person student support or who are needed for specific in-person research activities.
"Over the course of the pandemic, we have worked to continually adapt our policies and strategies as public health guidelines evolve," said Hannah-Moffat. "Given what we know about the potential risks posed by the Omicron variant, we believe it is necessary to make an adjustment once again to our return to campus plans in order to keep our community safe."
Hannah-Moffat added that all university employees are required to upload proof of vaccination to UCheck, regardless of whether their roles require them to be on campus.
U of T is also reminding the community of the federal government's global travel advisory that recommends Canadians avoid non-essential travel outside of the country.
Inbound travel is also subject to various restrictions, including barring entry of foreign nationals who have been in certain countries during the 14-day period prior to their entry into Canada. And, effective Jan. 15, all foreign nationals – including international students over the age of 18 and temporary foreign workers with work permits – must be fully vaccinated with a Health Canada or WHO-approved vaccine to enter Canada.
UTC