U of T's Geoffrey Hinton and Ajay Agrawal on ROB's "Power 50" list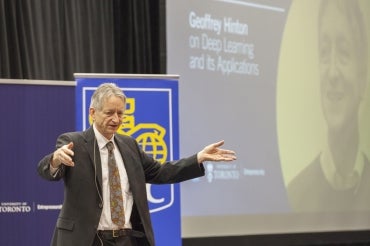 The Report on Business Magazine's "Power 50" list of the most influential Canadians to watch includes U of T's Geoffrey Hinton and Ajay Agrawal. They share a spot on the list with the likes of Drake and Prime Minister Justin Trudeau.
"Some call him the godfather of AI, others its elder statesman. Artificial intelligence is the hottest technology emerging today, and Hinton – professor emeritus at University of Toronto and engineering fellow at Google – is its biggest star," the magazine states.
Hinton is also the chief scientific adviser of the newly created Vector Institute, which is hoping to build on the expertise of the deep-learning team at U of T and become a global leader in the booming field of artificial intelligence.
The list nods to Hinton's influence in AI where computers get better at pattern recognition, promising "significant advances in everything from self-driving cars to medical diagnoses." And, it mentions his influence in training new leaders in AI like Ilya Sutskever, research director at Elon Musk-funded OpenAI, who is a former student; Ruslan Salakhutdinov, AI research head at Apple who was also a former student; and Yann LeCun, director of AI at Facebook, who did post-doctoral work under Hinton. 
Agrawal, is the founder of the Rotman School of Management's Creative Destruction Lab.
The list cites Agrawal as being "a key contributor to Toronto's emergence as a world-class technology ecosystem."
It calls the lab "a formidable machine" for cultivating top-flight startups.
"The lab boasts some of Canada's top entrepreneurs as mentors and regularly attracts Silicon Valley venture capitalists," the magazine states. "Agrawal's annual machine-learning conference has become an essential gathering for the world's artificial intelligence experts, and his ideas on the economics of AI have been published in Harvard Business Review." 
UTC