U of T's Deep Genomics inks partnership with U.S. biotech firm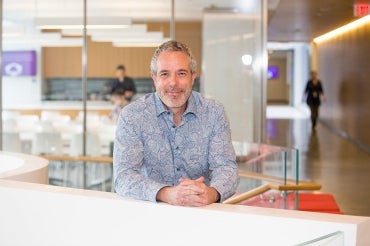 A University of Toronto startup that uses artificial intelligence to develop treatments for genetic diseases has forged a partnership with a U.S. biotechnology firm.
Deep Genomics, spun out of research done by Professor Brendan Frey in the Faculty of Applied Science & Engineering, said this week it will be working with Cambridge, Mass.-based, Wave Life Sciences to identify novel therapies for neuromuscular disorders – a category of illness that includes diseases like Duchenne muscular dystrophy.
Frey, Deep Genomics' co-founder and CEO, said Wave's neuromuscular research is tailor-made for the startup's machine learning technology and targets a group of disorders for which treatments are badly needed.
"Neuromuscular diseases are a tragic category of diseases for children that impacts them at a very young age, and impacts their lives severely and can be fatal," he said, adding Deep Genomics and Wave have yet to disclose the particular neuromuscular diseases they intend to focus on. 
"But there's a significant portion of these disorders that have a clear genetic basis, meaning there are mutations in their DNA that they've inherited at birth that cause something to go wrong. 
"That makes it a perfect match for our platform, which is all about genetics – RNA, DNA and linking the genetics to what's going to go wrong inside the cell."
Founded in 2015, Deep Genomics has built an "artificial intelligence-powered discovery platform" that combines machine learning with genomics research to develop genetic medicines that can potentially treat a myriad of genetic illnesses, from autism to cancer. 
The startup, which raised US$13 million in financing last year, received support from U of T's Innovations & Partnerships Office, as well as UTEST and the Creative Destruction Lab at the Rotman School of Management – all part of the expansive U of T entrepreneurship ecosystem. It is now working with Johnson & Johnson's JLABS life sciences incubator in Toronto.
Wave, meanwhile, is a publicly listed company that uses a chemistry-based platform to find "transformational therapies for patients with serious, genetically-defined diseases." 
While Deep Genomics' main research focus continues to be on metabolic and neurodegenerative disorders – it's investing $10 million to develop its pre-clinical platform in these areas – Frey said working with Wave on neuromuscular diseases offers a number of additional benefits. They include "a way to rapidly deploy the output of our platform within a drug development context," and the opportunity to further fine-tune Deep Genomics' machine learning technologies.
Frey said Deep Genomics has held talks with most of the world's major pharmaceutical companies, as well as several smaller ones, but decided to partner with Wave because it's a young, research-focused firm that shares his startup's vision. 
And what is that outlook? If the traditional approach to medical research is mostly trial and error at the lab bench, Frey believes machine learning can be used to crunch through billions of data points, including those created by the sequencing of the human genome, to determine not only the cause of a particular genetic illness, but to find a cure – all "in silico," or on the computer.
"The AI systems that we've built aren't meant to speculatively offer up potential solutions," Frey says. 
"They're highly precise and very intentional." 
UTC