U of T's Creative Destruction Lab adds new quantum computing partner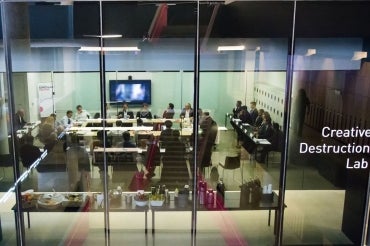 The Creative Destruction Lab (CDL), a seed-stage startup accelerator at the University of Toronto, is doubling down on the nascent field of quantum machine learning by partnering with a second quantum computing firm. 
CDL said this week it has forged a new partnership with Silicon Valley-based Rigetti Computing, which is attempting to build a general purpose quantum computer that uses the non-intuitive properties of atoms to perform complex calculations. 
The agreement permits the 40-odd individuals who comprise CDL's inaugural quantum machine learning stream – a world first in the startup space – to write algorithms to be crunched on Rigetti's systems, accessed via the cloud.
A similar agreement was inked earlier this year with Vancouver's D-Wave Systems. The company has sold its $15 million quantum machines to Google, NASA and defence giant Lockheed Martin among others. 
"The goal at CDL is creating an ecosystem in quantum machine learning, and Rigetti is a significant player in the quantum hardware space," said Hassan Bhatti, CDL's venture manager. 
As an industry, quantum computing is still in its early days. But CDL nevertheless decided to take a gamble on the space by announcing in May that it would begin accepting machine learning startups who wanted to build their businesses, in part, on the emerging technology.
The hope is that the ability of quantum machines to handle ultra-complex calculations will make possible new artificial intelligence-powered applications in fields that range from finance to pharmaceuticals.
So what is a quantum computer? Regular, or "classical," computers encode information in a binary series of ones and zeros, which correspond to the on-off state of electricity flowing through its circuits. Quantum computers, by contrast, take advantage of the strange properties of particle physics that allow quantum bits, or qubits, to exist in multiple states – on and off – simultaneously. 
That, in turn, creates the possibility of achieving an exponential increase in processing power as more qubits are added. It's believed that one day quantum computers will be able to solve problems that would take classical computers a lifetime or more. 
Ajay Agrawal, a Rotman professor of entrepreneurship who founded CDL in 2011, has said the program's goal is to create more well-capitalized, revenue generating quantum machine learning software companies than the rest of the world combined.
He also recruited three Silicon Valley-based venture capital firms – Bloomberg Beta, Data Collective and Spectrum 28 – to invest seed capital in each CDL quantum machine learning startup, subject to certain basic criteria.
"The interest from applicants, investors and technology partners has exceeded our expectations," said Daniel Mulet, the associate director of CDL's quantum machine learning stream, in a statement that announced the new Rigetti partnership.
The addition of Rigetti is significant because the company is taking a different approach to quantum computing than founding partner D-Wave.
D-Wave builds what's known as a quantum annealer – a technology that's easier to scale up, but can only be used to solve certain types of optimization problems. One example: figuring out the fastest route for a delivery truck to take through a city when it has to make multiple stops. 
By contrast, companies like IBM, Rigetti and others are racing to build what's known as a "universal quantum computer" that would be able to handle a much wider variety of problems. 
Though the technological hurdles are significant, proponents believe it's only a matter of time before quantum machines will be able to routinely outperform traditional supercomputers on certain types of complex modelling and other problems.
Will Zeng, the director of software and applications at Rigetti, lauded CDL for its "first of its kind program," thereby helping to drive the industry's future development. 
"They really took the lead by being the first organization to support [quantum] startups on the software side," said Zeng. 
He added that Rigetti was eager to partner with CDL because the company wants to build quantum machines that are "usable" in the real-world, not ones that simply outperform classical computers in narrowly defined benchmark tests.
CDL's quantum machine learning program kicks off Sept. 5 with a month of training on the respective systems built by D-Wave and Rigetti. 
After that, it's up to the startups and their teams to take the technology and run with it.
UTC