U of T's Cheryl Regehr hosts university leaders' forum in Davos, talks 'power of place'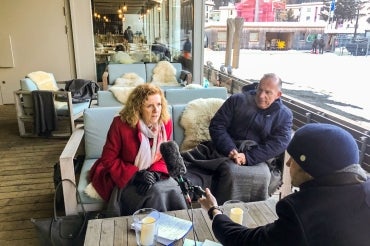 From local politics to global industry partnerships and the rise of digital spaces, there are myriad ways in which the concept of "place" is shaping universities in the 21st century.
That was the key message of a University Leaders' Breakfast Forum held Wednesday alongside the World Economic Forum in Davos – the annual event held in a Swiss ski town that brings together heads of state, CEOs and other leaders from around the globe.
The breakfast forum, co-moderated by the University of Toronto's Vice-President and Provost Cheryl Regehr and Phil Baty, chief knowledge officer at Times Higher Education magazine, introduced the "power of place" theme that will underpin the Times Higher Education World Academic Summit hosted by U of T in September. 
"We are in a wonderful urban environment that is one of the most diverse cities in the world and has incredible opportunities for the university," Regehr said in her opening remarks at the Davos forum, hosted by the Swiss Federal Institute of Technology Zurich (ETH Zurich).
"We really see that there's a tremendous synergy between the university, the city and our host region in that a great university contributes to its city in absolutely wonderful ways, and a great city creates wonderful opportunities for a university."
The U of T-hosted summit in September will see leaders from top educational institutions around the world discuss topics such as fostering innovation and building partnerships with industry and government – all while exploring how universities can leverage their unique locations to enhance research, teaching and impact.
The annual summit, hosted last year by ETH Zurich, will also feature speeches from luminaries including: artificial intelligence pioneer and U of T University Professor Emeritus Geoffrey Hinton, who is often described as the "godfather of deep learning"; Michael Ignatieff, president and rector of Central European University in Vienna; and former leader of the Liberal Party of Canada, and Nancy Rothwell, president and vice-chancellor of the University of Manchester and a celebrated physiologist.
At the Davos forum, which served as a kick-off event, Regehr observed that different places – whether local or global in scope, or physical or digital in nature – offer various opportunities and challenges that are crucial to understanding the direction of universities. She then prompted the group, which included university and corporate leaders from around the world, to briefly share their observations and experiences.
Bin Yang, vice-president and provost of Tsinghua University, said the Beijing-based university took pride in serving its surrounding community, "especially through our very strong engineering and innovation disciplines" and network of startup incubators. Others, meanwhile, spoke to the opportunities and challenges of working alongside talent-hungry tech giants like Apple and Google.
University leaders also talked about how institutions can turn the challenges posed by their surrounding environments into opportunities.
Alicia Wilson, vice-president for economic development at Johns Hopkins University, cited as an example the unique socio-economic issues faced in Baltimore. "The issues of poverty that we see in Baltimore – crime, issues regarding social mobility – provide Hopkins with a unique opportunity to address those things and have a shared learning that happens at both a global and local level," she said.
Similarly, Suzanne Fortier, principal and vice-chancellor of McGill University, said McGill's identity as "an anglophone university in a French environment" had given it valuable experience in navigating cultural differences and sensitivities.
"It's part of our existence and part of our life to deal with people from different cultures," Fortier said. "I think the mindset we had to build is helping us when we are in other places, because we've learned to be quite open to such things as cultural differences and cultural tensions."
The growing influence of digital learning and communication was another key topic of discussion, with attendees talking about the need to balance the increasing importance of digital spaces with interpersonal interaction.
Ralph Haupter, president of Microsoft Asia, said he envisions what he called a "phy-gital" future where "we combine the mindset of physical and digital in the experiences that we have."
He added that Microsoft places a high importance on person-to-person interactions even as it looks to leverage the advantages of digital technologies in company operations.
Regehr noted that U of T is similar in this regard.
"Even if we have some technology-enhanced learning, the important part is taking that technology-enhanced learning into face-to-face contact so students still have the ability to establish a sense of community and a sense of belonging," she said.
UTC