U of T to host university leaders for major international academic summit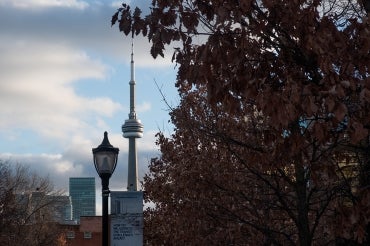 The University of Toronto will welcome university representatives from top institutions around the world for a major academic summit in the fall of 2020.
The Times Higher Education World Academic Summit brings together leaders in higher education to discuss topics such as fostering a culture of innovation and building partnerships with government and industry to support high-impact research. 
The theme of the conference will be the "power of place," or how universities can leverage their location to enhance research and teaching. U of T President Meric Gertler says he hopes the summit will provide a "broader understanding of the importance that place plays in an increasingly digital world of higher education."
"[I hope] that there will be a deeper appreciation for the learning opportunities that places provide, for the research opportunities that places provide, and for the opportunities for higher education institutions to engage in city building, which would be good for both the cities around them as well as, of course, the institutions themselves," he says.
Although the world is becoming increasingly interconnected and globalized, location remains one of the university's greatest assets, President Gertler wrote in an article for Times Higher Education last fall. "We recognised several years ago that our location was a favourable but underutilised asset," he wrote. "We are situated in one of the world's most culturally diverse and dynamic cities, with three campuses in the Greater Toronto area, and are able to benefit from many important advantages."
Vice-President and Provost Cheryl Regehr says the summit is an opportunity to forge new international collaborations and deepen existing partnerships. 
It's also a chance to show educators around the world what U of T and Toronto have to offer. "It allows us to spotlight the kind of excellence that's happening at the University of Toronto," she says. "It brings international leaders from universities, thought leaders and colleagues to the university so they can see the amazing people and wealth of resources that we have here."
The quality of life in Canada's largest city helps attract some of the world's top scholars to U of T, President Gertler wrote. Therefore, "anything we could do to enhance the liveability of our host region would further accentuate our attractiveness as a place of employment and study." To that end, the university has established the interdisciplinary School of Cities, created the position of presidential adviser on urban engagement, penned a landmark agreeement with the City of Toronto and created a university-wide committee to ramp up hands-on learning opportunities in the region.
U of T is due to host the seventh iteration of the summit. ETH Zurich is hosting the event this year, and it will be New York University's turn in 2021.
UTC