U of T's applied computing expertise attracts Toronto's tech and startup scene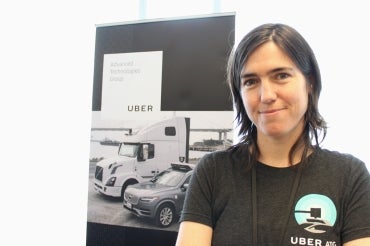 ModiFace, ROSS Intelligence and WinterLight Labs were just a few of the University of Toronto startups on campus last week, alongside established tech names including Autodesk, IBM and Ubisoft Toronto, pitching their applied research projects to the cohort of master's students in applied computing. 
Nearly 60 startups and companies took part in the program's internship fair over three days. Students in the master's program must complete an eight-month, industry-based applied research project before graduating. 
"To see the program this big, and have all these awesome companies come in and be part of a great event, is really exciting to see," said Jyotheeswar Arvind Manickavasagar, a software developer for DNAstack, a genomics software startup founded by Marc Fiume, who completed a doctorate in the department of computer science.
"One thing that the MScAC program puts an emphasis on is entrepreneurship, and working at a startup, you really see that [knowledge] being applied in your day to day," said Manickavasagar, an applied computing alumnus who was named to Canada's Developer 30 Under 30 list in 2017.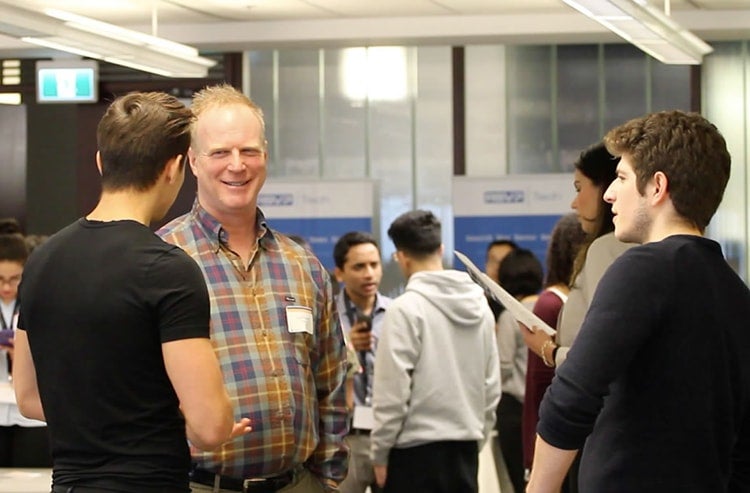 Applied computing alumnus Salavat Nabiev, a sales engineer with SecureKey, speaks to fellow program alumni Geoffrey Peddle and Mete Kemertas, both at tealbook (photo by Ryan Perez)
Less than a decade ago, the master's degree program launched with six students. Alumnus Geoffrey Peddle, chief technology officer at tealbook, a business-to-business network for suppliers and buyers, remembers the program's start as a student in the first cohort.  
"It's grown so much since I was part of it and it's a great slice of the Toronto tech community, which itself has grown a lot," he said. "There's so many companies here that I wish I could work for, it makes me want to go back and do another one." 
Among the companies recruiting was Uber's Advanced Technology Group for autonomous vehicle technology, led by Raquel Urtasun, associate professor of computer science and co-founder of the Vector Institute for Artificial Intelligence.
 
"For the students to be learning about state-of-the-art techniques, take courses that [include] advanced research projects, while at the same time in an internship where they can really apply those concepts to real-world problems and practice, I think is very, very unique," said Urtasun.
"We are looking for good professionals that can add value to our product," said Caroline Mattos, a business analyst at SecureKey and an applied computing alumna. "And we know that we can find these professionals from this program." 
 U of T computer science alumnus Liam Kaufman, CEO and co-founder of WinterLight Labs, which produces a tool for the early diagnosis of dementia, said the company is ramping up new research projects and expanding partnerships with pharmaceutical companies – which means it needs to bring in more team members. 
"[Applied computing students] are developing the skills that we're looking for. Not everyone has a good knowledge of machine learning or natural language processing, whereas a lot of the students here are taking classes in those areas so they're developing those skills." 
 
Juliana De La Vega Fernández credits the program for providing her with much more than a master's degree. She says she has gained a family in Canada and a network of peers who continue to support her personally and professionally. An international student from Colombia, she completed the program in December and continues to work full-time as a deep learning engineer at Surgical Safety Technologies. 
"I have the opportunity to stay in Canada and make for myself a better future," she said. "This opportunity is just incredible. I couldn't have found it in any other country."
Computer Science