With new federal funding, U of T researchers aid global effort to understand and control COVID-19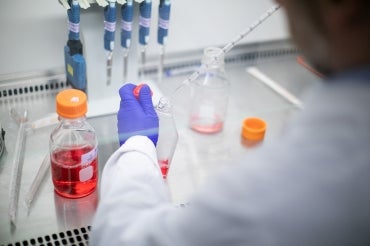 The University of Toronto and affiliated institutions will receive almost $6 million for research projects related to COVID-19, with $2.7 million to campus-based researchers, while $3.13 million will go to U of T researchers at affiliated hospitals – part of a $27 million federal investment in research related to the global outbreak.  
Patty Hajdu, Canada's Minister of Health, announced the results of a rapid research funding competition in Montreal on Friday for projects related to the novel coronavirus, which has so far infected tens of thousands of people around the world.
The focus of the research at U of T includes the development of rapid and low-cost diagnostics, antiviral compounds and statistical models to forecast disease transmission.
Vivek Goel, U of T's vice-president, research and innovation, and strategic initiatives, said U of T researchers have the expertise and experience to make a major contribution to scientists' understanding of the coronavirus and how to deal with it.
"U of T and its partners are home to many leading experts in public health, medicine, biology and other fields that can collectively advance our knowledge of this new illness and help mitigate its impact," said Goel, who was the founding head of Public Health Ontario. "Many of these research projects engage those who are also on the front-lines of our health system, helping to ensure that the research will be relevant and applied immediately and also inform the management of future infectious disease outbreaks."
As of March 6, the number of confirmed cases of COVID-19 worldwide has surpassed 100,000, with cases reported on every continent except Antarctica. 
One of the newly funded projects, based at the Sinai Health System, involves U of T researchers Allison McGeer and Samira Mubareka and aims to paint a better picture of how the virus spreads.
McGeer is a professor at U of T's Dalla Lana School of Public Health and in the departments of medicine and laboratory medicine and pathobiology in the Faculty of Medicine. She is also the director of the Infectious Disease Epidemiology Research Unit at Mount Sinai Hospital. Mubareka is an assistant professor in the department of laboratory medicine and pathobiology as well as a virologist at Sunnybrook Health Sciences Centre. 
Their team plans to collect data to shed light on how long a patient with the virus is infectious, and how the virus spreads to surfaces and through the air.
"The importance is with risk management and mitigation," Mubareka told U of T News.
She added that removing some of the uncertainty around how the virus spreads can help hospitals make better use of their resources. 
"At some point resources will be finite, and if you have a really good sense of how long people shed [the virus] for, you know how long they will need to be isolated," Mubareka said.
The research team also plans to systematically collect samples containing the virus, serum and immune system cells to create a bio-bank that can be shared with researchers working on vaccines or treatments.
Keith Pardee, an assistant professor at U of T's Leslie Dan Faculty of Pharmacy, is part of a research team that involves experts in four countries who are collaborating on low-cost and easy-to-use diagnostic tests to improve the triaging of patients.
During the Zika virus outbreak, the team developed diagnostics within weeks that met the U.S. Centers for Disease Control's gold standard for use in clinical labs. With COVID-19, the researchers propose to design a suite of diagnostic tools including a "lab-in-a-box kit" that can be used to respond to a large outbreak, a package to help produce diagnostics on-site to support a sustained response and an on-the-spot test for rapid screening of patients – even in places like a cruise ship or airport.
The team's goal is to produce tools that will not only be useful in Canada but in countries with health-care systems less capable of handling mass emergencies. 
Another project led by Xiaolin Wei of U of T's Dalla Lana School of Public Health seeks to produce guidelines to help health-care workers respond to COVID-19 and similar outbreaks in the future. Working with researchers in the Philippines and Sri Lanka, Wei will use front-line experiences in China to develop guidelines and training so health-care workers in these and other low-to-middle-income countries can manage COVID-19 patients and infection control.
David Fisman, at Dalla Lana and the Institute of Health Policy, Management and Evaluation and the department of medicine in the Faculty of Medicine, is approaching the disease from another angle.
Fisman and his colleagues – doctors, epidemiologists, public health professionals and statisticians – specialize in data analysis and modelling to help answer three basic questions about an epidemic: When will it peak? When will it end? And how big will it be?
The team, which has experience dealing with SARS, H1N1 and Ebola, will use mathematical and statistical modelling to forecast the near-term course of the disease, make sense of "messy or noisy" public data and use the information to build simulations that can help guide Canadian health agencies' decisions.
Other U of T experts who received federal grants for research related to the novel coronavirus are: Isaac Bogoch, of the Faculty of Medicine and the University Health Network; Prabhat Jha, of the Dalla Lana School of Public Health and St. Michael's Hospital in the Unity Health Toronto network; Sachdev Sidhu, of the Donnelly Centre for Cellular and Biomolecular Research, the department of molecular genetics in the Faculty of Medicine and the Institute of Biomaterials and Biomedical Engineering; and Haibo Zhang, a professor in the department of physiology in the Faculty of Medicine who also works at St. Michael's Hospital.
In total, 47 research teams across the country received funding through several agencies and non-profits: the Canadian Institutes of Health Research, the Natural Sciences and Engineering Research Council of Canada, the Social Sciences and Humanities Research Council of Canada, the Canada Research Coordinating Committee, the International Development Research Centre and Genome Canada. 
In a statement, Theresa Tam, the chief public health officer of Canada, spoke of the importance of research in responding to emerging disease outbreaks.
"The research to be undertaken by the successful teams will help to answer some of our most pressing questions about COVID-19 and help to develop the tools we need to effectively respond to this global public health emergency," she said.
UTC