U of T researcher aims to improve accuracy of COVID-19 contact tracing with MyTrace app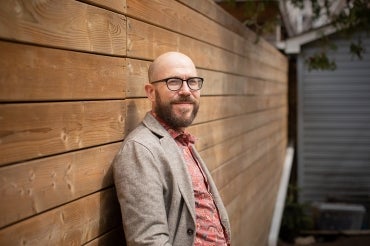 When University of Toronto researcher Alán Aspuru-Guzik saw the university's call for research proposals that could help address the COVID-19 crisis, three words beginning with "T" came to mind:  Treat, Test, Trace. 
"'Treat' was going to be longer term, where we would be developing drugs and a vaccine," says Aspuru-Guzik, a professor in the departments of chemistry and computer science at the Faculty of Arts & Science.
"Testing is crucial, too, but I had heard so much about vital tracing [of] who had the virus, so we decided to propose work on that."
Aspuru-Guzik is referring to contact tracing, a common practice in epidemiology where public health officials find people with a particular contagious disease and then try to figure out who else they have been in contact with and where they have been. It is essential in controlling further spread of an illness like COVID-19. 
Yet, when performed manually, contact tracing has many challenges. 
"Let's say you test positive for COVID-19. A health professional will then ask you where you have been in the past two weeks and most of us can't remember that kind of information with accuracy," says Aspuru-Guzik, who is also a faculty member at the Vector Institute for Artificial Intelligence. "But a digital tracking of your whereabouts can be very effective in providing the accuracy necessary."
With that in mind, Aspuru-Guzik and a group of scientists and industry partners are developing a digital app called MyTrace, which Aspuru-Guzik will debut tomorrow during a Vector Institute webinar titled "Digital contact tracing while preserving privacy: The MyTrace.ca project."
MyTrace is based on open source technology called Safe Paths developed by the Massachusetts Institute of Technology (MIT). 
Here's how it works. Users download the app on their mobile device, allowing them to privately record their location history. If they are diagnosed with COVID-19, users can then choose to share their redacted location history with public health officials,
Meanwhile, the MyTrace app will compare each user's location history to the published, redacted history of all known infected patients, allowing each individual to be provided with a risk assessment of their potential exposure. The application will begin by using Global Positioning System (GPS) information but later versions will add Bluetooth. A key feature of this approach is that each user's personal privacy is protected.
MyTrace has been customized for Canadian users. For example, instructions and other information are provided in English and French and the data on the app can be localized to Canadian places. 
Aspuru-Guzik notes that contact tracing is essential as the virus continues to spread throughout Canada, but stresses that the need for it won't disappear when the virus eases.
"When the spread of COVID-19 has slowed down significantly and we start to have everyone back out at work and socializing together, tracing the virus will still be extremely important," he says.  "There will still be cases of the virus floating around and it will continue to be important to know where those people are to ensure that major second or third waves don't come up." 
The MyTrace team has an app ready to be deployed in app stores. The team is in discussion with municipal and provincial governments across Canada about the potential use of the app in their jurisdictions. "As we keep talking to the government officials, we keep learning of all the moving parts – human and digital – that need to work together to get out of this crisis," says Aspuru-Guzik.
To help develop the app, Aspuru-Guzik assembled a group of volunteer computer scientists, chemists, physicians, and engineers from U of T, the Vector Institute, EQ Works (a Toronto marketing agency specializing in anonymous location behaviour analysis), Empower Health (a Toronto non-profit that connects patients with health-care services), and 247 Labs (a mobile development company). Recently, his team joined forces with OpenTracer, a team of U of T Faculty of Medicine students and faculty which has also developed a tracing app. The MyTrace team has also partnered with organizations such as Flatten.ca, an online platform developed by U of T students that helps to track the spread of the virus, and has received a recent CIFAR COVID19 accelerator grant.
Similar efforts in other countries include Singapore's Trace Together, which records short-distance interactions via Bluetooth, and an initiative in Israel that notifies users who have crossed paths with an infected person. Efforts are underway to deploy MIT's Safe Paths in over thirty countries, including the Germany, India, Italy, Vietnam and five locations across the U.S.
Aspuru-Guzik, who joined U of T from Harvard University in 2018 as the Canada 150 Chair in Theoretical Chemistry and CIFAR AI Chair at the Vector Institute and Google Industrial Research Chair, says he welcomes the opportunity to change gears from his usual work to contribute to the global effort to stop COVID-19. 
"Normally, I'm a professor of chemistry and computer science," he says. "But I'm moonlighting now as an entrepreneur with my fantastic colleagues in this non-profit initiative.
He adds that post-doctoral researchers Si Yue Guo and Zamyla Morgan Chan have been instrumental in leading this initiative.
"This is a tough challenge, but all of us who are working on COVID-19 are empowered now by the sophistication of technology," Aspuru-Guzik says.  "Not long ago, this kind of tool wouldn't have been able to be developed. But now, with GPS, Bluetooth and the internet, contact tracing can be so much more accurate, detailed and effective."
UTC/Freelance