U of T to require proof of vaccination for all community members coming to campus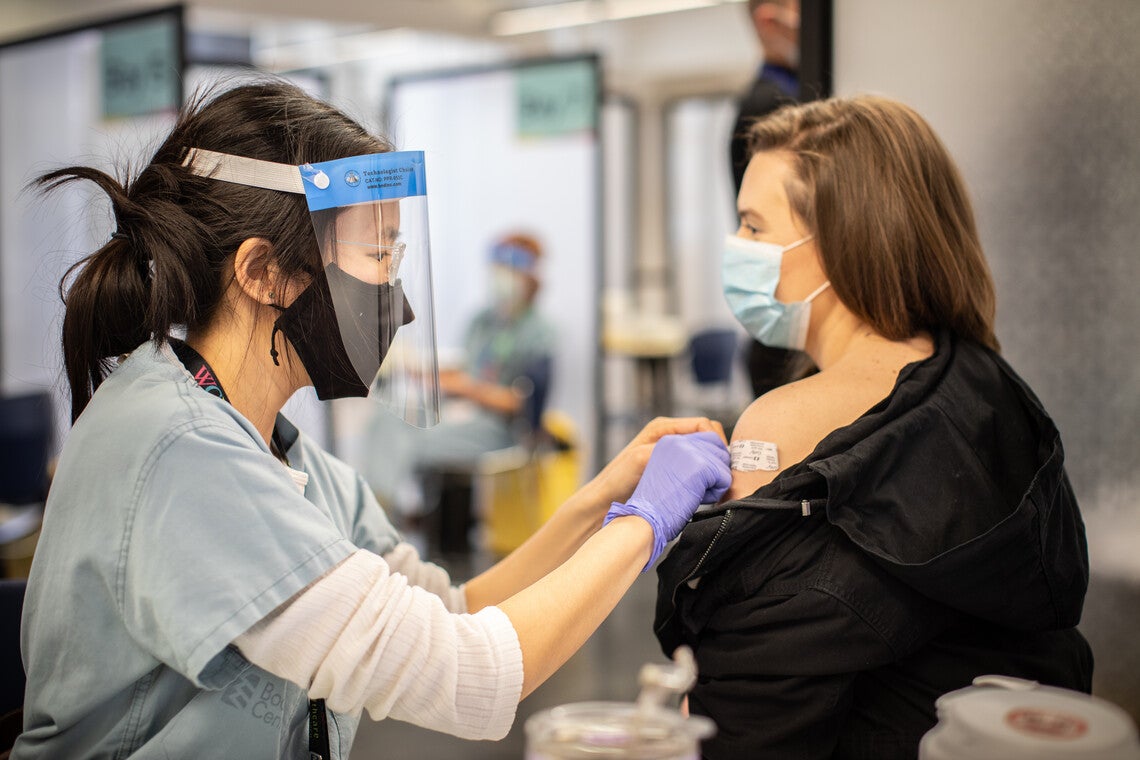 The University of Toronto will require students, faculty, staff and librarians to submit proof of immunization against COVID-19 before coming to campus this fall.
Community members coming to campus will need to show evidence that they've received a first dose of an approved vaccine by Sept. 13 – and full vaccination by Oct. 15 – by uploading proof of immunization to the UCheck health-screening tool.
Those who aren't vaccinated will not be able to come to U of T's three campuses – or any other premises owned or operated by the university.
"We are pleased that the province has recently announced vaccination directives for the university sector to help us keep our community safe when students, staff, faculty and librarians return to campus this fall," said Professor Salvatore Spadafora, special adviser to U of T's president on COVID-19 and senior adviser to the dean of the Temerty Faculty of Medicine.
There are limited exceptions for community members who apply for, and receive, an exemption based on medical or other grounds protected by the Ontario Human Rights Code. But they, along with those awaiting their second dose, must participate in a rapid screening program and provide proof of a negative test before coming to campus. They may also be subject to additional safety measures. 
Rapid screening cannot be used as an alternative to vaccination as a recent letter from the Council of Ontario Medical Officers of Health (COMOH) makes clear.
The updated approach aligns with COMOH's vaccine policy recommendations for universities and colleges and is part of the U of T's comprehensive 12-step plan for a safe return to campus this fall. More details about the university's approach to vaccinations and other measures are available on the UTogether site.
"Since the beginning of this pandemic, we have worked quickly to refine our strategies in response to changing provincial guidelines and public health advice," said Kelly Hannah-Moffat, vice-president, people strategy, equity and culture. "We will continue adjust our plans as new information becomes available, and provide regular updates to the community.
"Concern for our community's safety guides every decision we make."
Those seeking an approved exemption from the vaccine requirement will be able to make a request through U of T's Enterprise Service Centre (ServiceNow). More information about requesting an exemption will be available next week. Students who have already applied for an exemption, such as those living in residence, will continue that process. 
Community members who are awaiting their final dose of vaccine, or who have received an approved exemption, will need to complete rapid tests at home at least twice per week, with U of T providing at-home rapid screening kits along with an instructional video. Results of the antigen tests must be uploaded to UCheck, where data is encrypted and stored in Canada. A negative test is necessary before coming to campus.
Occupational health nurses will monitor results and, in case of a positive test, will contact individuals and refer them for a follow-up polymerase chain reaction (PCR) test. 
Visitors to campus will also be required to be fully vaccinated, with more details about the process for visitors – including vendors, event attendees and gym members – to be made available in the coming weeks.
"Vaccines are one of the best tools at our disposal to keep each other safe, along with masking and staying home when we're feeling unwell," said Spadafora, adding the university is committed to providing all community members with the materials they need to make an informed decision.
"We are taking this step with the endorsement of public health leaders as an important way to continue the university's teaching and research mission, and to support our students to have valuable on-campus learning and co-curricular activities."
UTC