U of T remembers Joyce Fienberg, killed in the Pittsburgh synagogue shooting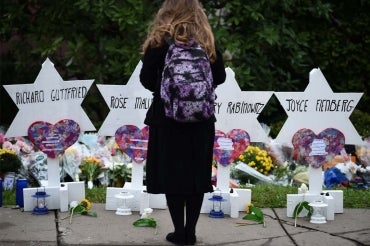 A University of Toronto alumna was among the 11 killed in an attack on a synagogue in Pittsburgh on Saturday.
"The University of Toronto condemns the horrific and abhorrent shooting at the Tree of Life synagogue in Pittsburgh," said U of T President Meric Gertler, in a statement today. 
"In the wake of this senseless and appalling massacre, we are reminded, again, of the grim toll that antisemitism and racism exact on society."
Joyce Fienberg (then Libman) graduated from University College in 1964 with a degree in social psychology. The following year, she married alumnus Stephen Fienberg and, in the early 1980s, they moved to the Pittsburgh area. Fienberg worked at the University of Pittsburgh's Learning Research & Development Center until she retired in 2008. Her husband died in 2016.
The pair had two sons – Howard and Anthony – and six grandchildren.
"Joyce Fienberg was known to her friends and colleagues as a warm and loving individual, with a keen mind and a generous heart," said President Gertler. "She was a shining example of kindness to everyone who knew her."
The Fienberg family has deep roots at University College, said President Gertler.
"Fienberg returned to Toronto as recently as 2017 to accept a University College Alumni of Influence Award on behalf of her late husband Stephen Fienberg," he said.
President Gertler encouraged members of the U of T community who are in need of personal support to take advantage of the following resources, including counseling and chaplaincy services:
Hillel U of T will be holding a community circle for the university's Jewish community from 5-6 p.m. Monday on the downtown Toronto campus. A public vigil will take place at 7 p.m. at Mel Lastman Square. 
Hillel U of T will also hold a public vigil on the front steps of University College at 5:30 p.m. on Tuesday. The U of T flag will also be flown at half-mast at all three campuses on Tuesday.
"On behalf of the entire University, I extend deepest condolences to the Jewish community at U of T and beyond. We stand with you in these sad times," President Gertler said.
UTC