U of T ranked in top 10 globally in nine subjects by influential Shanghai Ranking Consultancy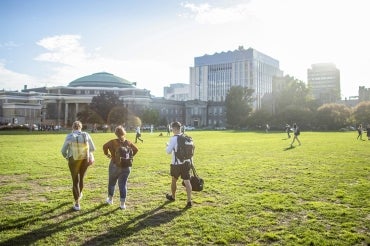 The University of Toronto ranks among the top 10 universities in the world in subjects as diverse as psychology, finance and geography, according to the latest Academic Ranking of World Universities.
The ranking, released this week by the Shanghai Ranking Consultancy, placed U of T in the top 10 in nine subject areas – two more than last year. In clinical medicine, U of T shot up to fifth from 15th; in geography, it moved up to fourth from 21st; and in pharmacy and pharmaceutical sciences, it climbed to eighth from 37th. 
The other subjects in which U of T placed in the top 10 were: psychology (2); medical technology (4); automation and control (5); sociology (6); public health (7); and finance (9).
Among Canadian universities, U of T tied or ranked first in 30 subjects, more than any other institution. 
"These results recognize the University of Toronto's excellence across a wide range of subjects," said U of T President Meric Gertler. 
"Our across-the-board strength facilitates interdisciplinary research and gives students in all fields the opportunity to work alongside world-class scholars."
The prestigious Academic Ranking of World Universities is based on five criteria, including scholarly paper output, citations and awards. The results take into account the number of papers produced by an institution, how many appear in top journals and citation impact as measured by actual citations versus the average number of citations in that field. 
The ranking also considers awards and honours and gives weight to international collaboration. In the social sciences, there is less emphasis than in sciences and engineering on citation impact and international collaboration, and more weight on the total number of published papers. 
Over 4,000 universities were ranked in a total of 54 subject areas.
U of T ranked in the top 50 across 35 subject areas globally, the same as the University of California, Berkeley and more than any other university apart from Harvard University, Stanford University and the University of Michigan.
Overall, U of T moved up in the rankings in 17 subjects. 
The latest ranking comes on the heels of the QS World University Rankings, which placed U of T first in Canada and 29th across 1,000 universities worldwide.
U of T continues to be the highest ranked Canadian university and one of the world's top-ranked public universities in the five principal international rankings: Times Higher Education, QS World Rankings, Shanghai Ranking Consultancy, U.S. News Best Global Universities and National Taiwan University.
UTC