U of T ranked first in Canada in 10 of 11 subjects by Times Higher Education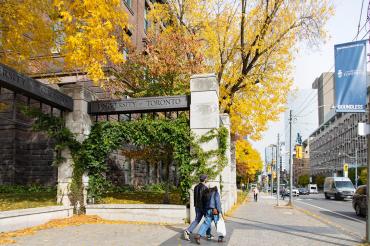 The University of Toronto ranked first in Canada, or shared the top spot, in 10 out of 11 subjects – one more than a year earlier – according to the latest Times Higher Education subject rankings.
U of T was one of only nine universities in the world that ranked in the top 50 of all 11 subjects tracked by the Times Higher Education World Universities Rankings by Subject 2021, released Wednesday.
It also maintained its rank of first in North America among public universities and sixth globally in the subject of "clinical, pre-clinical and health," which includes medicine, dentistry and other health subjects.
"The University of Toronto is among a small group of global universities that boasts world-class scholars in a wide array of fields," said U of T President Meric Gertler. "Our strength across a variety of disciplines is among the reasons U of T is such an exciting place in which to learn, teach and work."
Times Higher Education uses 13 criteria to compare universities and factors are weighted differently by subject. Overall, teaching, research and citations are the most important criteria, each representing about 30 per cent of a university's score. The rest of a university's rank is determined by metrics such as "international outlook" and industry income related to innovation.
U of T improved its rank in three subjects in the 2021 edition of Times Higher Education's subject rankings: business and economics (to 24th from 27th), arts and humanities (to 15th from 18th), and psychology (to 21st from 22nd). The university held its position in another two subjects and declined in four.
Overall, U of T ranked in the top 20 in the world in four subjects and in the top 30 globally in all but one subject tracked by Times Higher Education.
The results come on the heels of the Times Higher Education World University Rankings, which ranked U of T first in Canada and 18th globally. As well, the QS World University Rankings by Subject earlier this year ranked U of T in the top 50 globally for 43 subjects, a result unmatched by any other university.
U of T continues to be the highest-ranked Canadian university and ranked among the top 25 universities globally in the five most closely watched international rankings: Times Higher Education World University Rankings, QS World University Rankings, Shanghai Ranking Consultancy's Academic Ranking of World Universities, U.S. News & World Report's Best Global Universities and National Taiwan University World University Ranking.
UTC