U of T ranked first in Canada in QS World University Rankings by Subject 2020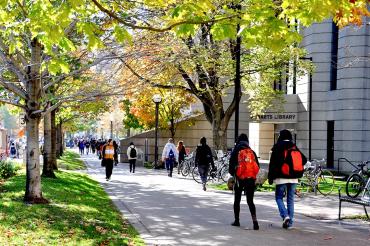 The University of Toronto ranked first in Canada in five broad subject areas – and in 30 of 45 specific subjects in which U of T was ranked – in the latest annual subject ranking by Quacquarelli Symonds, the London-based analytics and insights firm.
The QS University Rankings by Subject 2020, released Tuesday, also ranked U of T in the top 50 globally for 43 subjects, a result unmatched by any other university.
"This ranking, like other global university rankings, highlights the University of Toronto's excellence across an incredibly wide range of disciplines," said U of T President Meric Gertler.
"It's one of U of T's distinctive qualities – and one of the many reasons U of T is such an exciting place for students to learn, and to engage in research and innovation."
The QS World University Rankings by Subject ranked nearly 1,400 institutions based on academic survey results, employer review survey results, citations per research paper and the H-index, an author-level metric that attempts to capture the productivity and impact of a scholar's publications. In the arts, humanities and social sciences rankings, academic and employer surveys weigh more heavily than STEM subjects, where citation-based indicators are more important. 
U of T placed in the top 10 globally in the QS subject ranking in eight subjects. They were: library and information management (third); pharmacy and pharmacology (fourth); sports-related subjects (fifth); education (fifth); nursing (eighth); anatomy and physiology (10th); computer science (10th); and English language and literature (10th).
U of T also ranked in the top 25 for 31 subjects, placing it in the company of several other top-tier schools like the University of California, Berkeley, Cambridge University, Harvard University, University of Oxford, Stanford University and University of California, Los Angeles.
Overall, U of T continues to be the highest-ranked Canadian university and one of the top-ranked public universities in the five most closely watched international rankings: Times Higher Education World University Rankings, QS World University Rankings, Shanghai Ranking Consultancy's Academic Ranking of World Universities, U.S. News & World Report's Best Global Universities and National Taiwan University World University Rankings.
UTC