U of T prof hosts 'McLuhanesque' marathon talk with Margaret Atwood, Mayor John Tory and others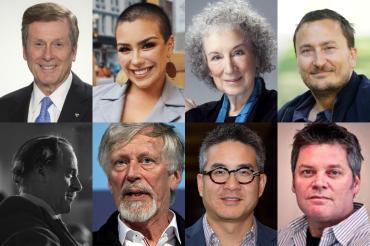 In the 1970s, the late University of Toronto professor, philosopher and renowned media theorist Marshall McLuhan regularly hosted gatherings at his home on Monday nights, when an eclectic group of students, fellow faculty and others came together to answer his open-ended question: "What's on your mind?"
A lengthy discussion would ensue, with no specific agenda or subject. The purpose of the dialogue was not to draw conclusions, but rather to keep the conversation going.
In the same spirit of free-flowing inquiry, Paolo Granata will host the second-annual Global Village Day today – a 12-hour online streaming marathon that runs noon until midnight and features speakers from a range of cultures and disciplines.
"Global Village Day is a way to gather an international community of scholars, thinkers and artists to not only celebrate one of the most iconic Canadian philosophers, but also to conceive of Toronto as a global village," says Granata, an assistant professor of book and media studies at St. Michael's College, referencing the term famously coined by McLuhan.
In partnership with the McLuhan Institute and the Marshall McLuhan Estate, the event aims to tackle questions surrounding place, public art and global governance that have arisen from the pandemic. Much like McLuhan's own gatherings, the discussion aims to be free-flowing and open-ended. The speakers have been placed into groups of three to five, with each group occupying an hour of the marathon. They will address three core questions on lessons from the pandemic and how the global village can be reimagined for a sustainable future.
The event will be highly interactive and participatory, Granata says. The marathon will be streamed live on Facebook and YouTube, and audience members are invited to submit comments and questions, which Granata will in turn pose to the guest speakers.
Hailing from 12 different countries, guests will include: world-renowned author Margaret Atwood, a graduate of U of T's Victoria College; Joe Wong, U of T's vice-president, international; Mark Kingwell, a writer and professor of philosophy in the Faculty of Arts & Science, Riley Yesno, an Anishinaabe writer who graduated from Victoria College this year; Derrick de Kerckhove, former director of the McLuhan Program in Culture & Technology and a professor emeritus in the department of French; and Roda Muse, secretary-general of the Canadian Commission for UNESCO.
Elizabeth Dowdeswell, Ontario's lieutenant governor, and Toronto Mayor John Tory, a graduate of U of T's Trinity College, will kick off the marathon with remarks. In his greeting, Tory will also introduce ArtworxTO: Toronto's Year of Public Art 2021-2022, a slate of public artworks and related programming set to officially launch this September.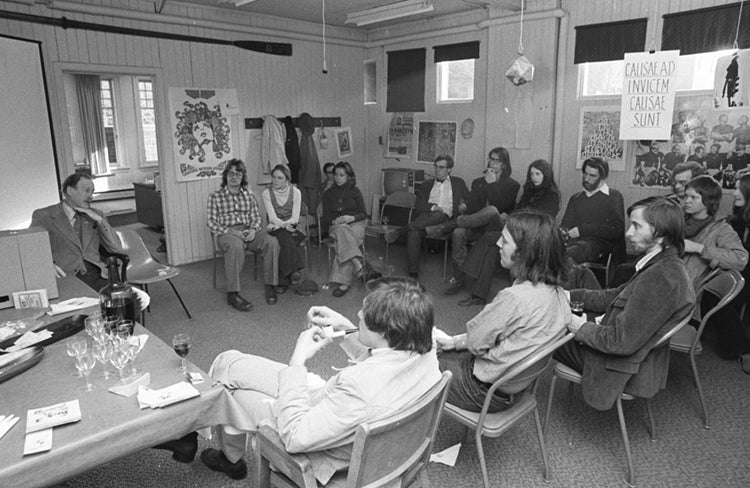 Professor Marshall McLuhan with students and other faculty during one of his famous evening seminars (photo by Robert Lansdale Photography via U of T Archives) 
"I'm sure McLuhan would be struck by the vibrant media arts landscape that Toronto has created," Tory says in a pre-recorded greeting. "And, of course, we can continue to thank him for teaching us that in a diverse city like this, a global village in a big city, communication is vital to understanding and to mutual support."
U of T has worked with the city and other partners on a number of projects for ArtworxTO, including upcoming exhibitions and programming at the U of T Art Museum on the St. George campus and at U of T Scarborough, collaborating with the city on the annual Nuit Blanche event, student-led research through U of T's School of Cities to evaluate the Year of Public Art and a future mural honouring Terry Fox at the Toronto Rehabilitation Institute, part of the University Health Network.
The initiatives emphasize how U of T and the city of Toronto are connected, says Barbara Fischer, executive director of the U of T Art Museum.
"The university is at the heart of the city and vice versa," Fischer says. "The projects will highlight how much art informs our sense of place and how intertwined the city is with the U of T campus."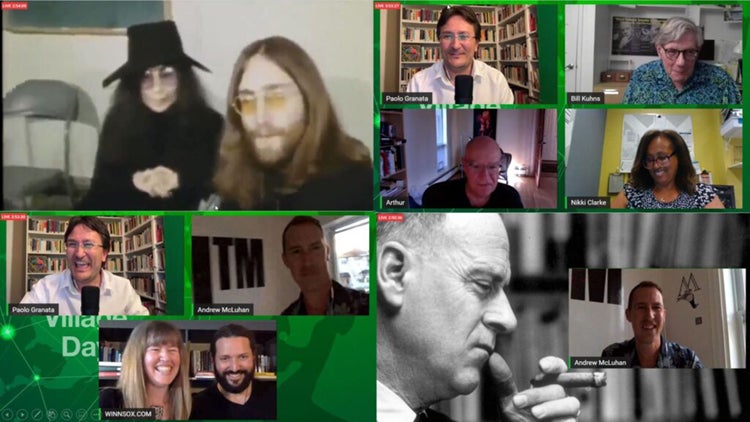 Screenshots from last year's Global Village Day event, which was held online due to the pandemic.
One project is already underway at Hart House Green, where an Indigenous Landscape will ultimately  be formed on the site. In the meantime, Assistant Professors Maria Hupfield and Mikinaak Migwans are working with Indigenous artists to develop murals celebrating Indigenous relations to the land that will adorn the hoarding currently used to protect existing trees.
Moreover, U of T Scarborough is working with the city to develop an app that will allow users to take self-guided tours of public art around Toronto. Graduate students are working with the U of T Art Museum to develop the script for the audio tour, which will introduce perspectives and ideas surrounding public art that can be found in various neighbourhoods, parks and streets.
ArtworxTO is part of a years-long effort connected to Toronto's designation as a UNESCO Creative City of Media Arts, for which Granata was the principal driver in 2017.
"U of T has played an instrumental role in fostering media arts, technology and creativity in the city of Toronto," Granata says.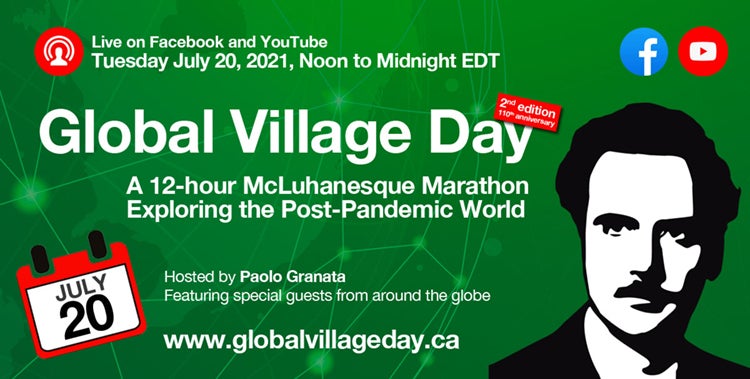 While the first Global Village Day took place during the early days of the pandemic last summer, this year's event will highlight the lessons gleaned from a year and a half of upheaval.
"Now is the time to reflect on a fundamental question: what did we learn during this pandemic?" Granata says. "It is time to take account of all the valuable lessons in terms of cultural participation, higher education and all other fields. What really matters to us in a post-pandemic world? If we don't address these questions, we may go back to the old normal without really growing as a society.
He added that COVID-19 underscored the need for global governance.
"We need the flexibility of different countries working together and making decisions for the common good."
While this year's Global Village Day will once again be entirely virtual, participants will show themselves passing around the marathon's "torch" on their screens: an object of their choosing that they believe represents the idea of the global village in the 21st century. At the close of the event at midnight, there will be a toast to McLuhan to mark the 110th anniversary of his birth on July 21.
"As McLuhan said, 'I don't explain, I explore,'" Granata says. "So, we will be explorers celebrating his legacy."
UTC