U of T Mississauga's first-ever Indigenous rematriation adviser seeks rightful owners of 40,000-artifact collection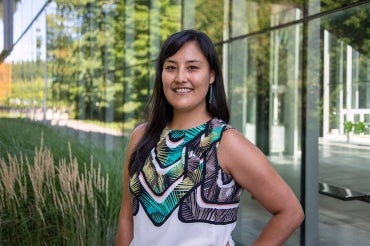 Robin Gray doesn't believe in empty promises – which is why she's embracing a new role after being appointed the University of Toronto Mississauga's first-ever special adviser on Indigenous rematriation. 
"It's not enough just to say it," says Gray, an assistant professor in U of T Mississauga's department of sociology. "You have to walk the walk."
In particular, Gray has been asked to advise on a plan for the safekeeping of a large collection of Indigenous artifacts now housed in U of T Mississauga's department of anthropology. The plan – part of the university's ongoing commitment to Truth and Reconciliation – will centre Indigenous protocols and laws and confront colonial harms, recognizing the urgency of reconnecting Indigenous people with these cultural heritage materials too long held institutionally.
"We heard about (the collection) through the media – stories on CBC and CTV – and we thought 'What? How did they get here?'" says Gray, who is a member of U of T Mississauga's Indigenous Table. "And it turned out it wasn't just a few artifacts stored here at UTM, but in fact 40,000 – just an incredible number."
The collection came to the department of anthropology after the artifacts were uncovered during the development of a subdivision near Hurontario Street and Highway 403 in Mississauga.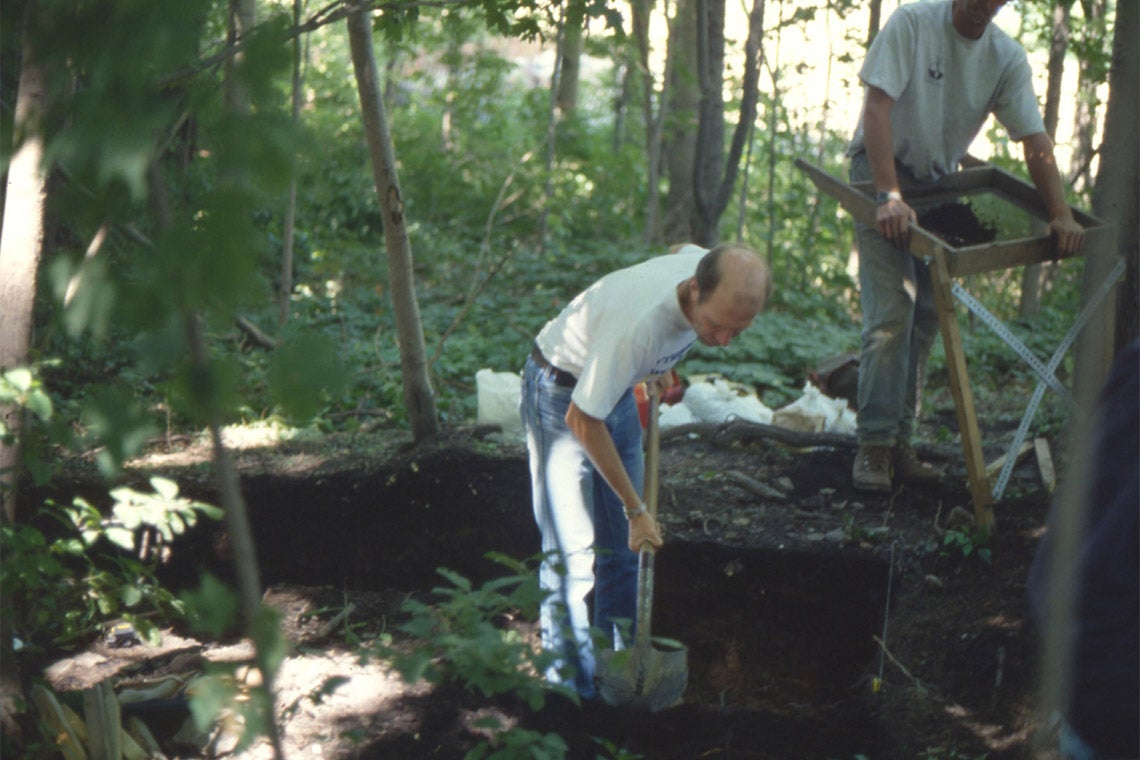 The excavation of "Midden 1" during the dig at the Antrex Village site in Mississauga in the early 1990s (photo by ASI Heritage)
Ancestors and artefacts
Now known as the Antrex Site, the 1.6-acre area revealed nine longhouses and is believed to have been occupied in the 13th and 14th century by up to 500 people, including ancestors of the Huron-Wendat, Wyandot and Haudenosaunee nations. Researchers believe it was also regularly visited by members of the Anishinaabe. The artifacts, which include fragments of handmade pottery, beads, effigies, pipes, axes, hammers, arrowpoints, bracelets and pendants, were uncovered and catalogued by Archeological Services Inc., with assistance from Erindale College Archaeological Field School in 1992.
Now, guided by Indigenous communities and the U of T Mississauga Indigenous Table, the university hopes to help reunite the items with their rightful owners in a process known as rematriation. That process represents one small step in U of T Mississauga's commitment to become better at honouring its responsibility to Indigenous communities and lands and to being accountable for building the right relations.
"Most people are more familiar with 'repatriation,' but this is different," says Gray, who is also currently working on a book titled Rematriation: Paradigms for Indigenous Futurity that won U of T Mississauga's First Book Manuscript Workshop Competition. "'Rematriation' is not just wordplay, it's not just feminizing a word. It has decolonial potential if we take it seriously."
Repatriate vs. Rematriate
She says repatriation is related to traditional Euro-western and patriarchal ideas about personhood, nationhood, property and ownership, while rematriation is rooted in Indigenous values.
"With repatriation, you have to do all these negotiations to gain permission to access your own culture. Even though it is supposed to be righting a historical wrong – restorative justice – it's still approached as 'prove to me it's yours,'" says Gray, noting many First Nations communities are matriarchal, with leadership roles held largely by women.
"In rematriation, you use the laws of the source nation. It says, 'It's the source nation's call. It's their unique needs, priorities, and values that matter.' You have to be humble about that. Let that be the framework for making decisions about what happens by being accountable to partnership and collaboration."
Although the concept of rematriation is only just beginning to gain ground in the academic world, Gray says she grew up with it, inspired by her late aunt Lee Maracle, an acclaimed author, orator and U of T instructor.
"She introduced these ideas in the '80s, and I want to keep her legacy alive by continuing the work," says Gray. "One of the last conversations we had was about rematriation."
Convocation Inspiration
Gray, who is also cross appointed to departments of anthropology and sociology in the Faculty of Arts & Science on the St. George campus, says U of T Vice-President and U of Mississauga Principal Alexandra Gillespie approached her about the adviser position after hearing Gray discuss rematriation in her speech at June's convocation ceremonies. Gillespie and Gray had also been working together for more than a year through U of T Mississauga's Indigenous Table.
The speech made me think differently... about how to do things in a good way, to live by our core values," says Gillespie, who adds that the project also aligns with U of T's Response to the Truth and Reconciliation Commission of Canada, Answering the Call Wecheehetowin, and U of T Mississauga's Strategic Framework, which has as its central hub a commitment to truth, openness and reciprocity.
Gray says she has seen exponential growth in recruiting and retaining Indigenous faculty, staff and students at U of T Mississauga since joining the department of sociology in 2018, and that the creation of the adviser position further demonstrates an ethic valued by her own ancestors ­­– the Ts'msyen – known as Amuks'm, meaning to listen attentively.
"Truth and Reconciliation is about asking people to listen and react," she says. "Not just to learn and absorb but to do something about it."
Call to Action # 67 of the Truth and Reconciliation Commission requires Canada to develop best practices for heritage institutions, including for their restoration of Indigenous cultural property.   
"(U of T Mississauga is) an institutional power and, as gatekeepers of the artifacts from the Antrex Village site, we have to consider our accountability," Gray says. "For (Gillespie) to see the value of that and provide this opportunity for me, it makes such a difference when the leader takes that seriously and listens intently."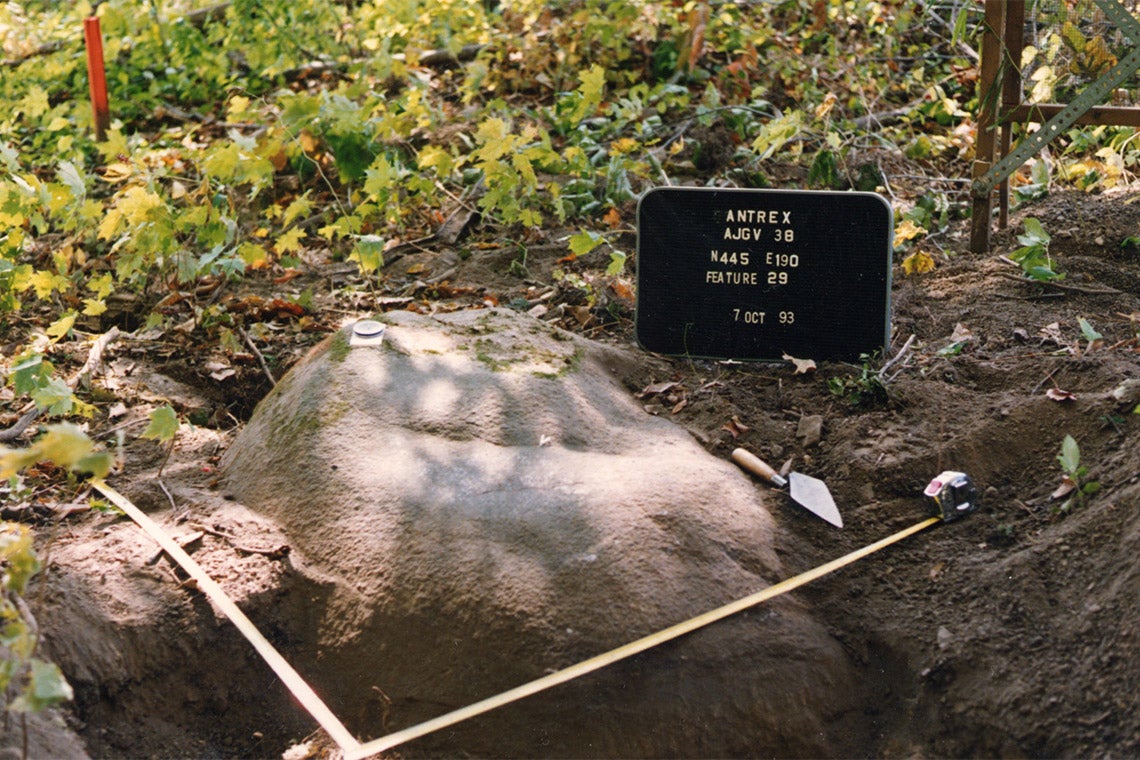 A boulder used as a grinding surface south of House 4 at the Antrex site in Mississauga (photo by ASI Heritage)
Mapping next steps
Gray plans to provide Gillespie, the Indigenous Table and other partners with a map of next steps about the artifacts by June 30, 2023.
A key step, says Gray, has been identifying parties with an interest, including local Indigenous communities. She will demonstrate a commitment to building better relationships by listening to, learning from and staying in contact with the source community.
"We want to identify any partnerships that have been made or, on the flip side, any lingering questions, concerns or obstacles that prevent a decision on the collection: where should it go, be housed, whether here at U of T or returned to a community, or to their own archives or cultural centres," says Gray. "And it's up to the source community to make those decisions. Not me. Not UTM. UTM just has to be responsible and accountable to play their part in making things right.
"I want to protect the best interests of the Indigenous communities and their belongings, which many Indigenous communities consider ancestors or something very sacred, as not just inanimate things – but things with a spirit that connect us to place and people, to culture and knowledge."
Local history
Gray says a grant from the Peel Social Lab has allowed her to hire an assistant who will be vital in helping her research the heritage landscape and the poetics and politics of return in Ontario.
"I'm not from here – I'm not Anishinaabe, Wendat or Haudenosaunee, not from the Mississaugas of the Credit," says Gray, whose own family is Ts'msyen from Lax Kw'alaams, B.C. and Mikisew Cree from Fort Chipewyan, Alta.
"To rematriate, you really have to localize the context and understand the landscape of reclamation for Indigenous people in a specific area or region." 
Gray will also review other attempts in Ontario to reunite Indigenous artifacts with their source nations, including a U of T project which dealt with Wendat human remains. There are not many precedents to draw on. That adds to Gray's challenge, but it also indicates the urgency of her work.
A just future
"We want to know what possibilities and pitfalls to be aware of and then imagine otherwise for a more just and decolonialized future," she says, noting Canadian museums hold more than six million artifacts from Indigenous nations, but lack a federal policy or law to guide their return.
Many of those items are "captured forms of heritage, acquired under duress," Gray says, adding she believes her U of T Mississauga report can help modernize protocols for protecting cultural items.
"I hope we will encourage other institutions to become comfortable being uncomfortable and take that gatekeeper role seriously, and model a more relational and decolonial approach in processes of return," she says.
UTM