U of T hosts experts and advocates seeking a more equitable health system in the eastern GTA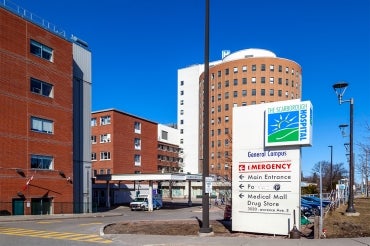 A recent day-long event hosted by the University of Toronto Scarborough brought together advocates, researchers and health experts from across Scarborough and the eastern Greater Toronto Area to discuss expanding and strengthening the health system to better meet the needs of the local community.
COVID-19 highlighted deep health inequities across the GTA , including the disproportionate burden it places on Black, Indigenous and racialized communities. But Scarborough was particularly hard hit, experiencing some of the highest rates of hospitalizations, patient transfers and deaths in the province.
"This issue surfaced because of the pandemic, but it has deep roots," said Professor Wisdom Tettey, U of T vice-president and principal of U of T Scarborough.
"Historical inequities are confronted all the time by folks living in the eastern GTA, so it makes it imperative that all of us – anchor partners, community advocates, service providers – come together to think about how we might move forward and leave these inequities behind."  
Health inequities are systemic differences in health outcomes experienced by different populations and communities. This includes unequal distribution of health resources and a lack of access to adequate care based on age, race, abilities, income and where people live.
Andrew Pinto, an associate professor in the Dalla Lana School of Public Health and scientist at Unity Health Toronto, said the pandemic has highlighted the power of data and the implications of its misuse.
He recalled that the Ontario government and public health officials had to be pressured to begin collecting data on social factors impacting pandemic health outcomes, such as race. Based on data collected as early as June 2020 coupled with outcomes of past pandemics, he said it was known these factors would continue to influence individual pandemic experiences. But once collected, he added there was a lack of understanding about how to harness that data and translate it into collaborative community responses.
"I think research is particularly subject to this, where we convince ourselves that just by collecting the data and having it that does something – but obviously it doesn't," Pinto said. "The solution ultimately is political action."
Pinto believes the usefulness of data hinges on how it is stored, accessed and used by clinicians, organizations, policy-makers, communities and others. He also highlighted community collaboration and engagement as key aspects of effectively turning this data into social change.
Camille Orridge, senior fellow at the Wellesley Institute, whose career has been dedicated to advocating for health equity, said the "historical neglect of Scarborough" must end.
She worries that once the pandemic is over equity data will stop being collected. Without that data, experts stress, it will be difficult to design and resource a health-care system that properly addresses community needs.
One way to improve health inequities is to hire more doctors and nurses in Scarborough. But, as Orridge points out, it's equally important to hire more nurse practitioners, physiotherapists, occupational therapists, personal support workers and social workers – all of whom play an important role in delivering health-care services in the community.
That's one reason why Scarborough needs more facilities to train health-care professionals. Elizabeth Buller, president and CEO of Scarborough Health Network, noted that 80 per cent of health-care professionals live in the communities where they work. She added that having trained health professionals embedded in the community will go a long way in improving health equity in the eastern GTA.
Tettey highlighted the barriers and opportunities identified by participants throughout the day. "The next step," he said, "is to turn those actualities into realities."
There are many steps that need to be taken to address health inequities, agreed Professor Irena Creed, vice-principal research and innovation at U of T Scarborough. It will require the recruitment of physicians and other health-sector workers; immediate resources to tackle the pandemic; and the long-term development of health policies based on the experiences of people living in the region. 
It also became evident throughout the day that this can only be achieved through the creation of a health district in Scarborough, founded on collaborations among anchor institutions such as universities, health-care providers and community organizations.
"The conversations here today will help define pathways for a community-engaged, inclusive health district in the eastern GTA. It's going to require working together and reciprocal relationships so we can identify training, research and innovation needs," said Creed.
"This is just the start of the conversation, but it's an exciting time because we're gaining momentum and we're moving forward together." 
UTSC