U of T health accelerator H2i breaks down 'walls' with innovation-focused networking event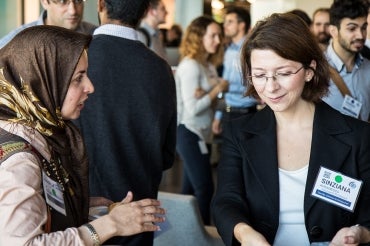 More than 200 health researchers, students and industry professionals – many connected to the University of Toronto – gathered at JLABS @ Toronto Monday for an interdisciplinary networking event designed to spark innovation and entrepreneurship.
The event, dubbed Pillars of Health, was hosted by U of T's Health Innovation Hub, or H2i, the Translational Research Program (TRP) and JLABS, the first location of Johnson & Johnson's life sciences incubator outside of the United States. 
Guest speaker Pat Furlong, the founding president of the U.S. non-profit Parent Project Muscular Dystrophy, which she helped create in the mid-1990s after she lost both her sons to Duchenne muscular dystrophy, emphasized the critical importance of working across disciplines in the health-care sector. 
The rest of the evening was dedicated to making connections between people who might not normally cross paths.
Pat Furlong founded Parent Project Muscular Dystrophy, a U.S. non-profit, after she lost both her sons to Duchenne muscular dystrophy (photo by Chris Sorensen)
"The thing about innovation, we've learned, is that it happens not in isolation, but between people," said Joseph Ferenbok, an assistant professor in U of T's Faculty of Medicine who is TRP's director and a co-director of H2i, one of several entrepreneurship hubs on campus. 
"If you can bring in a group of different thinkers, with different ideas, backgrounds and experiences, then the creativity and problem-solving takes on a whole new momentum."
It's easier said than done given the size of Toronto's life sciences cluster. The Toronto Academic Health Science Network comprises U of T and nine research hospitals, while an estimated 1,000 health-focused institutes and local companies are involved in moving research from the lab into the broader health-care industry.
H2i's co-directors Paul Santerre, an entrepreneur and professor in the faculty of denistry, and Joseph Ferenbok, the director of U of T's Translational Research Program (photo by Chris Sorensen)
To help facilitate interactions, student volunteers wandered the room with flashing red LED lights dangling from their lanyards. Their job was to facilitate conversations between strangers after consulting a smartphone app that listed all of the event's attendees and their backgrounds.
"If you want to meet someone in a particular pillar or industry, you can come up to one of the ambassadors and they can do a search for you," Ferenbok said.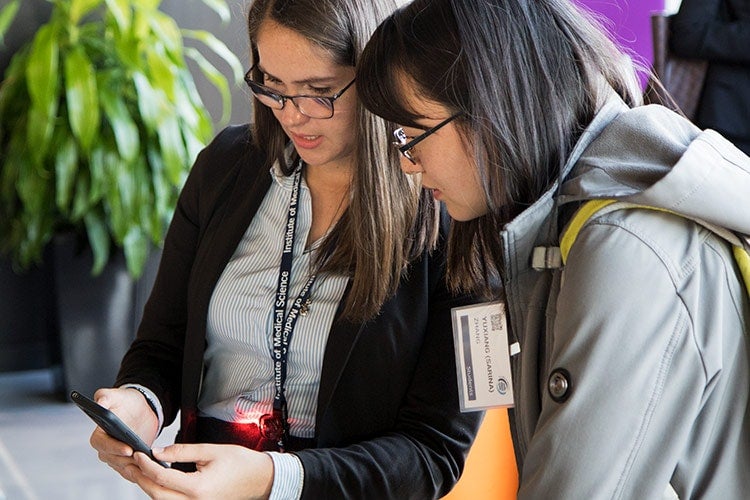 A volunteer helps make connections between attendees (photo by Chris Sorensen)
A similar networking event was held last year that incorporated a speed-dating format. But organizers later decided a less-structured approach was more likely to yield the desired results.
"People just ended up chatting," said volunteer Craig Madho, who is in his second year of a master's in health sciences at U of T. "We decided we didn't actually need the speed-dating to break down those walls."
UTC