U of T faculty, alumni and supporters named to Order of Canada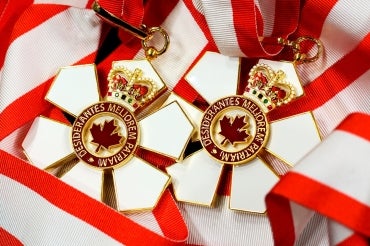 Two University of Toronto researchers – one a leading mathematician, the other an artificial intelligence pioneer –  have been named to the highest rank of the Order of Canada, one of the country's highest honours. 
University Professor James Arthur, in U of T's department of mathematics, was today named a Companion of the Order for his contributions to contemporary mathematics, notably his "groundbreaking" advancements to the theory of the trace formula, a complex mathematical formula that relates geometric and spectral information. 
"I have had scientific recognition in Canada, but I feel very proud – and thrilled – to be recognized more broadly with the Order of Canada," he said.
Arthur, who three years ago won a prestigious Wolf Prize in Mathematics, is joined as a Companion by U of T University Professor Emeritus Geoffrey Hinton, who is also known as the "godfather" of deep learning – a branch of artificial intelligence that mimics the way the human brain learns.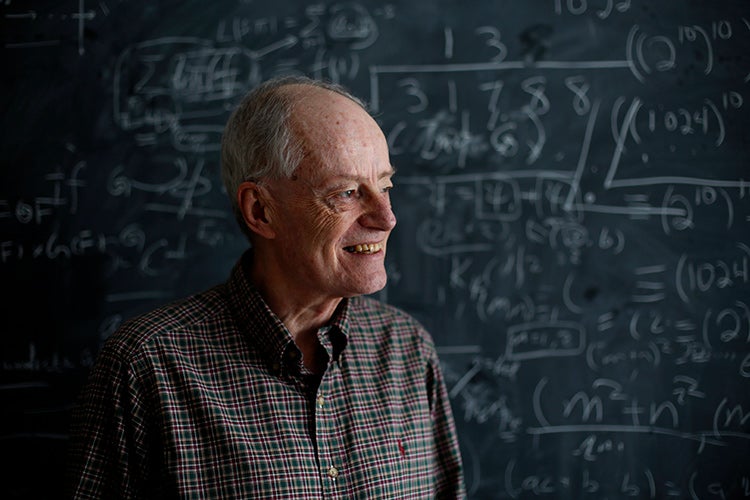 University Professor James Arthur in the department of mathematics was named a Companion of the Order of Canada for his contribution to contemporary mathematics (photo by Marta Iwanek via Toronto Star/Getty Images)
Hinton, for his part, said he was thrilled to be named alongside Arthur – and to join a rank that includes one of his personal heroes.
"I looked through the list of existing Companions and saw that Joni Mitchell was on the list," said the U.K.-born Hinton, adding he was particularly moved since the honour was being bestowed upon him by his adopted home country.
The current appointments were made by Governor General Julie Payette, herself a U of T alumna and former astronaut.  
While Hinton and Arthur were the only two appointees to the Order's highest rank in this most recent round, many others with U of T connections – including faculty, alumni and donors – were appointed, or promoted, as Officers or Members. 
They include U of T researchers who were recognized for everything from improving the way we eat to contributing to our understanding of the universe.
Mary L'Abbé, a leading nutrition researcher and a professor in U of T's department of nutritional sciences, is known around the world for her work investigating the nutritional quality of the North American food supply – particularly when it comes to ubiquitous, and potentially unhealthy, ingredients like salt and sugar.

Mary L'Abbé, in the department of nutritional sciences in the Faculty of Medicine, was named a Member of the Order of Canada for her work "as a champion of nutrition" (photo by Johnny Guatto)
For example, L'Abbé's lab earlier this year conducted a survey with World Action on Salt and Health that found nearly three-quarters of Canadian breads exceeded Health Canada's 2016 targets for sodium, and that almost 25 per cent were above the recommended maximum levels. L'Abbé, who was named a Member of the Order, has also been involved with several committees of the World Health Organization, including the Nutrition Guidance Expert Advisory Group on Diet and Health.
Levente Diosady, a world renowned food engineer, was appointed an Officer of the Order for his contribution to the field, "which has improved the lives of millions of people around the world." He and his family came to Canada in 1956, part of the wave of 38,000 Hungarian refugees who fled the country after an uprising against the Communist regime.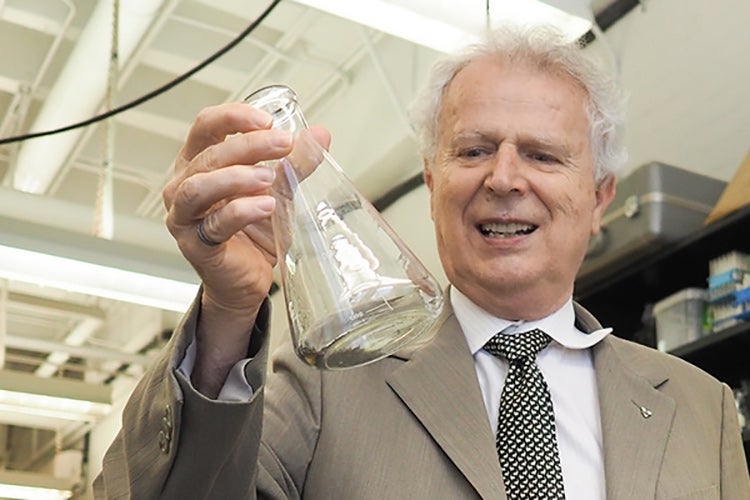 Professor Emeritus Levente Diosady is known around the world for his work in food engineering. He was appointed an Officer of the Order of Canada (photo by Roberta Baker)
He obtained his bachelor's, master's and doctorate at U of T, and became an associate professor in the university's department of chemical engineering and applied chemistry in 1979. He developed techniques to fortify salt with iron and iodine to treat anemia in the developing world. In a trial in India, one million children were cured of anemia by replacing salt in school lunches with Diosady's double-fortified salt. 
Professor Pekka Sinervo, of U of T's department of physics, is being recognized for decades of working to understand the basic building blocks of our universe – atoms, molecules and the like.  He was named a Member of the Order.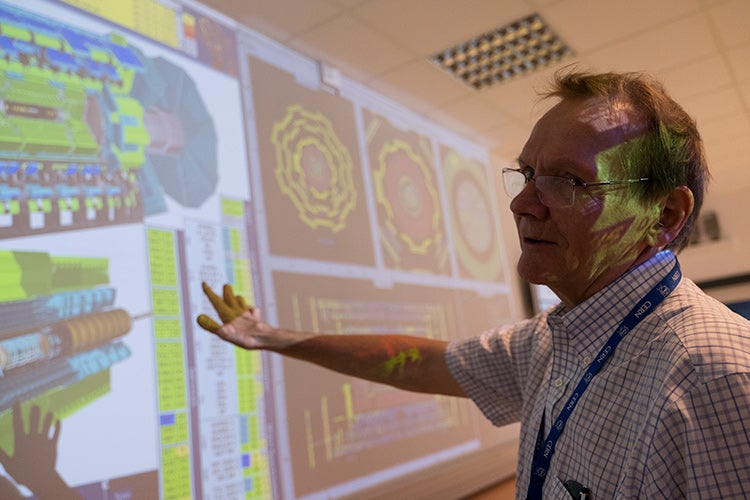 Professor Pekka Sinervo last year in the ATLAS control room at CERN, the European Organization for Nuclear Research, in Meyrin, Switzerland, where scientists monitor proton collisions. Sinervo was made a Member of the Order of Canada. (photo by Geoffrey Vendeville)
With a focus on electromagnetic forces, Sinervo uses the Large Hadron Collider to study particle interactions at very high energies. Having written or co-written more than 400 articles in peer-reviewed journals, his research group was involved in the discovery of the top quark, the heaviest known particle, and now uses the quark as a tool to search for evidence of new, massive particles. Sinervo is a former dean of U of T's Faculty of Arts & Science and, from 2008 to 2015, served as senior vice-president of research at the Canadian Institute for Advanced Research (CIFAR). 
Arthur Slutsky, a U of T professor of medicine, surgery and biomedical engineering, is a pulmonary and critical care physician with more than 500 peer-reviewed publications and over 75 book chapters. In September, he stepped down after 18 years at the helm of research at St. Michael's Hospital. With a bachelor's and master's in engineering from U of T, Slutsky's basic research has been translated into lung protective ventilator strategies, which have lead to decreased mortality of patients with acute respiratory distress syndrome. Slutsky's research interests include acute respiratory failure, non-conventional ventilation, classic respiratory mechanics, and the primary role mechanical ventilation plays in the development of subsequent lung injury and multiple organ failure. Slutsky has been named a Member of the Order. 
Alexandra F. Johnston is a U of T professor emerita of English and, from 1981 to 1991, was the first woman to serve as principal of Victoria College. After her retirement from teaching in 2004, Johnston focused on the Records of Early English Drama, an international scholarly project that, for the first time, is working to establish the context in which Shakespeare and his contemporaries worked. That includes locating and transcribing historical documents that contain evidence of drama, secular music and other forms of communal entertainment from the Middle Ages. Johnston, who holds three degrees from U of T, was named a Member of the Order for her scholarly contributions to the humanities. 
Many more supporters of the university and its missions were named to the Order.
Blake Charles Goldring, an alumnus of Victoria College, is the executive chairman of AGF Management and has previously held the roles of CEO and president at the asset management firm. He's also closely involved with U of T as a member of the Boundless Campaign Executive and is a major donor to the university, with his family's name adorning the Goldring Student Centre and the Goldring Centre for High Performance Sport. Goldring has made an impact with the Canadian Armed Forces, too. He was appointed the first-ever honorary colonel of the Canadian Army in 2011 and founded Canada Company, a charitable, non-partisan organization that connects business and community leaders with Canada's military. He was named a Member of the Order for his "contributions to business and philanthropy, notably for the well-being of veterans and their families." 

University Professor Emeritus Geoffrey Hinton, the so-called godfather of deep learning, was appointed a Companion of the Order of Canada, the Order's highest rank (photo by Johnny Guatto)
Though not a U of T alumnus, Robert Hung-Ngai Ho has also made a big impact at the university. In 2006, the billionaire Vancouver businessman made a $4 million donation to U of T Scarborough through a Hong Kong-based organization to help establish a program focused on Buddhist philosophies. He is being named a Member for his "transformational philanthropy" in support of Canadian universities and health-care institutions. 
An Honorary Doctor of Sacred Letters from Victoria University and an Arbor Award winner, Donald Gordon Lawson is an accomplished businessman – his work in the investment industry measures close to 60 years. But he is equally known for his service in the non-profit sector. Organizations he's worked with range from the YMCA to the United Way and the Counselling Foundation of Canada, which champions learning and career development. He also served on the Board of Regents and as treasurer at Victoria University. He is being named a Member for his contributions to educational initiatives and career development supporting Canada's underserved populations.
Nearly a dozen U of T alumni were also appointed to the Order for their work in law, climate science, journalism, music and public service, among other things.
Barbara Jackman, who graduated from U of T's Faculty of Law in 1976, has spent her career as a litigator championing the rights of immigrants and refugees, including before the Supreme Court of Canada.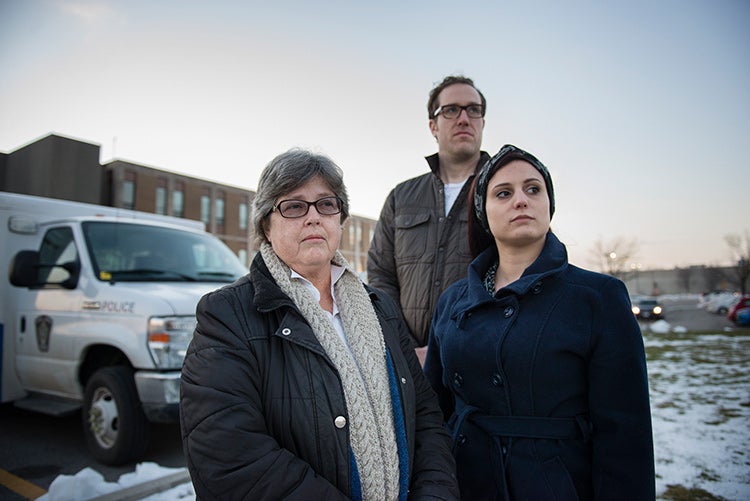 Immigration and refugee lawyer Barbara Jackman (left), in 2016, with articling student Sileny Chamorro and lawyer James Gildiner. Jackman, who graduated from U of T's law school, was made a Member of the Order of Canada (photo by Michael Robinson via Getty Images/Toronto Star)
"As a product of the student movement from the end of the 1960s, I entered practice wanting to use my legal skills to help ordinary people," she says in an biographical sketch posted on the faculty's website. Jackman, who has been an adjunct professor at U of T and participates in continuing education programs with the Law Society of Ontario and the Canadian Bar Association, was named a Member for her contributions to legal education and for her advocacy of immigration and refugee rights.
Brent Belzberg was made a Member for his "contributions to Canada's economic and social landscape as a business leader and philanthropist." Also a graduate of U of T's law school, Belzberg has over 35 years of experience in executive management in finance, acquisitions, corporate restructuring and operations. He is a senior managing partner and co-founder of TorQuest, a Toronto-based private equity firm, and a member of U of T's investment advisory committee.
John Kirk Howard, an alumnus of Victoria University, founded Dundurn Press in 1972 in a bid to promote "Canadian authors telling Canadian stories." He got the idea after bemoaning a lack of suitable books while teaching college courses on Canadian literature and history. Despite an initial lack of business experience, Howard managed to grow Dundurn from a small Toronto rowhouse operation into a leading independent publisher with more than 2,500 books in print and 1,700 ebooks available for download. Howard, named a Member of the Order, was recognized for "his commitment to Canadian authors and to a domestically owned publishing industry."
Scientist Raymond Desjardins, who graduated from U of T with a master's in meteorology, was named a Member for his research in agrometeorology "and for his innovative devices to quantify greenhouse gases." He is an expert in micrometerology and has developed techniques to quantify mass and energy exchange using tower and aircraft-based systems, and to quantify greenhouse gas emissions from point sources. Some of his recent research focuses on improving estimates of the carbon footprint of agricultural products and helping Canadian farmers stay competitive in international markets.
Journalist Lyse Doucet was named a Member for her "commitment to journalist integrity and for her achievements as an international broadcasting correspondent and presenter."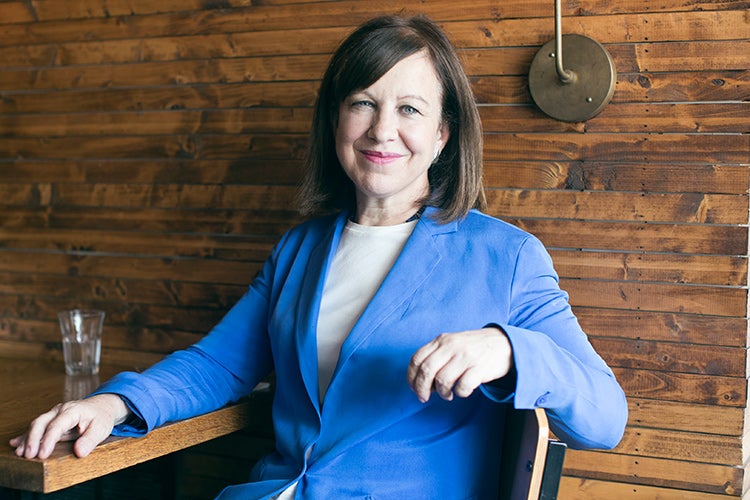 Journalist and alumna Lyse Doucet has travelled the world reporting on conflicts, natural disasters and political events. She was made a Member of the Order of Canada (photo by Christopher Wahl)
After obtaining a master's in international relations from U of T, she became a reporter with the BBC in Africa, covering military coups, droughts and famine. Her long and successful career took her to West and South Asia, where she covered the Soviet withdrawal from Afghanistan, and the Middle East.
Darren Entwistle, who completed a non-degree program in networking engineering at U of T, has spent nearly two decades as the CEO of Telus Corp., one of Canada's biggest telecommunications companies. He was named a Member for his "leadership in fostering corporate social responsibility in the telecommunications industry." 
U of T alumna Roxanne Fairweather is the co-CEO of Saint John, N.B.-based Innovatia and a past chair of the University of New Brunswick's board of governors. She was named a Member for her "commitment to advancing research and innovation, and to creating new and sustainable economic opportunities in Atlantic Canada."
Ross D. Feldman, who received his training in internal medicine at U of T, is a leading expert in the management of risks factors associated with the development of heart disease and stroke. Now a principal investigator at Winnipeg's St. Boniface Hospital, Feldman was named a Member for his leadership in the prevention and control of hypertension in Canada.
John Ferguson Godfrey, a former cabinet minister and parliamentary secretary to the prime minister, had a long and distinguished career in public service. Prior to entering politics in 1993, he was the vice-president of CIFAR. He also spent four years as editor of the Financial Post and 14 years in academia at Nova Scotia's University of King's College, where was he served as both president and vice-chancellor. He holds a bachelor's degree in modern history and a master's in English literature from U of T,  and was named a Member. 
Alumnus Robert Korneluk has researched therapies for diseases such as cancer, diabetes, neurodegeneration, myotonic dystrophy and retinal eye disease through the modulation of programmed cell death, also known as apoptosis. Now a professor at the University of Ottawa and a senior scientist at the CHEO Research Institute, Korneluk was named a Member for his "contributions to immunotherapy research and diagnostic clinical service laboratories as a molecular geneticist." 
Alumna Christina Jennings, named a Member, is the founder and CEO of Shaftesbury, one of the country's leading content creation and production companies. Among its critical and commercial successes: Murdoch Mysteries, Frankie Drake Mysteries, Slasher, ReGenesis, The Listener, Life with Derek, Carmilla and The Carmilla Movie. 
Alumnus Imant Karlis Raminsh was recognized as a Member for his decorated career as a composer, conductor, violinist and music educator. After completing his associate diploma in violin at the Royal Conservatory of Music in 1962 and his bachelor's degree from U of T's Faculty of Music in 1966, Raminsh wrote in many musical genres, including solo voice, chamber music, choral, symphonic, concerto and opera. His work has been performed on six continents, including at the renowned Carnegie Hall in New York City.
Another composer, Montreal-based John Rea, was recognized as a Member. Rea, who received his master's degree from U of T in 1969, is a two-time winner of the Jules Léger Prize for New Chamber Music – a prize awarded by Canada's governor general – in 1981 and 1992. Known for imaginative compositions, Rea has taught music theory, music history and composition at McGill University since 1973 – and was dean of McGill's Faculty of Music from 1986 to 1991. 
Alumna Barbara M. Bowlby helped build Toronto's Insight Productions into an industry leader in the creative development, financing and production of television entertainment. The production company lists the Canadian versions of programs like The Amazing Race, Big Brother, Top Chef, Got Talent, Idol and Project Runway among its many credits. Bowlby was named a Member for her contributions to the Canadian broadcasting industry.
Did we miss anybody? If you know of an Order of Canada honouree with ties to U of T who was announced in this round but who isn't mentioned above, please let us know at uoftnews@utoronto.ca.
UTC