U of T experts receive $9.5 million in funding for research infrastructure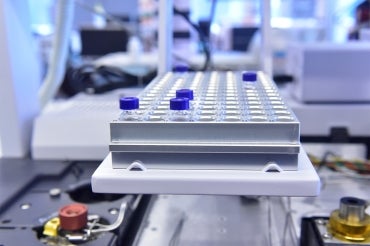 Thirty-three research projects at the University of Toronto, spanning fields from artificial intelligence and smart manufacturing to cancer detection and neurodegeneration, are set to benefit from more than $9.5 million in federal funding that will support research infrastructure needs and expenses.
The grants, which range in amount from more than $76,000 to $800,000, are being awarded by the Canada Foundation for Innovation's John R. Evans Leaders Fund. Named for the late U of T President Emeritus John R. Evans, the fund aims to empower researchers with the equipment and technology they need to move their projects forward and maximize their impact.
The funding also helps universities remain competitive in global research and technology development by helping to attract top researchers in their fields.
"The crucial support provided by the Canada Foundation for Innovation underpins the important research that takes places every day across our three campuses," said Ted Sargent, U of T's vice-president, research and innovation, and strategic initiatives.
"Researchers at U of T are addressing some of the most complex and interesting challenges of our time, in fields ranging from the humanities and social sciences to medicine and engineering, and they depend on facilities, equipment and technology to help realize their discoveries."
The largest award destined for U of T – $800,000 – goes to an active learning research lab project being led by James Slotta, professor and President's Chair in Knowledge Technologies at the Ontario Institute for Studies in Education.
Goldie Nejat, professor in the department of mechanical and industrial engineering in the Faculty of Applied Science & Engineering, will receive $440,474 for her work on robotics infrastructure for smart manufacturing.
Bianca Schroeder, an associate professor in U of T Scarborough's department of computer and mathematical sciences, will use her $120,000 award for her work in the area of computer systems support for machine learning and artificial intelligence.
Other funded projects at U of T include the Sleep and Human Evolution Lab led by Assistant Professor David Samson of the department of anthropology at U of T Mississauga, which will receive $151,714 in support.
In total, CFI awarded more than $96 million in funding to 377 research infrastructure projects at 55 institutions across Canada. That includes more than $22 million under CFI's Infrastructure Operating Fund, which helps pay for the incremental operating and maintenance costs of new infrastructure.
"Support from the Canada Foundation for Innovation ensures researchers are equipped for success at every stage of their career," Roseann O'Reilly Runte, president and CEO of the Canada Foundation for Innovation, said in a statement. 
"The John R. Evans Leaders Fund helps Canadian universities, institutes and research hospitals create the conditions necessary for their talented researchers to excel."
---
The following 33 U of T researchers and projects received funding through the John R. Evans Leaders Fund:
Christine Allen, Leslie Dan Faculty of Pharmacy: Next generation polymeric microparticles for the treatment of osteoarthritis
Alán Aspuru-Guzik, departments of chemistry and computer science in the Faculty of Arts & Science: Chemspeed automated chemical synthesis system
Michael Best, department of psychology at U of T Scarborough: Psychosis research lab –  assessment of biological, psychological, and behavioural factors associated with psychosis
Matthew Buechler, department of immunology in the Faculty of Medicine: A research program to study the role of fibroblasts in the pathogenesis of idiopathic pulmonary fibrosis
Jessica Burgner-Kahrs, department of mathematical and computational sciences at the U of T Mississauga: Immersive interaction and morphological control for continuum robot systems
Jean Chen, department of medical biophysics in the Faculty of Medicine and Baycrest Centre: Linking neural and vascular aging in the brain: from biophysics to cognition
Leo Chou, Institute of Biomedical Engineering in the Faculty of Applied Science & Engineering: DNA nanotechnology for spatially programmed immune receptor activation
Xu Chu, department of Earth sciences in the Faculty of Arts & Science: Mass transport in Earth's lithosphere revealed by in-situ LA-ICP-MS micro-analyses
Miriam Diamond, department of physics in the Faculty of Arts & Science: Detector prototype units for long-lived particle searches
Peter Dirks, department of surgery in the Faculty of Medicine and the Hospital for Sick Children: A non-invasive approach to visualizing tumour growth in vivo through space and time
Claudia dos Santos, department of medicine in the Faculty of Medicine and Unity Health: A shift in paradigm – a novel stratification system for critical illness
Siew-Ging Gong, Faculty of Dentistry: Infrastructure for Canadian National Caries Network
Björn Herrmann, department of psychology in the Faculty of Arts & Science and Baycrest Centre: Sensory-cognitive listening assessment to transform hearing loss outcomes
Jane Howe, department of materials science and engineering in the Faculty of Applied Science & Engineering: Advanced scanning electron microscope for in situ and liquid-phase electron microscopy studies
Nikolina Ilic, department of physics in the Faculty of Arts and Science: Readout the answers
Rutsuko Ito, department of psychology at U of T Scarborough: Neural circuit changes in decision-making across the lifespan – relevance to mental health disorders
Gabor Kovacs, department of laboratory medicine and pathobiology in the Faculty of Medicine and University Health Network: Tracking down neurodegeneration in the human brain – from functional systems to the subcellular level
Cara Krmpotich, Faculty of Information: Recovery and recuperation – mobilizing the next generation of GRASAC
Hon Sing Leong, department of medical biophysics in the Faculty of Medicine and Sunnybrook Research Institute: Extracellular vesicle and patient avatar technology cores for translational and clinical research
Goldie Nejat, department of mechanical and industrial engineering in the Faculty of Applied Science & Engineering: Robotics infrastructure for smart manufacturing (RISM)
Nicolas Papernot, department of electrical and computer engineering in the Faculty of Applied Science & Engineering: Trustworthy machine learning
Tomas Paus, department of psychology in the Faculty of Arts & Science and Holland Bloorview Kids Rehabilitation Hospital: Charting diversity in brain maturation
Trevor Pugh, department of medical biophysics in the Faculty of Medicine and University Health Network: Defining cancer and immune landscapes in multiple myeloma using single cell transcriptomics and ultra-deep DNA sequencing
Chelsea Rochman, department of ecology and evolutionary biology in the Faculty of Arts & Science: Microplastic sources, fate and effects research laboratory
David Samson, department of anthropology at U of T Mississauga: Sleep and Human Evolution Lab (SHEL) – testing evolutionary hypotheses in a clinical, controlled space
Bianca Schroeder, department of computer and mathematical sciences at U of T Scarborough: Computer systems support for machine learning and artificial intelligence
Florian Shkurti, department of mathematics in the Faculty of Arts & Science: Autonomous mobile manipulation in human environments – learning algorithms and robot systems
John Sled, department of medical biophysics in the Faculty of Medicine and the Hospital for Sick Children: Advanced imaging of mouse development – early adversity and brain health
James Slotta, Ontario Institute for Studies in Education: Active learning research labs
Hoon-Ki Sung, department of laboratory medicine and pathobiology in the Faculty of Medicine and the Hospital for Sick Children: In-depth 2D and whole tissue 3D detection of tissue fibro-inflammation in metabolic diseases
Jacqueline Sztepanacz, department of ecology and evolutionary biology in the Faculty of Arts & Science: Mapping genotypes to phenotypes and phenotypes to fitness
Sara Vasconcelos, department of laboratory medicine and pathobiology in the Faculty of Medicine and University Health Network: Cardiac regeneration and in vitro disease modeling
Steven Waslander, U of T Institute for Aerospace Studies in the Faculty of Applied Science & Engineering: Autonomous docking and active perception for unmanned aerial vehicles
UTC