U of T Entrepreneurship's Jon French on the new RBC Innovation Challenge – and what students need to know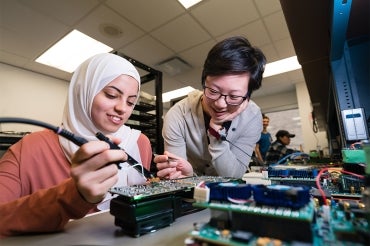 The University of Toronto and RBC have partnered to launch the RBC Innovation Challenge, the latest joint initiative to bolster innovation and entrepreneurship efforts on campus and beyond.
The annual, university-wide competition is open to all U of T students and invites multi-disciplinary teams to focus on technology projects with the potential for global impact.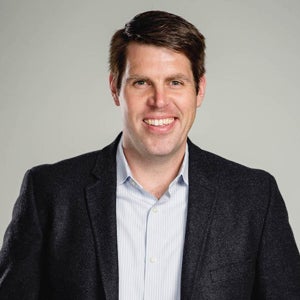 For its inaugural year, the theme is "Tech for a Greener Future" and asks students how technology and data can be used to help Canada reach its 2050 net-zero targets. The challenge, to be officially launched with an event on Oct. 11, will run until Jan. 26 and consists of three phases: "Discover," which gives students an opportunity to get inspired, form teams and register them by the Nov. 13 deadline; "Develop," when they will create an initial version of their product or service; and "Deliver," when the teams will present to a panel of expert judges.
Writer Alyson Bruce recently sat down with Jon French, director, U of T Entrepreneurship (UTE), to learn more about the challenge and the opportunity it presents for student entrepreneurs.
---
How did the idea for the challenge come about?
We can start with the obvious – the science is clear. Human activity is having a devastating impact on our planet and many experts say the climate crisis is the single-most important threat facing our society. Plus, U of T has always been a leader when it comes to creating innovative solutions to global problems, going back to the discovery of insulin in 1921. This is just another opportunity to use our technology and expertise to help generate positive societal and economic impact.
At the same time, U of T is proud to be one of Canada's leading public institutions committed to the goal of reaching net zero by 2050. We have robust, collaborative initiatives across our innovation ecosystem, including the School of Cities, BioZone, the Mass Timber Institute, the Munk School of Global Studies and Public Policy's Environmental Governance Lab, the Adams Sustainability Celebration and one of the university's most ambitious strategic initiatives, the Climate Positive Energy strategic initiative, which is a delivery partner for this year's challenge.
U of T Entrepreneurship makes an ideal launching pad for the challenge because we see enormous potential for some of the projects created over the next few months to have commercial application. Our vibrant startup ecosystem has produced 107 ventures in cleantech alone and they have raised $496 million in research funding and are advancing research in converting CO2 into renewable fuels and materials, decarbonization technologies, hydrogen, and renewable energy such as solar.
What is RBC's role?
An initiative like this needs a committed partner and we are lucky to be working with RBC who have been a long-time supporter of U of T's innovation ecosystem. This is the latest in a series of RBC-supported activities, ranging from startup pitch competitions, research fellowships, and ONRamp our co-working and collaboration space on the St. George campus. As one of the world's largest banks by market capitalization, RBC has an important role to play in the journey to net-zero and have demonstrated a commitment to action through the RBC Climate Blueprint.  With more than 10,000 employees working across different technical roles, they are also keenly interested in how tech can be used for positive societal and economic impact. 
Ultimately, this is about learning, networking and developing entrepreneurial / intrapreneurial skills while having fun in a way that could make a big difference. 
How will the challenge work?
Any current U of T student at any level, in any academic discipline, is eligible to participate. The projects created during the challenge will either be brand new or less than six months old – meaning this is not for startups that are already well established. Teams of three to six students can be formed in myriad ways – through curricular or co-curricular initiatives (including course work, capstones, etc.), via the U of T Entrepreneurship accelerator network and also out of facilitated meetups and ideation clinics. Once established, teams will have roughly two months to develop their projects, with support along the way from RBC domain experts, faculty advisers, targeted workshops – all culminating in a pitch competition for prizes on Jan. 26. 
The strongest teams will likely be multi-disciplinary and representative of our diverse student body because multiple perspectives lead to more effective and inclusive solutions to the world's greatest problems. Teams are encouraged to focus on tech-enabled projects that are relevant to individual Canadians, small and medium businesses or large companies and government. We are hoping to see a broad range of projects in areas such as: measuring, reporting and lowering carbon emissions; clean and renewable energy; food security; responsible investment; transportation; clean water, sustainable manufacturing materials and planetary health, to name a few.  
Why should students participate?
It's a great opportunity for students to work on an impactful project over an extended period of time and not only learn from some of the top innovators, researchers and climate experts in the world, but also build a network of peers who are passionate about similar pursuits.
There is also $100,000 in prizes for the top teams, including a $35,000 first-place prize and a $10,000 People's Choice Award. The top team will also get to present their project – and represent U of T – at an upcoming global climate conference or summit, with consideration given to carbon offsets.
We anticipate that some of these projects will also be turned into startups that are supported by the U of T Entrepreneurship community, which consists of more than 10 accelerators across the three campuses. For finalist project teams that incorporate and pursue venture creation, there is another $10,000 available in the form of startup service vouchers to offset the cost of professional services such as legal and intellectual property protection, marketing, financial/accounting and more. 
The university's Innovations & Partnerships Office (IPO) is also committed to working with eligible teams hoping to commercialize their project output, while RBC is also exploring ways to support U of T talent and the team members and projects that emerge from the challenge.
UTE