Adams Sustainability Celebration 2022: Four key events focused on building a sustainable future at U of T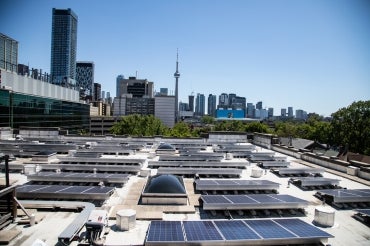 From innovative ideas to climate positive plans, the University of Toronto's institution-wide focus on sustainability will be in the spotlight over the next few months during the annual Adams Sustainability Celebration.
The event, hosted by the President's Advisory Committee on the Environment, Climate Change and Sustainability (CECCS), runs until April and aims to recognize the university's progress on sustainability-related issues, envision its future and mobilize sustainability-minded students, faculty and staff across the three campuses.
President Meric Gertler said he is looking forward to a "productive and inspiring" celebration that will highlight success stories and inspire new initiatives.
"Universities have a crucial role to play in responding to the climate crisis," President Gertler said in a video message.  "This extends across every aspect of our mission – research, education and innovation – and across every discipline, in the sciences, humanities, social sciences and professions.
"Members of the U of T community have a lot to be proud of as global champions of this truly vital cause."
He went on to highlight U of T's many achievements on the sustainability front, including the commitment to divest from all direct investments in fossil fuel companies within the next 12 months, and the detailed plan to make the St. George campus climate positive by 2050.
He also thanked CECCS both for organizing the Adams Sustainability Celebration and for its central role in driving U of T's progress in recent years.
In a separate video message, CECCS Co-Chair John Robinson noted U of T is taking steps to expand its sustainability pathways program so that more students will have the opportunity to "be an agent of change in their respective workplace and in society after graduation," regardless of their programs.
A professor in the Munk School of Global Affairs & Public Policy and in the School of the Environment, Robinson encouraged students to check out the Adams Sustainability Celebration event schedule and thanked donor Wendy Adams, whose support made the Adams Sustainability Celebration possible.
This year's program comprises an array of events, including panel discussions on key sustainability issues such as divestment and the UN Sustainable Development Goals, virtual showcases and student group exhibits. It culminates with the Adams Sustainability Innovation Prize pitch competition, which offers $25,500 in prizes to reward and accelerate innovative sustainability ideas. The March 31 event will also see the awarding of $30,000 in faculty and student grants to support sustainability-related coursework and projects. The deadline to apply for the Adams Sustainability Innovation Prize as well as the faculty and student grants is Feb. 28.
Ron Saporta, U of T's chief operations officer, property services and sustainability and co-chair of CECCS, said he hopes the Adams Sustainability Celebration inspires community members to come up with new activities, build relationships and deepen their engagement around sustainability issues.
"We're building a sustainable future, and the university is uniquely positioned to play a leadership role when it comes to developing research, innovation and the leaders of tomorrow that will meet the climate change challenge," Saporta said in the video message.
He added that U of T is actively reducing its carbon footprint through more efficient buildings and infrastructure.
"Innovation is very much what we do and ingrained in our plans moving forward."
---
Here are four key events to look forward to as the Adams Sustainability Celebration gets underway:
From 17 Rooms to SDG Booms
Feb. 23, 3 p.m. – 4:30 p.m.
This panel discussion will introduce the actions adopted by U of T since the 17 SDG Rooms event held in Dec. 2020, which featured discussions around how to advance the UN Sustainable Development Goals at the university.
The discussion will feature an overview of the original event followed by an in-depth exploration of initiatives, including the SDG Institutional Strategic Initiative, the U of T Scarborough 17 Rooms event, the Times Higher Education Impact Rankings and more.
The panel will end with a Q&A that invites members of the audience to discover the various SDG-centred methods U of T has adopted to respond to the imperative change necessitated by the goals and work towards achieving a sustainable future.
Speakers:
Amanda Harvey-Sánchez (moderator) – PhD candidate and CECCS member
Nicola Foster – associate director, sustainable development, Office of the Vice-President, Research & Innovation
Patricia Escobar – sustainability manager, sustainability office, U of T Scarborough
Simon Pratt – director, research strategy and excellence, Office of the Vice-President, Research & Innovation
Gwen Burrows – executive director, international, Office of the Vice-President, International
U of T Leading the Way on Climate Change with the Climate Positive Plan
March 2, 2 p.m. – 3:30 p.m.
This panel discussion will involve an overview of the Climate Positive Plan, released last fall, which includes a commitment to achieving climate positivity (or net negative emissions) on the St. George campus by 2050.
It will also address details about the plan's execution, research perspectives from the Climate Positive Energy Institutional Strategic Initiative, and details from representatives of the U of T Scarborough and U of T Mississauga campuses on how their initiatives will complement the vision of climate positivity.
Speakers:
Ron Saporta (moderator) – chief operations officer, Property Services & Sustainability
David Sinton – Climate Positive Energy ISI lead; professor, Faculty of Applied Science & Engineering
Marc Couture – director, sustainability and energy management, Facilities & Services
Jeff Miller – director, facilities management and capital projects, U of T Scarborough
Ahmed Azhari – director, utilities and sustainability, U of T Mississauga
Fossil Fuel Divestment: What Comes Next?
March 30, 10:30 a.m. – 12 p.m.
This student-initiated panel will be an opportunity to build connections between students, faculty, staff, and other community members who care about the impact of U of T's investments on the environment.
The discussion will celebrate the landmark commitment to divest endowments from the fossil fuel industry, discuss the role of university endowments and pensions in creating new norms for responsible investing and explore next steps for the university and the divestment movement. It will be followed by a Q&A with audience members.
Speakers:
Amanda Harvey-Sánchez (moderator) – PhD candidate and CECCS member
Patrick DeRochie – senior manager, Shift Action for Pension Wealth and Planet Health
Rivka Goetz – fourth-year undergraduate student, divestment organizer, Leap U of T
Matthew Hoffman – professor, Faculty of Arts & Science; member of Divestment & Beyond
Rebecca Sinclair – research and policy analyst, Indigenous Climate Action
Adams Sustainability Innovation Prize pitch competition and awards ceremony
Mar. 31, 1:30 p.m. – 3:30 p.m.
Candidates shortlisted for the Adams Sustainability Innovation Prize will present five-minute videos followed by a five-minute Q&A with a panel of judges to compete for $25,500 in prizes.
The event will also include the announcement of the winners of the Adams Sustainability Faculty Grants and Adams Sustainability Student Grants, totaling $30,000; and the tri-campus Sustainable Action Awards, featuring $300 in gift card awards and $200 in donations to sustainability organizations chosen by the winners.
The deadline to apply for the Adams Sustainability Innovation Prize, Faculty Grants, Student Grants and Sustainable Action Awards is Feb. 28 at 11:59 p.m.
Those interested in attending these and other virtual live panels are asked to register at the Adams Sustainability Celebration website.
UTC