U of T community roundtable focuses on anti-Asian racism
The University of Toronto's Faculty of Arts & Science recently hosted a Community Roundtable on Anti-Asian Racism and Intersectional Violence webinar in the wake of the March 16 shootings that killed six Asian women during an attack on spas and massage parlors in Atlanta, Ga.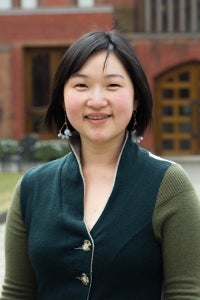 The event – organized by the Faculty of Arts & Science's Women & Gender Studies Institute and the department of sociology – drew more than 500 registrants and hundreds of subsequent viewers on YouTube. It was moderated by Hae Yeon Choo, associate professor of sociology at U of T Mississauga and the Asian Institute at the Munk School of Global Affairs & Public Policy, and Robert Diaz, associate professor of transnational feminisms, globalization and sexuality studies at the Women & Gender Studies Institute.
Diaz and Choo emphasized that anti-Asian violence in North America is far from new, with Choo calling it "embedded in a colonial history that has treated Asians as perpetual foreigners who do not belong, but whose labour is very much needed."
They also pointed out that the Atlanta murders must be viewed through an intersectional lens since they are reflective not only of structural racism, but sexism, misogyny and classism as well.
Speakers at the event included Justin Kong from the Chinese Canadian National Council, Rick Sin from the Asian Canadian Labour Alliance, and Elene Lam of Butterfly: Asian and Migrant Sex Workers Support Network.
Lam, who founded the organization Butterfly in 2014 with the aim of providing support to Asian and migrant sex workers, enumerated the various ways such workers are vulnerable.
"Every year we have workers in the sex industry being murdered," she said. "It's happening everywhere, not only in the U.S. but many places in Canada as well."
While sex work has been decriminalized in Canada, workers often cannot access traditional forms of support offered to other business owners, according to Lam. She said they are frequently fined and assaulted, and that police often victimize them further through arrest and deportation. 
Kong similarly supports and advocates for Asian workers and community members. He says many have seen their businesses vandalized since the pandemic started, while essential workers – such as those in grocery stores – have been repeatedly exposed to COVID-19 and deprived of sick leave and fair pay. 
Attacks on seniors have been particularly tragic and such incidents often go unreported unless caught on video by bystanders, according to Kong. 
"The discussion is ultimately about building power," said Kong, the council's executive director. "How do we build and support it in the community? And what does it mean to be in a society where labour isn't respected and is devalued?"
Sin, who also teaches social work at York University, talked about the historical nature of anti-Asian racism in Canada and noted its resurgence due to events in the news.
He said geopolitical tensions between North America and China, as well as COVID-19's racist designation as the "China virus," are perceived to be intensifying assaults that have never really stopped since the start of Asian immigration to Canada in the 18th century. Sin added that modern anti-racism is more about the denial of racism, which he said can be more damaging than racism itself.
He also said that Canada's fabled multiculturalism is not necessarily a protective force.
"We are sharing the same space, vis-à-vis white nationalism," he stated. "We are not being targeted because of our cultural heritage but because we 'look alike.'"
Following the presentation, many attendees asked what actions are currently being taken against anti-Asian racism. The speakers said the responses have been many and varied. In May, for example, Kong said his organization will produce a survey reporting on the experiences of hundreds of Chinese-Canadian workers in the Greater Toronto Area. During the pandemic, Butterfly has been active in raising emergency funds to support sex workers, according to Lam. And, on April 2, Choo and Diaz published a column in Inside Higher Ed calling for continual challenges to anti-Asian racism in the curricula and institutional structures of post-secondary institutions.
While empathy with the victims of the March 16 and other attacks is necessary, Diaz said it must not stand alone.
"Empathy cannot only mean mourning," he said. "Empathy must also become militancy. It must become a demand for social change … to mourn, and to demand immediate change for the oppressed, must always coexist."
Arts & Science