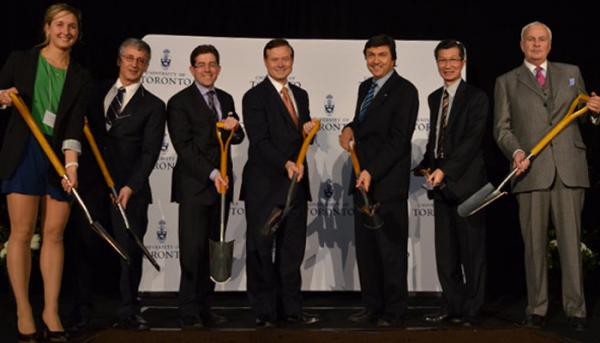 U of T breaks ground for high-performance sport centre
Goldring Centre will house research labs, competition venues, fitness centre
Nearly 300 guests turned out at the Varsity Centre dome on Jan. 31 to celebrate the latest milestone for the Faculty of Kinesiology and Physical Education and the University of Toronto: the groundbreaking ceremony for the Goldring Centre for High Performance Sport.
"This centre represents a new paradigm for Toronto and Ontario – a true 'sports institute,' where researchers, graduate students and sport medicine experts will connect with athletes, coaches and sport organizations to create a rich environment for studying, teaching, fostering and engaging in sport at the highest levels," said Dean Ira Jacobs.

The state-of-the-art facility will house international-level basketball and volleyball courts, a relocated and expanded David L. MacIntosh Sport Medicine Clinic, a range of sport and exercise research labs, and a strength and fitness centre accessible to all U of T students.  It will also create a place where U of T's growing list of key partners – including the Canadian Sport Centre Ontario, Swim Canada and the Ministry of Tourism, Culture and Sport – can converge in support of the region's top athletes.  
 
"The Goldring Centre will build upon a proud tradition at the University of Toronto – a culture of fostering and nurturing innovation, and of creating and sharing knowledge," said President David Naylor.  "The result, as always, will be dramatic breakthroughs in many disciplines, a pool of remarkably talented graduates, a growing number of new products and services...and, not least, we hope, many proud spots for Canadian athletes on podiums around the world."

The Goldring family, the lead donor for the centre, was well-represented at the event.  Blake and Judy Goldring were joined by their mother Barbara Goldring – wife of the late Warren Goldring, who championed the plan to support the project – as well as Blake's wife Belinda Goldring, sister Jane McCabe, her husband Paul and their daughter Caitlin McCabe, and brother Bryce Goldring and daughter Sabrina. Tori, Lindsay and Cailey Stollery came to honour their late father, Gord Stollery, a passionate advocate of athletics, chair of the Golding Centre campaign, and one of the centre's key donors.  Ron Kimel, whose generous gift will result in the Kimel Family Field House within the complex, was out of the country.  The Honourable Michael Chan, minister of tourism, culture and sport, represented the Province of Ontario, which last year contributed $22.5 million to the Goldring Centre.
A feather in the cap of the $98 million Varsity Centre complex, the Goldring Centre for High Performance Sport is slated for completion in January 2015.