All photos by Romi Levine
Form Follows Fiction covers 50 years of art by local artists, curated by Luis Jacob
Toronto's art scene is as diverse and fragmented as the city itself. 
You'll find the work of local artists scattered across the city in small galleries and large institutions alike – all offering a different perspective of the place they call home.
Rarely, however, are these works brought together under one roof. But that's what artist, U of T alumnus and visiting professor, Luis Jacob, has set out to do with the Form Follows Fiction: Art and Artists in Toronto exhibition at U of T's Art Museum.
The exhibition, curated by Jacob, explores the way Toronto artists have visualized the city over the past 50 years through the themes that connect them. 
Form Follows Fiction runs from now until December 10. 
U of T News spoke with Jacob about the exhibit and why it's important to tell Toronto's story through art. 
(This interview has been edited for length and clarity.) 
How did Form Follows Fiction come about?
The exhibition is a product of a long conversation of Barbara Fisher, the director of the Art Museum. She's also a very important curator in the city. For many, many years we've had this ongoing conversation about Toronto and the particular forms of culture that have been developing here. Something I've felt for a long time is that there's obviously a great deal of artistic activity in Toronto – lots of artists, lots of exhibitions, lots of galleries. So there's a sense of vitality that's a discernible quality of art in Toronto. But something I think we don't do so well is connect the dots between artists of one moment and another moment, generations of artists, even different aesthetic practices. In part, the exhibition is trying to connect the dots.
What can we expect at the exhibition? 
The premise of the exhibition is that certain themes connect works that might at first appearance look quite different from each other. There are many threads in an exhibition like this but I'm trying to look at how these themes have something to say about this place we call Toronto. 
One of the interesting themes that is explored in the exhibition is the theme of the vacant lot. The idea of the vacant lot as a kind of metaphor or allegory or figure that artists adopt in order to say something about Toronto as a specific place. 
We have this historical document called a Toronto purchase. It documents the agreement conducted between the Mississaugas of New Credit first nation and the British crown about the terrain we now call Toronto. Something I find fascinating is that the British surveyor who made the document rendered the land as a kind of blank page. The drawing is quite striking. It was made at the end of the 18th century and yet it also looks like a work of minimalist art or conceptual art from the 1970s.
Today's Toronto is definitely marked by the question of real estate, the value of real estate, the process of gentrification and so I think this idea of treating what exists as something waiting to be exploited is something that has a prevalence today which one can trace its roots to the colonial founding of the city as a kind of vacant lot. So this 18th century idea of Toronto of the land as a vacant lot waiting to be exploited does influence our contemporary relationship to the environment. Gentrification is simply another version of that kind of an impulse.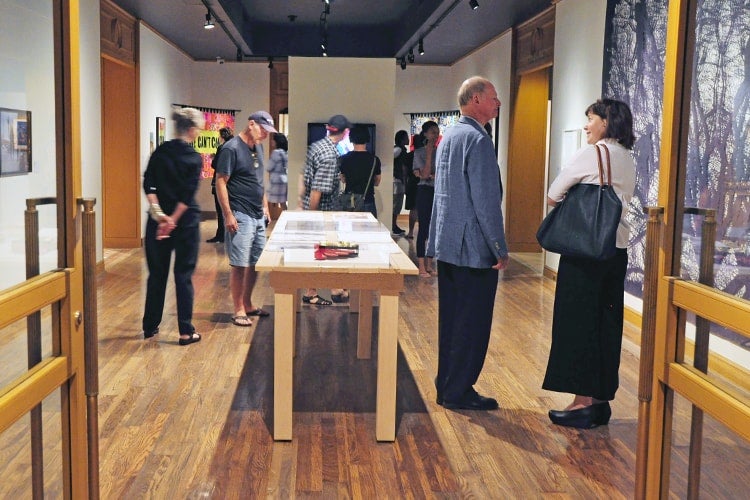 Why is it important to present work from Toronto artists in one place?
To bring together works from different generations shows us the things that change over time and the things that remain the same. What are the themes, the ideas, the imagery and the allegories that remain the same although obviously the city itself changes over time, artistic practice changes over time. 
The city right now is undergoing very rapid change and that provides a good opportunity to reflect on what artist have been telling us about this place we call Toronto. 
Toronto's art scene tends to take place in smaller galleries across the city rather than in large art institutions like in New York City. Do you think it's an advantage that Toronto's art scene is so decentralized?
That's a great observation that there's something about the mechanics in Toronto that emphasize decentralization in contrast to other cities like New York that operate very much in a kind of centralization and subsequent hierarchy. There's something to the mechanics of culture here in Toronto that is suspicious of hierarchy and hierarchy that's produced by centralization. That's another theme the exhibition does explore. 
There's one room where there's a juxtaposition of paintings. There's a painting by Lawren Harris called "Pyramid" which obviously relates to the idea of hierarchy and centralized power with another Group of Seven artist (Arthur) Lismer who made a painting called "Undergrowth" which is looking down rather than up, looking at weeds and the great proliferation of life that happens right on the ground rather than on the rarefied pinnacle. 
That juxtaposition talks about decentralization or interest among artists in Toronto to not assume the centralized, hierarchal model is the most desirable model to adopt.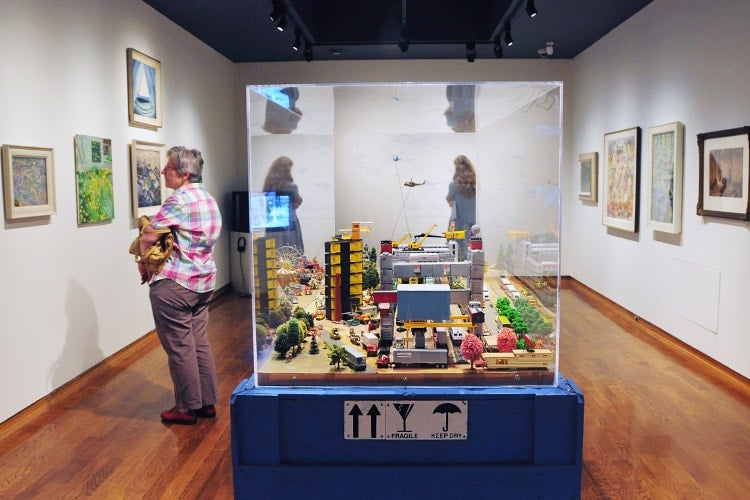 You moved to Canada from Peru when you were a child. Do you think that's influenced your perspective of Toronto?
In some way my experience as an immigrant is very typical of Toronto in that Toronto is largely made up of immigrants. We talk about the multiculturalism of the city. I think that's part of the DNA of the city by now. 
At the same time, even those of us who are born in the city, unless we are of Indigenous descent, we are also immigrants to the city even having been born here in the sense that we are acculturated with settler patterns of inhabitation. How all of us negotiate the colonial reality of this place we call Toronto, the memories and histories that are told and narrated and those that are silenced or overlooked, how we negotiate these things is part of what we call the culture of this place.