U of T and Toronto hospitals mount research response to monkeypox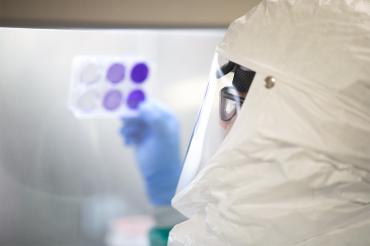 The University of Toronto and its partner hospitals, including Sunnybrook Research Institute, Unity Health Toronto and the University Health Network, are leading a rapid research response to the global monkeypox outbreak to better understand disease symptoms, genetic evolution of the virus and transmission risks, among other factors.
The research effort is centred in the Emerging and Pandemic Infections Consortium (EPIC), which includes the university, its high-containment lab and five Toronto hospital research institutes. 
Monkeypox has infected 300 people in Canada since May and more than 5,000 worldwide.
"We've worked hard to link together Toronto's broad expertise and research capacity so that our community can effectively respond to infectious challenges," says Natasha Christie-Holmes, director, partnerships and strategy at EPIC. "It's been thrilling to see how quickly the partners came together to respond to this unexpected emergence of monkeypox in Canada."
The research response leverages the university's Combined Containment Level 3 Unit – a lab equipped to safely and securely study infectious pathogens – and partnerships among Toronto hospitals and community-based groups.
Projects include:
An observational cohort study to understand the range of symptoms associated with monkeypox infection, viral shedding and transmission risks as well as the social, economic and psychosocial impacts of infection
An immunological study to understand how the immune system responds to infection
A genetics study to examine how the virus is evolving and how changes in the virus's genetic code correspond with changes in its ability to cause disease
Transmission studies to understand the potential and risks of surface and aerosol transmission, and transmission from people who are pre-symptomatic or asymptomatic
Monkeypox is caused by a poxvirus closely related to the smallpox virus. Until recently, monkeypox infections had been limited to people living in central and western Africa and travelers who visited those regions. As of June 30, Public Health Ontario reported a total of 77 cases in Ontario, including 63 in Toronto. Although the virus can infect anyone, all cases in Ontario have so far involved males.
"One of the key learnings from the history of infectious disease outbreaks is that community engagement from the very beginning is critical," says Darrell Tan, a co-principal investigator and operational co-lead with Sharmistha Mishra of EPIC's monkeypox rapid response efforts. "That's why we are taking part in community meetings where we're working with different local groups to respond. Already there's some amazing advocacy, actions, knowledge sharing and collaboration that has come out of these meetings that have shaped the research questions we hope to answer."
Tan and Mishra are both associate professors in the Temerty Faculty of Medicine and infectious disease physicians at St. Michael's Hospital, a site of Unity Health Toronto, where some of Toronto's first patients with monkeypox were identified and cared for.
The joint effort is the first co-ordinated response from Canadian researchers to address the current monkeypox outbreak and paves the way for future collaborations with other Canadian and international groups. The data generated from the projects in the coming months will help inform the province and country's public health response to the outbreak and could also inform and support efforts in other countries where the virus is endemic.          
"The speed with which this research initiative came together is a testament to the strength of EPIC and its partnerships and their ability to pivot and respond rapidly to new infectious threats like monkeypox," says Leah Cowen, U of T's vice-president, research and innovation, and strategic initiatives.
The monkeypox rapid research response is led by EPIC in partnership with the Toronto Academic Health Science Network.
EPIC is a U of T Institutional Strategic Initiative that brings together infectious disease experts at the university and five hospital research partners – the Hospital for Sick Children (SickKids) Research Institute, the Lunenfeld-Tanenbaum Research Institute at Sinai Health, Sunnybrook Research Institute, Unity Health Toronto and University Health Network – to facilitate an integrated and innovative response to infectious diseases in an effort to help prevent future pandemics.
Temerty/EPIC