U of T-anchored hospital network among leading life sciences research hubs, report finds
The University of Toronto and its partner hospitals are propelling the Toronto region as a leading global hub for life sciences research – but its success is at risk from underinvestment.
That's among the findings of a new report that examines the strengths and challenges within the Toronto Academic Health Science Network (TAHSN) – which comprises U of T and 14 academic hospitals – and its surrounding ecosystem. The report was commissioned by U of T and conducted by Shift Health.
In addition to leading on research, talent and public and private investment in Canada, the report finds that TAHSN rivals top-tier hubs in the United States despite receiving less funding.
"The TAHSN research outputs and impacts really do match or exceed those of our competitors across North America," said Leah Cowen, U of T's vice-president, research and innovation, and strategic initiatives.
"Our community is a phenomenal resource for Ontario, for Canada, and really inspiring around the world."
Cowen was one of several health, research, industry and government leaders who gathered to discuss the report at an event hosted by the U of T's Munk School of Global Affairs & Public Policy and U of T's Government Relations Office, as part of the New Frontiers for Policymakers policy discussion series.
The report marks the first time TAHSN's impact has been evaluated against leading hubs in North America. Measuring 10 quantitative indicators, the report finds that TAHSN's strength lies in its fusion of discovery research, talent development, startup and commercialization supports, and robust industry partnerships.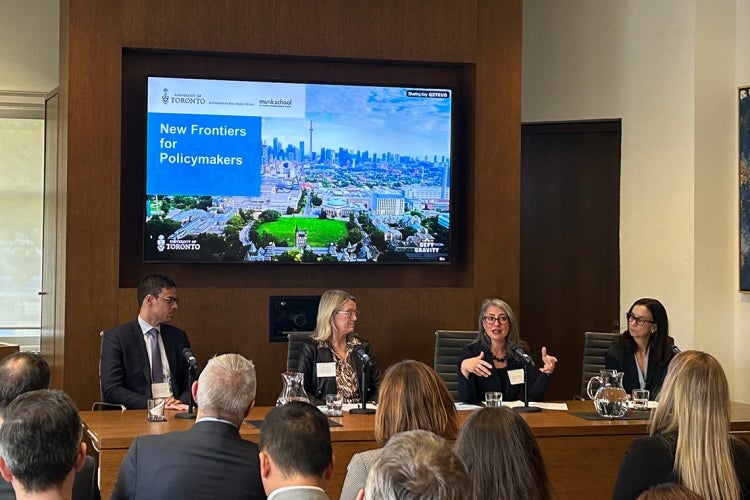 It also adds to a body of evidence that demonstrates life sciences research at the university and its affiliated hospitals is supporting growth of the sector in Canada. A recent Nature ranking, for example, listed U of T as the third-most prolific institution in the world (and second among universities) for health sciences research.
Research is at the foundation of the life sciences sector, one of Canada's most intensive R&D industries. In 2022, life sciences contributed $89.6 billion to the national GDP and supported 200,000 jobs. The federal government and provincial governments, including Ontario, have developed strategies that seek to leverage new investments in bioinnovation and biomanufacturing, increase the competitiveness of Canadian companies and meet the projected demand for more workers.
Reaching those goals requires renewed investment, the report argues.
"There are two points," Cowen said during the event. "One is that we're great. But that's not what we're here to address. We're here to do something much more ambitious, which is to recognize that our greatness is at risk if we don't have considerably more investment."
In particular, the report identified a significant gap in access to government health research funding for the TAHSN hub compared to its U.S. peers.
TAHSN is able to deliver globally leading results because of collaboration among its affiliated institutions and across disciplines through U of T's institutional strategic initiatives, Cowen said. The institutional strategic initiatives facilitate research in areas of the life sciences that are transforming patient care, including regenerative medicine and machine learning.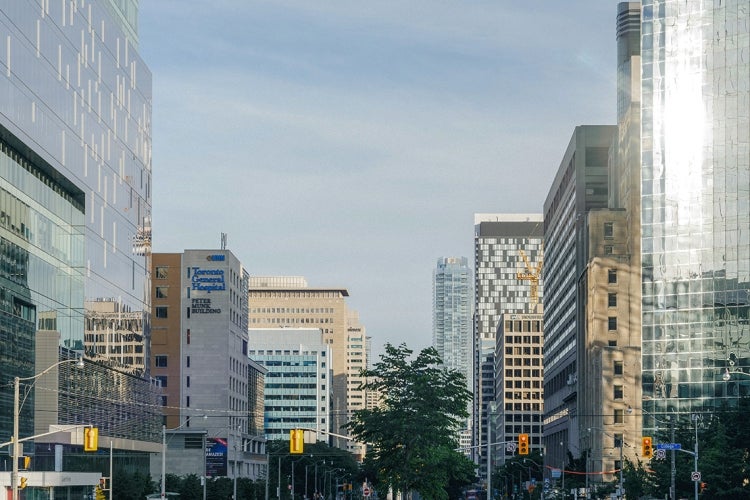 These strategies are a foundation for global scale, Cowen added, but only if Canada invests more in life sciences research in a bid to increase health security and economic growth.
"Over and over again, we see how fundamental science is able to transform innovation and lead to huge economic growth – but public support is critical," she said.
"This ecosystem can scale. We can do more. But we can't do more if we continue to stagnate in terms of levels of investment."
TAHSN Chair Heather McPherson, president and CEO of Women's College Hospital, noted the report's finding of higher salaries for life sciences research talent south of the border, which can make it difficult to recruit and retain top researchers and ultimately affects research capacity and patient care. "I think about research in a very connected way," said McPherson. "To me, it's the pathway to a better health system for everyone.  Research drives innovation and innovation drives better patient care - We need both to stay competitive and create an environment that attracts the best and brightest. "
Other issues outlined in the report include the lower number of early-phase clinical trials conducted in Canada compared to leading U.S. hubs and a lack of sufficient capital to scale startups into global champions.
"When I reflect on the report, it's all kind of a missed opportunity," McPherson said.
"We're doing extremely well right now – the report shows that. But how well could we do if we had some more investment? And what innovations, particularly in patient care, are we leaving on the table?"
Aristotle Voineskos, vice-president of research and director of the Campbell Family Mental Health Research Institute at the Centre for Addiction and Mental Health (CAMH), says Canada tends to have a lower appetite for risk than the U.S. when it comes to research – even though there are many examples of research projects deemed long shots that ultimately transformed human health.
"When there is that one success, it's enormous. It's massive," says Voineskos, noting that TAHSN has all the ingredients to further increase its attractiveness as a site for early-stage clinical trials, from sharing of data findings among hospitals to the diversity of Toronto's patient population.
"This is such as special environment. There's just a lot of opportunity here that I think is untapped."
UTC